Kim Jong-un says there will be 'no more war' in North Korea thanks to country's nuclear weapons programme
North Korean leader says country can now defend itself 'reliably and unwaveringly' against threats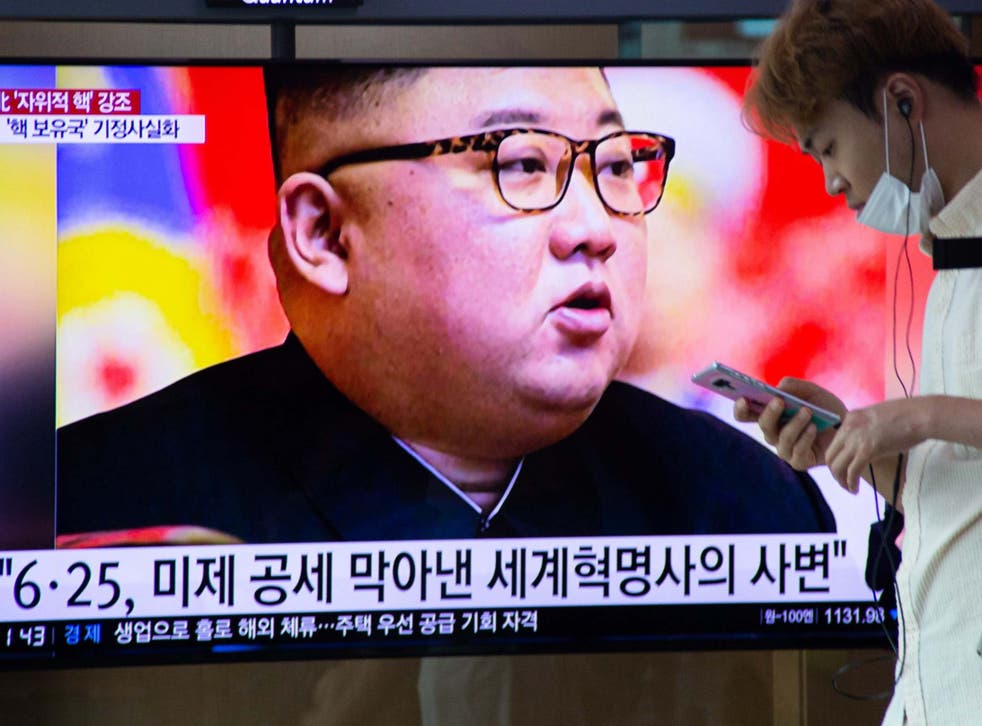 North Korea's leader Kim Jong-un has boasted that his country will no longer need to fight wars because its nuclear weapons programme guarantees its security, state media has reported.
In a speech on Monday, Mr Kim said his country had tried to become "a nuclear state" to prevent another war and had now built such a deterrent, according to the Korean Central News Agency (KCNA).
"Now, we've changed to a country which can defend itself reliably and unwaveringly against high-intensity pressures and military threats and blackmailing by imperialistic reactionaries and hostile forces," the North Korean leader said, as reported by KCNA.
"There won't be any war on this land again and our national security and future will be guaranteed firmly and permanently because of our reliable, effective self-defensive nuclear deterrent."
Mr Kim's comments came at an event for war veterans to mark the 67th anniversary of the end of the 1950-53 Korean War and indicated he has no intention of abandoning the country's nuclear arsenal amid stalling diplomacy with the US.
Although North Korea has previously used fiery rhetoric or conducted weapons tests to force concessions in negotiations, some experts have argued Pyongyang will likely avoid serious talks ahead of the presidential election in November and a possible change in leadership.
The speech followed recent remarks by both North Korean and US officials suggesting a new round of talks on the North's nuclear programme were unlikely in the near future.
Mike Pompeo, the US secretary of state, has said Donald Trump will only engage with Mr Kim if there is a real prospect of progress, while Kim Yo-jong, Mr Kim's sister and a senior ruling party official, has said a new summit would be "unpractical" for North Korea.
Diplomatic relations between the two countries have largely stalled since Mr Kim and Mr Trump's second meeting in Vietnam last year collapsed without reaching an agreement.
The North Korean leader entered this year vowing to bolster his country's nuclear programme, with a threat to unveil a new "strategic" weapon.
Mr Kim also said he would no longer be bound by a self-imposed moratorium on nuclear and long-range missile tests.
In recent months, North Korea has faced difficulties due to the coronavirus pandemic, which led the country to seal its border with China, its biggest trading partner and economic pipeline, in January.
Mr Kim order a total lockdown of the city of Kaesong near the border with South Korea on Friday after a person there was found to have suspected Covid-19 symptoms.
Despite scepticism from outside experts, North Korea claims there have been no patients with the virus in its territory so far.
There are concerns that widespread infections in North Korea would have devastating consequences due to its weak healthcare system and a lack of medical supplies.
Additional reporting by AP
Register for free to continue reading
Registration is a free and easy way to support our truly independent journalism
By registering, you will also enjoy limited access to Premium articles, exclusive newsletters, commenting, and virtual events with our leading journalists
Already have an account? sign in
Register for free to continue reading
Registration is a free and easy way to support our truly independent journalism
By registering, you will also enjoy limited access to Premium articles, exclusive newsletters, commenting, and virtual events with our leading journalists
Already have an account? sign in
Join our new commenting forum
Join thought-provoking conversations, follow other Independent readers and see their replies