Kim Jong-un declares North Korea ready for 'any kind of war' with the US on 70th anniversary of Workers' Party
Thousands of troops stood to attention to listen to the 'supreme leader' in Pyongyang's main Kim Il-sung Square
Donald Kirk
Seoul
Saturday 10 October 2015 22:18 Comments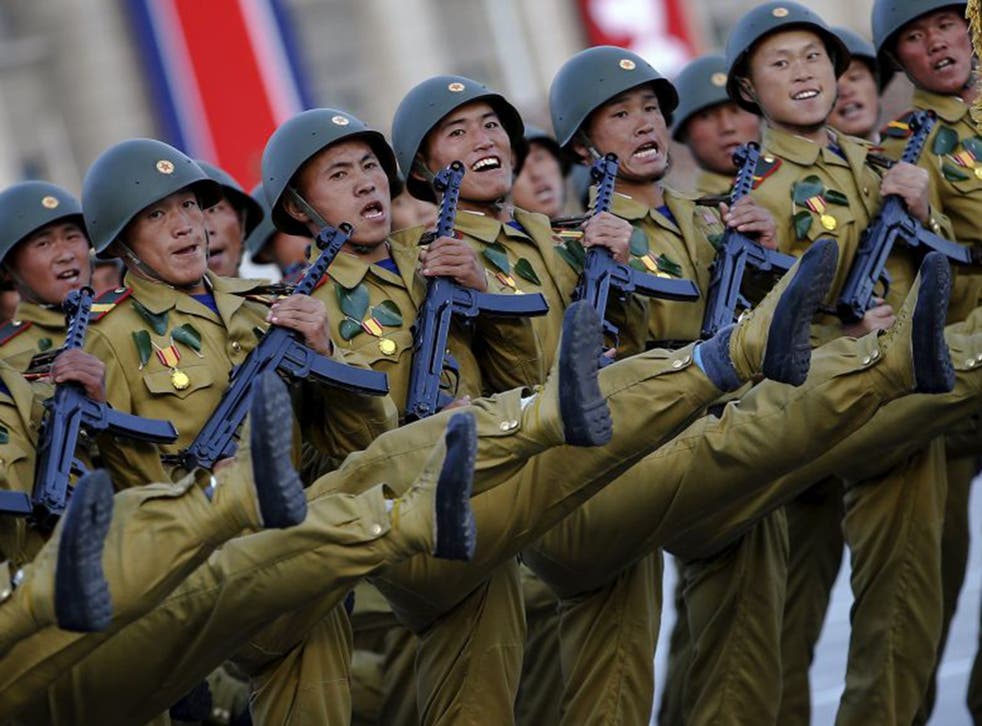 The voice of North Korea's Kim Jong-un boomed across the ranks of troops before him, declaring his nation ready for "any kind of war" with the US, as the country's rulers marked 70 years in power with its largest-ever military parade.
Thousands of troops stood to attention in Pyongyang's main Kim Il-sung Square, named after the founder of the nation, as Mr Kim, the "supreme leader", warned of his country's willingness to confront its enemies if provoked.
"The party's revolutionary armament means we are ready to fight any kind of war waged by the US imperialists," said Mr Kim, wearing his trademark navy-blue Mao suit as he appeared on a balcony overlooking the massive square.
Speaking of his military's "invincible spirit", Mr Kim said: "We can firmly declare that we can fight and win against the US anywhere."
Tanks, armoured vehicles and a variety of mounted missiles rolled past Mr Kim, his entourage of stern, nodding generals and the most important guest, Liu Yunshan, number five in China's Communist Party and the most senior foreign visitor at the event.
Military planes flew in formation above the square, forming the symbol of the Workers' Party of Korea – a hammer, brush and sickle, while floating banners read "Long live the invincible Korean Workers' Party" and people held up cards saying "Protect the mother nation".
Much of the weaponry on display, notably the tanks and planes, were of Soviet vintage, but new models were said to be on display, including drones, dozens of rocket tubes and what were purported to be intercontinental ballistic missiles, all mounted on trucks. The question was how much was new – and also how much was real.
In the past North Korea has been suspected of parading dummy models of missiles and rockets, which has aroused suspicions in South Korea that much on this occasion may also have been fabricated.
The speech by Mr Kim was more forceful than many recent public statements. But the words that counted were those between him and the Chinese visitor who stood beside him.
Assured of "traditional friendship" by China's President Xi Jinping in a letter delivered by Mr Liu, Mr Kim called for "a peaceful and stable external environment" in order "to develop economically and improve people's livelihood". Mr Liu then responded with a pitch echoing President Xi's letter: that China, working with North Korea, would "strive for early resumption of the six-party talks on the nuclear issue".
The inference was that China would again like to host talks on North Korea's nuclear ambitions – last held nearly seven years ago in Beijing – provided the North did not upset "stability" on the Korean peninsula by test-firing another long-range missile or conducting a fourth nuclear test.
While Mr Liu applauded the parade almost in unison with his host, the sense was that North Korea had yielded to Chinese pressure to do no more than put on a lavish show.
"After the arms embargo, they have no advanced weapons system," said Teng Jiang-un of the China Institute of International Studies. "The celebration [simply] gave a strong signal to the outside world that North Korea is prosperous and Kim Jong-un is a strong leader."
While North Korea might test-fire more short and mid-range rockets and missiles, violation of UN strictures against nuclear and long-range missile tests are another matter. The most that appeared likely was the test-firing of a submarine-launched ballistic missile, as North Korea claimed to have done in May.
Register for free to continue reading
Registration is a free and easy way to support our truly independent journalism
By registering, you will also enjoy limited access to Premium articles, exclusive newsletters, commenting, and virtual events with our leading journalists
Already have an account? sign in
Join our new commenting forum
Join thought-provoking conversations, follow other Independent readers and see their replies