Kim Yo-jong: What do we know about Kim Jong-un's sister and why did she attend the Winter Olympics?
Leader's younger sibling was sent to Winter Olympics to depict friendlier image of Pyongyang but is thought to be politically influential in repressive regime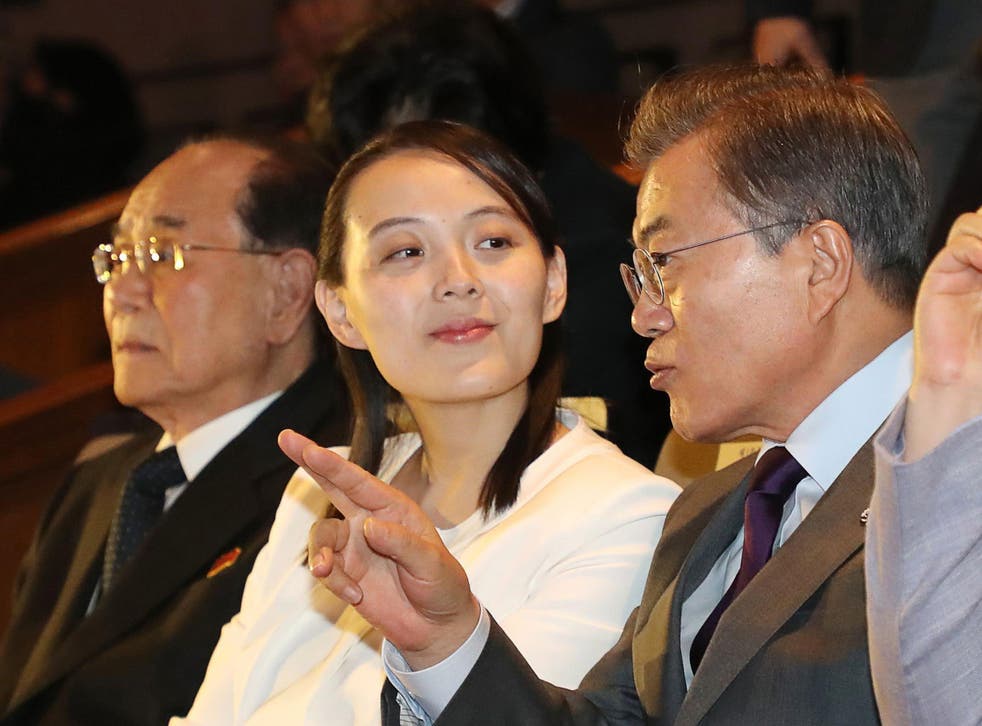 For a few days, at least, the face of North Korea was not that of its notoriously belligerent leader.
Images of Kim Jong-un were replaced by those of his younger sister as she led a delegation from the secretive communist state at the Winter Olympics.
Kim Yo-jong fascinated the media and public after being deployed by Pyongyang to show a softer side of a regime better known for human rights abuses and threats of nuclear war.
The 30-year-old is an increasingly prominent figure in her brother's government and is likely to be the most powerful woman in North Korea. Her three-day trip to Pyeongchang for the opening of the Games made her the first member of the North's ruling family to visit the South since the end of the Korean War.
A few years younger than her brother, whose precise age remains unknown, Kim Yo-jong is believed to be the North Korean leader's closest confidant and is a senior cadre in the country's ruling party.
The two siblings are said to have grown particularly close during years spent studying in Bern, Switzerland in the 1990s.
The details known in the western world about Kim Yo-jong's life, like much of her country, are patchy.
Born in 1987, she is the youngest of three children of former supreme leader Kim Jong-il and his wife Ko Yong-hui. All three siblings are said to have lived childhoods of "social and emotional isolation," attended by servants and bodyguards.
After returning to her homeland in the early 2000s, Kim Yo-jong is thought to have studied computer science at Kim Il-sung University in Pyongyang. She is said to have become friends with the daughter of Megumi Yokota, a Japanese woman abducted by a North Korean agent in 1977.
World news in pictures

Show all 50
According to North Korea expert Michael Madden, Kim Jong-il "proudly told foreign interlocutors" as early as 2002 that his youngest daughter was interested in politics and wanted a career in the dynasty's government.
After completing her studies, Kim Yo-jong was appointed a junior cadre in North Korea's central party and her profile within the country's political system began to rise.
She became a regular member of her father's entourage until his death in 2011 thrust Kim Jong-un into power. Her mother had died in 2004, reportedly of breast cancer.
After Kim Jong-un's accession to the supreme leadership, his younger sister became a close aide who "managed his public events, itineraries and logistical needs," according to Mr Madden's North Korea Leadership Watch blog.
In March 2014, she was identified for the first time by Pyongyang as a "senior official" of the central committee of the Korean Workers' Party. Later that year she became vice-director of the party's Propaganda and Agitation Department before taking full charge in July 2015. North Korean media also refer to her as a vice-minister in the government, although her portfolio is unknown.
Her bond of trust with and direct access to her brother make her influential, and some have speculated that Kim Yo-jong is now essentially her brother's second-in-command.
The body language of the high-ranking North Korean officials who accompanied her was telling of her status in the North, say experts. North Korea's 90-year-old nominal head of state Kim Yong-nam deferred to her in Pyeongchang, asking her to sit down first ahead of tea with the South's unification minister. It is customary in Korea for the highest ranking, usually the eldest, person in the group to sit down first for a meal or meeting.
"This showed Kim Yo-jong was the real person in power, and not just because of her lineage," said Cheong Seong-chang, senior research fellow at the Sejong Institute.
Last year Kim Yo-jong was one of seven North Koreans added to the US Treasury Department's sanctions list over her part in the regime's "severe human rights abuses" and "rigid censorship policies".
Yet her role in Pyongyang's charm offensive at the Winter Olympics appears to have been a success, generating positive headlines in the South Korean media, focus on her fashion, and comparisons to Ivanka Trump. CNN wrote that she was "stealing the show" at the Games in an article that some critics claimed resembled North Korean "propaganda".
CNN accused of 'propaganda' piece on Kim Jong-un's sister Kim Yo Jong
Crowds applauded as she stood for the South Korean anthem during the opening ceremony for the start of the Games, while her smiles and relaxed manner left a largely positive impression on the South Korean public. Even her handwriting received acclaim.
"North Korea used 'soft power' this time to engage the South and her being a woman may have contributed more in that aspect," Kim Man-heum, head of the Korea Academy of Politics and Leadership.
Whether the smiles and handshakes lead to a lasting easing of the region's tensions is another matter.
Kim Yo-jong returned to North Korea on Sunday after inviting South Korean President Moon Jae-in to Pyongyang during a lunch at Seoul's presidential palace.
"Honestly, I didn't know I would come here so suddenly. I thought things would be strange and very different, but I found a lot of things being similar," she said while proposing a toast at Sunday's dinner, according to Mr Moon's office. "Here's to hoping that we could see the pleasant people (of the South) again in Pyeongchang and bring closer the future where we are one again."
Register for free to continue reading
Registration is a free and easy way to support our truly independent journalism
By registering, you will also enjoy limited access to Premium articles, exclusive newsletters, commenting, and virtual events with our leading journalists
Already have an account? sign in
Register for free to continue reading
Registration is a free and easy way to support our truly independent journalism
By registering, you will also enjoy limited access to Premium articles, exclusive newsletters, commenting, and virtual events with our leading journalists
Already have an account? sign in
Join our new commenting forum
Join thought-provoking conversations, follow other Independent readers and see their replies