Kim Yo-jong: Sister of Kim Jong-un now 'de facto second-in-command in North Korea'
Kim Yo-jong to shape policies towards Washington and Seoul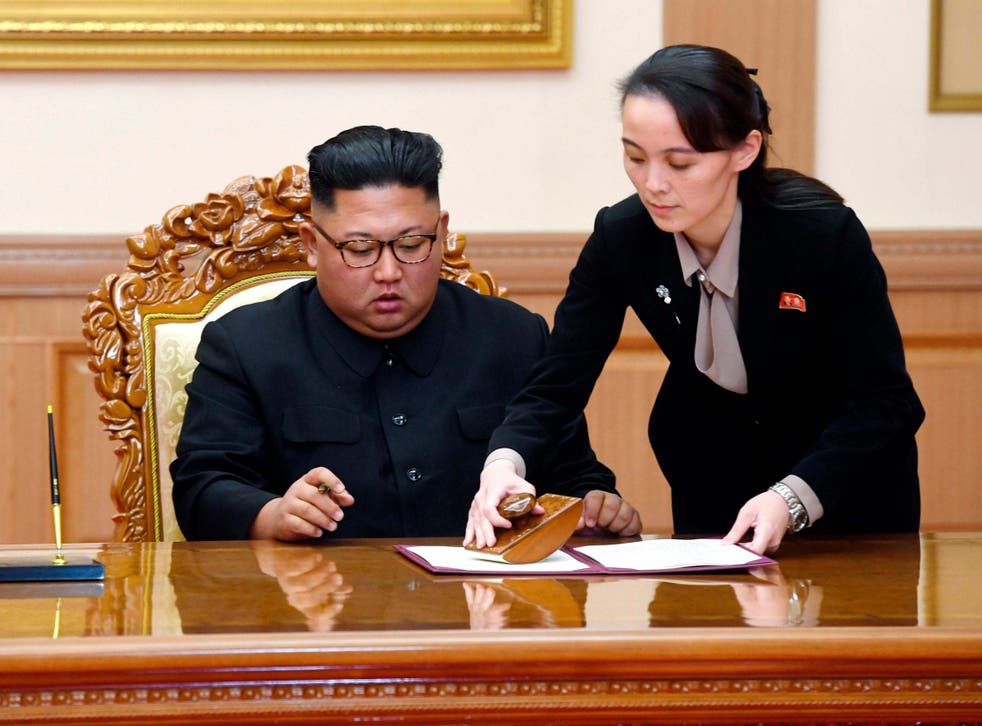 The younger sister of Kim Jong-un has become the North Korean leader's de facto second-in-command, according to South Korea's intelligence agency.
Kim Yo-jong, believed to be in her early 30s, is now responsible for relations with the United States and the South, but her brother's rule over his country remains absolute, said Ha Tae-keung, a South Korean opposition party lawmaker on parliament's intelligence committee.
"The bottom line is that Kim Jong-un still holds absolute power, but has turned over a bit more of his authority compared to the past," Mr Ha said, following a closed-door briefing by the South's National Intelligence Service on Thursday.
Mr Ha added that authority over economic and military policy has also been delegated to several other senior officials, although at a lower level, possibly to reduce strain on Mr Kim and to help him avoid blame for any failures.
Ms Kim is the leader's only close relative with a public role in politics, but Mr Ha said there were no signs she was being groomed for the leadership or that her brother was experiencing health problems.
She recently led a campaign to put pressure on the South and issued her first public statements, condemning the neighbouring nation as a "frightened barking dog" in March after Seoul criticised Pyongyang's weapons tests.
In July, the younger sister offered views on diplomacy with the US in an unusual statement in the North's state media, saying her brother had given her special permission to watch recordings of the Independence Day celebrations.
The news came after Mr Kim called a rare congress of the ruling party in January to form a new five-year economic and coronavirus recovery plan.
During a plenary meeting of the Workers' Party on Wednesday, Mr Kim acknowledged economic shortcomings caused by "unexpected and inevitable challenges in various aspects and the situation in the region surrounding the Korean Peninsula".
The report by Pyongyang's official Korean Central News Agency did not directly mention nuclear diplomacy with the US, which has stalled over disagreements in exchanging sanctions relief and denuclearisation steps.
The Workers' Party last met for a full congress in 2016, its first in 36 years, where Mr Kim announced his initial five-year national development plan.
Additional reporting by Reuters
Register for free to continue reading
Registration is a free and easy way to support our truly independent journalism
By registering, you will also enjoy limited access to Premium articles, exclusive newsletters, commenting, and virtual events with our leading journalists
Already have an account? sign in
Register for free to continue reading
Registration is a free and easy way to support our truly independent journalism
By registering, you will also enjoy limited access to Premium articles, exclusive newsletters, commenting, and virtual events with our leading journalists
Already have an account? sign in
Join our new commenting forum
Join thought-provoking conversations, follow other Independent readers and see their replies