King of Thailand to be cremated more than a year after his death
Funerary rites for Bhumibol Adulyadej will last five days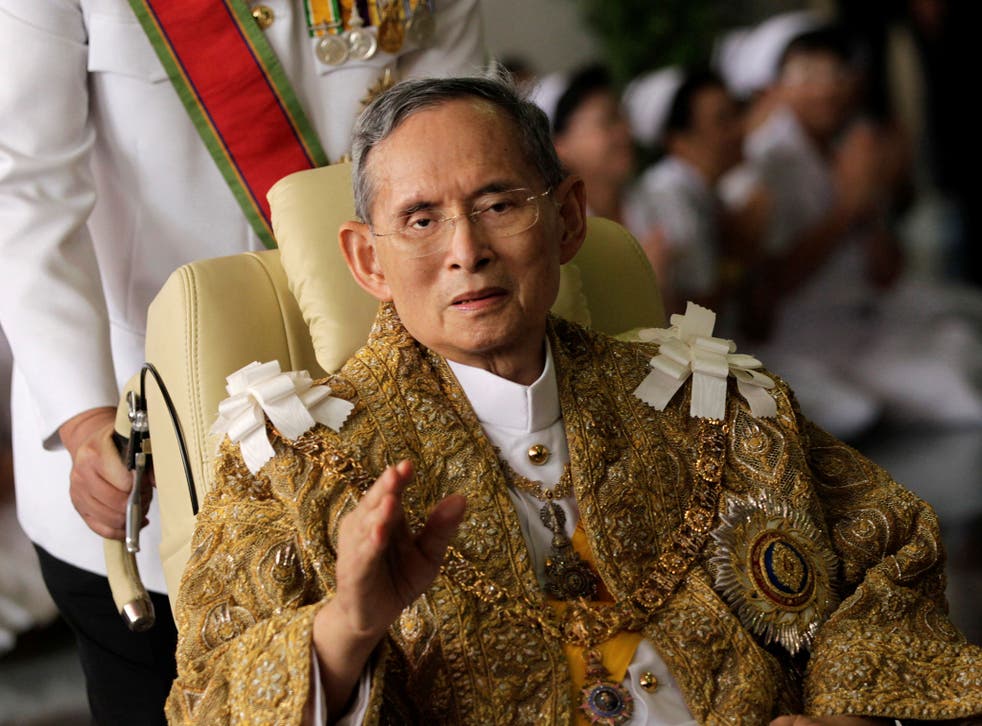 The late King of Thailand is going to be cremated on 26 October, more than a year after his death plunged the country into mourning.
Bhumibol Adulyadej's funerary rites will begin the day before, with the ceremony lasting for five days, the military government has announced.
A billion baht (£22.7m) has been allocated for the funeral of Bhumibol, who until his death on 13 October at the age of 88 was the world's longest-reigning monarch after seven decades on the throne.
A huge crematorium is being erected at Sanam Luang, a large field close to the Grand Palace in Bangkok.
Vajiralongkorn Bodindradebayavarangkun, Bhumibol's only son, will preside over the cremation.
More than six million people have paid their respects to the late king's remains at the Grand Palace, according to the Royal Household Bureau.
Revered as a demigod after his coronation in 1946, the King anchored the South-east Asian country through violent upheavals at home and communist revolutions in neighbouring countries.
Woman forced to kneel before portrait of Thai king after 'posting disrespectful comments online'
The coronation of Vajiralongkorn will follow the cremation of his father, though a date has yet to be confirmed.
Register for free to continue reading
Registration is a free and easy way to support our truly independent journalism
By registering, you will also enjoy limited access to Premium articles, exclusive newsletters, commenting, and virtual events with our leading journalists
Already have an account? sign in
Register for free to continue reading
Registration is a free and easy way to support our truly independent journalism
By registering, you will also enjoy limited access to Premium articles, exclusive newsletters, commenting, and virtual events with our leading journalists
Already have an account? sign in
Join our new commenting forum
Join thought-provoking conversations, follow other Independent readers and see their replies