Indian comedian faces contempt of court charge for joke about right-wing news anchor
Comic has been previously been banned from flights after heckling the firebrand right-wing anchor
Stuti Mishra
Monday 16 November 2020 11:59 Comments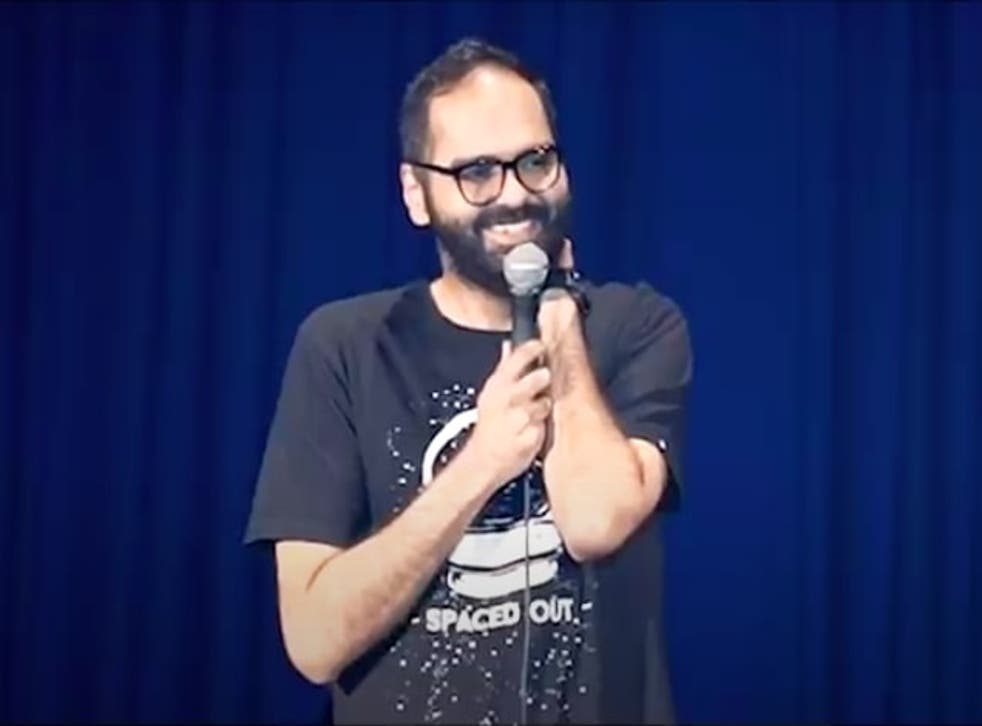 Indian stand-up comedian Kunal Kamra, a vocal critic of Narendra Modi's government, has been charged with contempt of court over a joke about a right-wing news anchor
The comic has refused to take down tweets in which he accused the country's supreme court of giving preferential treatment to Republic TV presenter and founder Arnab Goswami and comparing a judge to a "flight attended serving champaign to first-class passengers".
"No lawyers, No apology, No fine, No waste of space," Mr Kamra wrote on Twitter, where he explained his views remain unchanged.
"My views haven't changed because the silence of the Supreme Court of India on matters of other's personal liberty can not go uncriticised," said Mr Kamra in his statement.
He instead suggested the top court should not waste time on his case and should instead hear pleas related to demonetisation, Jammu and Kashmir, electoral bonds, and other issues he said were more deserving of time and attention.
In another tweet, the comedian mocked the lawyer Harish Salve who is representing Mr Goswami in court, saying: "The pace at which the Supreme Court operates in matters of "National Interests" it's time we replace Mahatma Gandhi's photo with Harish Salve's photo."
Mr Goswami was arrested by Maharashtra police on 4 November, after the reopening a 2018 suicide case. The presenter is alleged have owed money to the man who died, architect Anvay Naik, who designed his studio.
Mr Kamra's criticism provoked anger from three lawyers, who filed a complaints of contempt of court, calling his comments a "blatant insult".
The attorney general of India, KK Venugopal, gave his permission to initiate the contempt of court hearings against Mr Kamra on Thursday.
"It is time that people understand attacking the Supreme Court unjustifiably and brazenly will lead to punishment," he said.
The Mumbai-based comedian's tweets "clearly crossed the line between humour and contempt", the attorney general suggested.
Highlighting a tweet that he believed was truly out of line with its "gross insinuation" against the Supreme Court and its judges, he remarked: "Today people boldly and brazenly condemn the Supreme Court and its judges in what they believe is freedom of speech."
Mr Kamra was banned by several airlines in January this year after he heckled MrGoswami on an IndiGo flight from Mumbai to Lucknow. In the video posted by Mr Kamra online, he was seen questioning Mr Goswami in a manner similar to that which the presenter is known for.
Mr Goswami did not respond to his questions. The video split opinion on social media where some believed that Mr Goswami needed a taste of his medicine while others objected to the comedian's behaviour.
Register for free to continue reading
Registration is a free and easy way to support our truly independent journalism
By registering, you will also enjoy limited access to Premium articles, exclusive newsletters, commenting, and virtual events with our leading journalists
Already have an account? sign in
Join our new commenting forum
Join thought-provoking conversations, follow other Independent readers and see their replies