Lahore attack: More than 5,000 people arrested in paramilitary crackdown on terrorists in Pakistan
Two hundred people are now in custody
Jess Staufenberg
Tuesday 29 March 2016 11:18 Comments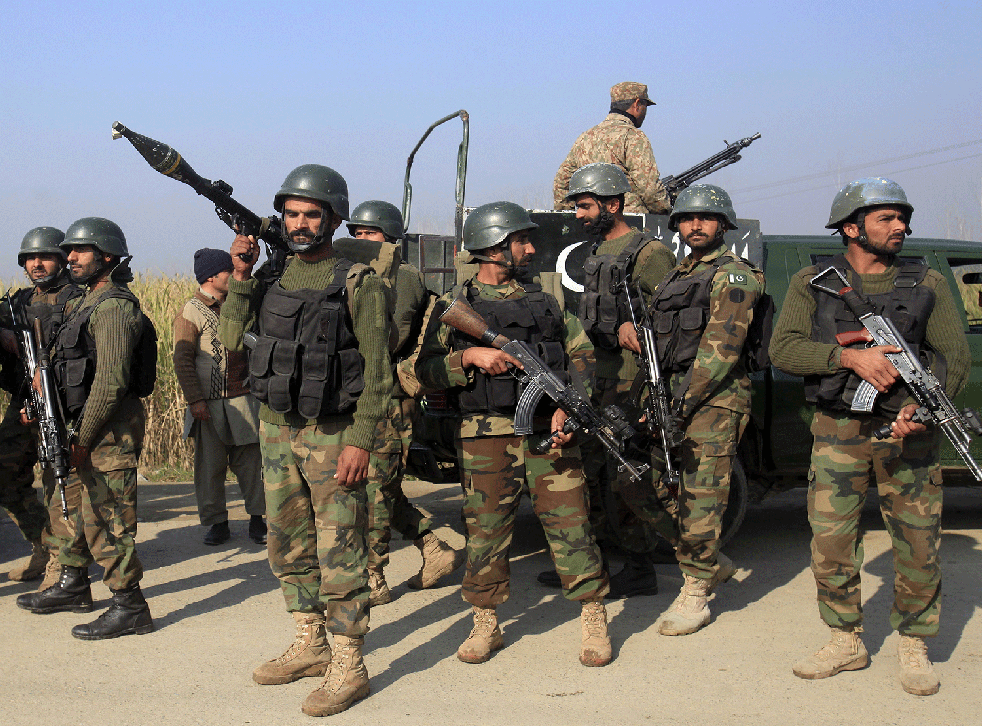 Thousands of suspected terrorists have been arrested as part of Pakistan's paramilitary crackdown on Islamist militants in the wake of the Lahore suicide bomb attack in which 72 people were killed on Easter Sunday.
More than 5,000 people have been arrested and a cache of arms and ammunition found by the Pakistani army in operations following the atrocity that killed up to 72 citizens in Lahore.
Of the 5,000 arrested, some 200 are thought to remain in custody.
Rana Sanaullah, a provincial minister, said: "More than 5,000 people were searched and interrogated and most of them were allowed to go, but some 216 have been apprehended for further investigations."
A further government intervention will hand over more powers to a paramilitary force - known as the Rangers - so it can conduct raids and interrogate suspects in the relatively affluent state of Punjab for the first time.
Pakistan's state army earlier reported it was arresting suspected members of Jamaat ul-Ahrar, the Taliban splinter group which claimed responsibility for the attack at Gushan-e-Iqbal Park that left 29 children dead.
The first wave of arrests were made in five operations across three cities in the eastern Punjab region, with many more following on rapidly.
"Fifty suspects were arrested after the blast. Pakistan Army is leading the operation and no factor of any terrorist group will be spared," a Punjab minister told the Daily Telegraph.
A "huge cache" of weapons and ammunition were also seized in the operations, according to the army's chief spokesman, Lt Gen Asim Bajwa.
The added decision to give the Rangers, a special paramilitary group, extra powers in Lahore indicates the willingness of prime minister Nawaz Sharif to step up the fight against terrorism in his home region, according to Reuters.
"The PM ordered a joint operation of the counter-terrorism department and Rangers in the border areas of Punjab against terrorists and their facilitators," said one government official.
Another senior security official said, on condition of anonymity: "The technicalities are yet to be worked out. There are some legal issues also with bringing in Rangers, but the military and government are on the same page."
Ranger operations of this kind have previously drawn criticism on the grounds of human rights abuses and the targeting of opposition politicians.
Following the 2014 Peshawar school massacre, in which a Taliban faction killed 132 schoolchildren, hundreds of suspected militants were killed or arrested by such paramilitary forces.
The attack by seven gunmen on teachers and students at the Army Public School prompted the government to bring back the death penalty for terrorism suspects.
Following the recent attack on Easter Sunday, a spokesperson for Jamaat-ul-Ahrar told Mr Sharif: "This is a message to the Pakistani prime minister that we have arrived in Punjab."
Register for free to continue reading
Registration is a free and easy way to support our truly independent journalism
By registering, you will also enjoy limited access to Premium articles, exclusive newsletters, commenting, and virtual events with our leading journalists
Already have an account? sign in
Join our new commenting forum
Join thought-provoking conversations, follow other Independent readers and see their replies