India court recognises transgender people as 'third gender'
World's most populous democracy has estimated 3 million transgender people
Adam Withnall
Wednesday 16 April 2014 10:16 Comments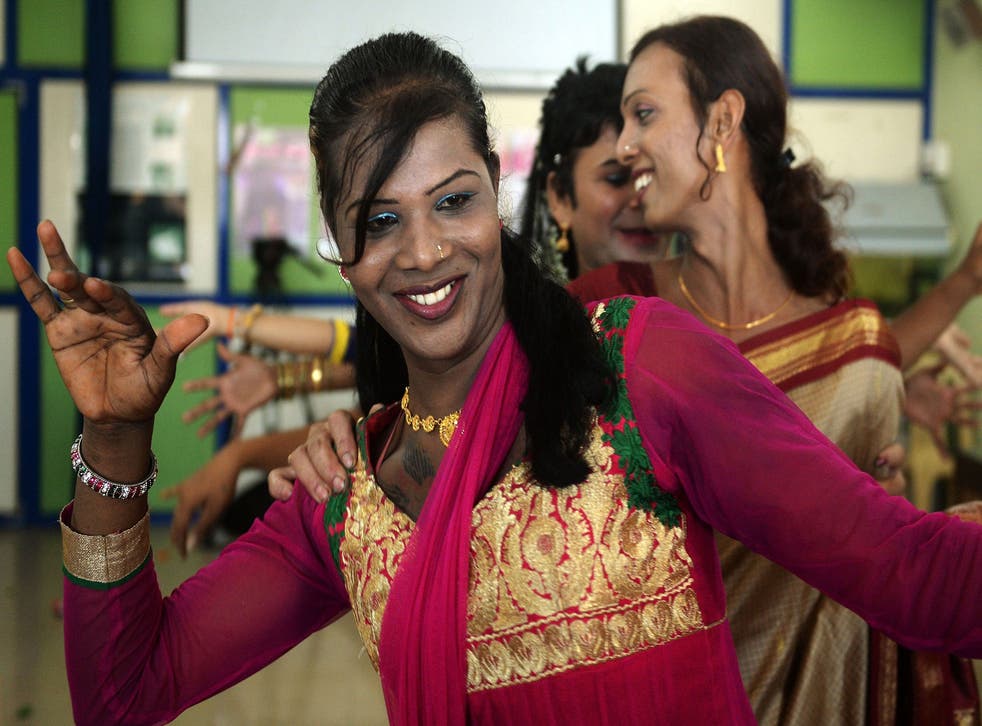 Transgender people in India have welcomed a landmark Supreme Court ruling that said all official documents must include the option for people to identify themselves as a third gender, for the first time offering a guarantee of human rights to around three million people.
The court ruled that the government must provide transgender people with equal access to education, healthcare and welfare programmes, and ordered a public awareness campaign be set up to tackle the stigma they face in day-to-day life.
Previously, India's transgender population has been ostracised and excluded from mainstream society because of their lack of legal recognition. Discriminated against and abused, many are forced into organised begging syndicates or prostitution.
Handing down the ruling yesterday, the Supreme Court declared it the right of every human being to choose their own gender. The new category defines anyone who does not identify with the gender on their birth certificate.
Lawyers said the decision means the government will have to allocate a certain percentage of all public sector jobs, seats in schools and colleges to transgender applicants, and separate facilities will have to be installed in all public toilets.
"Recognition of transgender [people] as a third gender is not a social or medical issue but a human rights issue," Justice KS Radhakrishnan told the court.
"Transgender [people] are also citizens of India", he said. "The spirit of the constitution is to provide equal opportunity to every citizen to grow and attain their potential, irrespective of caste, religion or gender."
Laxmi Narayan Tripathi, a transgender activist who petitioned the court alongside a legal agency, said: "Today I am proud to be an Indian."
"All documents will now have a third category marked 'transgender'. This verdict has come as a great relief for all of us."
Activists said the ruling was also an important step towards combatting hate crimes carried out against transgender people in the largely conservative country. Such incidents are common, they said, yet are rarely reported due to a perceived lack of interest or action from the police and other authorities.
The court also ruled that transgender people would have the same right to adopt children as other Indians, and that health departments must be created to take care of their medical problems.
Recently, India's Election Commission for the first time allowed a third gender choice — designated as "other" — on voter registration forms. The change was made in time for the national elections being held in phases through to 12 May, yet only 28,000 voters from a transgender population of millions registered themselves in that category.
The Supreme Court specified its ruling would only apply to transgender people and not to gay, lesbian or bisexual people.
It was criticised by human rights activists in December when it reinstated a colonial-era ban on gay sex, following a four-year period of decriminalisation that helped bring homosexuality into the open. The court said only parliament could change the law.
Activists said they hoped the ruling on transgender people would encourage the new parliament to repeal the anti-homosexuality law as one of its first actions after the election results are released on 16 May.
Register for free to continue reading
Registration is a free and easy way to support our truly independent journalism
By registering, you will also enjoy limited access to Premium articles, exclusive newsletters, commenting, and virtual events with our leading journalists
Already have an account? sign in
Join our new commenting forum
Join thought-provoking conversations, follow other Independent readers and see their replies