Leading telecoms firm apologises to Thai junta after Facebook 'blocked'
Andrew Buncombe
Tuesday 17 June 2014 12:12 Comments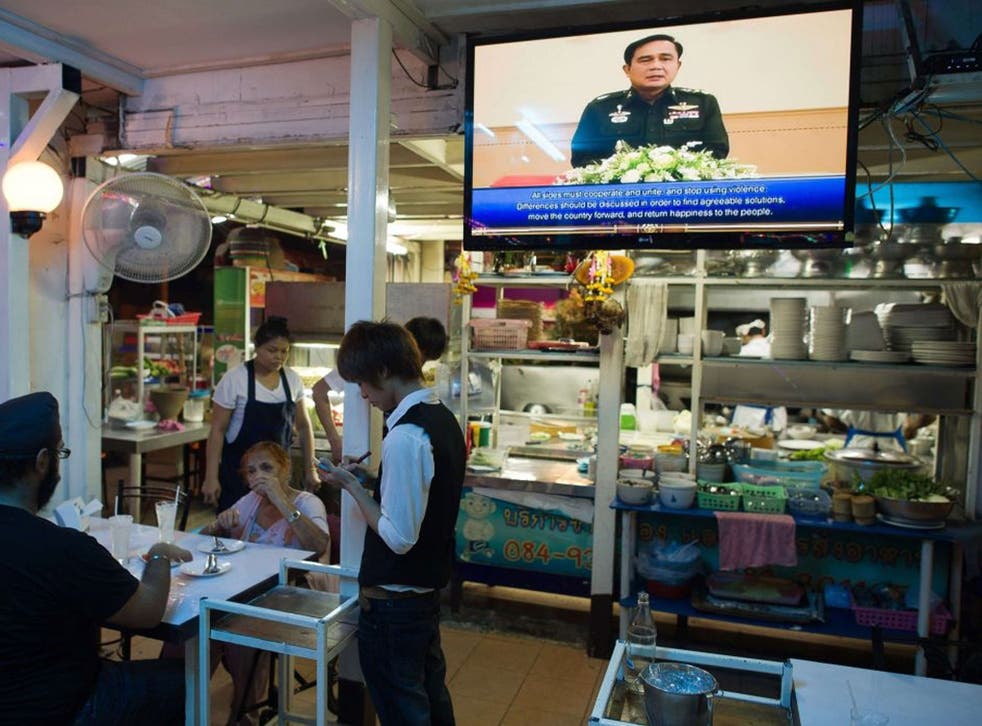 One of the world's largest mobile telecommunications firms has issued an unusual apology to Thailand's junta after an executive claimed the company had been ordered by the military authorities to block access to social media.
The Norwegian Telenor Group said it regretted having damaged the image of the junta, which launched a coup one month ago, but did not retract the executive's claim that the company had been forced to briefly suspend access to Facebook. The apology comes as the company's Thailand subsidiary prepares to bid in the country's 4G spectrum auction, said to be worth a total of £700m.
The apology by Telenor, which operates in 30 countries and which in 2013 reported revenues of £10bn, relates to a controversial incident on May 28, six days after army chief Gen Prayuth Chan-ocha seized power, when Facebook was blocked for up to an hour.
It was widely assumed the military authorities, which had been in talks with internet providers in the days before the incident, were responsible for the shutdown. It was reported they had blocked access to more than 200 websites.
Yet the junta denied it was involved in the blocking of Facebook and the information ministry claimed there had been a "technical glitch".
Then last week, a spokesman for Telenor, Tor Odland, who is based in Bangkok, appeared to confirm what many had suspected when he told Norway's Aftenposten newspaper that Telenor's Thailand subsidiary, Dtac, had indeed been instructed to block access.
"We received a call from the National Broadcasting and Telecommunications Commission (NBTC) to temporarily restrict access to Facebook," he said. "The restriction was implemented at 3.35pm and had the potential to impact Dtac's 10m Facebook users."
Mr Odland said Telenor "lamented" the situation it found itself in. He said the company tried to adhere to international frameworks and UN guidelines on human rights and business. Yet he said that as a licence holder in Thailand the company was obliged to respect local laws.
The claims by Mr Odland appeared to infuriate officials. Col Settapong Malisuwan, deputy head of the broadcasting regulator, told the Thai-language Naew Na newspaper that his comments were unwarranted and harmful.
"It is inappropriate and disrespectful," he reportedly said. "If Thailand has such great problems, Telenor should invest in another place."
He said the authorities would scrutinise Telenor's dealings in Thailand, where regulations prohibit foreign firms from owning more than 49 per cent of a telecommunications company. Telenor currently holds 42 per cent of Dtac's shares.
"In the future we will be careful and monitor the share holdings in Dtac," said Mr Settapong. "If we find that the proportion of foreign shareholders can break our laws for foreign ownership, we will be able to exclude Telenor from the auction for frequencies in the 4G network."
Mr Odland failed to respond to inquiries on Tuesday. Telenor, which has operated in Thailand since 2001, said it had apologised for damaging the image of the broadcasting regulator and the junta, which has styled itself the National Council for Peace and Order. (NCPO)
It denied reports that Mr Odland had been fired and said he was still in his job. But it refused to confirm whether or not his claim that the junta had ordered it to suspend access to Facebook was correct.
"[We] are fully aware that Thailand is currently under the administration of the NCPO. Thailand requires unity among its people and its many foreign friends who are operating in the country," it said. "We will continue to strengthen our dialogue with the people of Thailand for the betterment of the country."
The company also said its Thailand subsidiary was "gearing up" for the 4G spectrum auction that is expected to take place later this summer. "Dtac is confident it's qualified for this auction," it said.
Gen Prayuth launched the coup after months of anti-government protests destabilised the government and undermined the position of Prime Minister Yingluck Shinawatra, who was eventually forced to stand down on the instructions of a controversial judicial body.
The Constitutional Court had been established following the previous coup, in 2006, when her brother, Thaksin Shinawatra, was forced out of his position as premier. Gen Prayuth has said there are unlikely to elections for at least a year while he oversees unspecified reforms of the system.
Register for free to continue reading
Registration is a free and easy way to support our truly independent journalism
By registering, you will also enjoy limited access to Premium articles, exclusive newsletters, commenting, and virtual events with our leading journalists
Already have an account? sign in
Join our new commenting forum
Join thought-provoking conversations, follow other Independent readers and see their replies