LGBT protesters take to Delhi streets over law criminalising homosexual acts
Annual gay pride parade highlighted community's anger over the reinstatement of a colonial era anti-sodomy law which was declared unconsistutional in 2009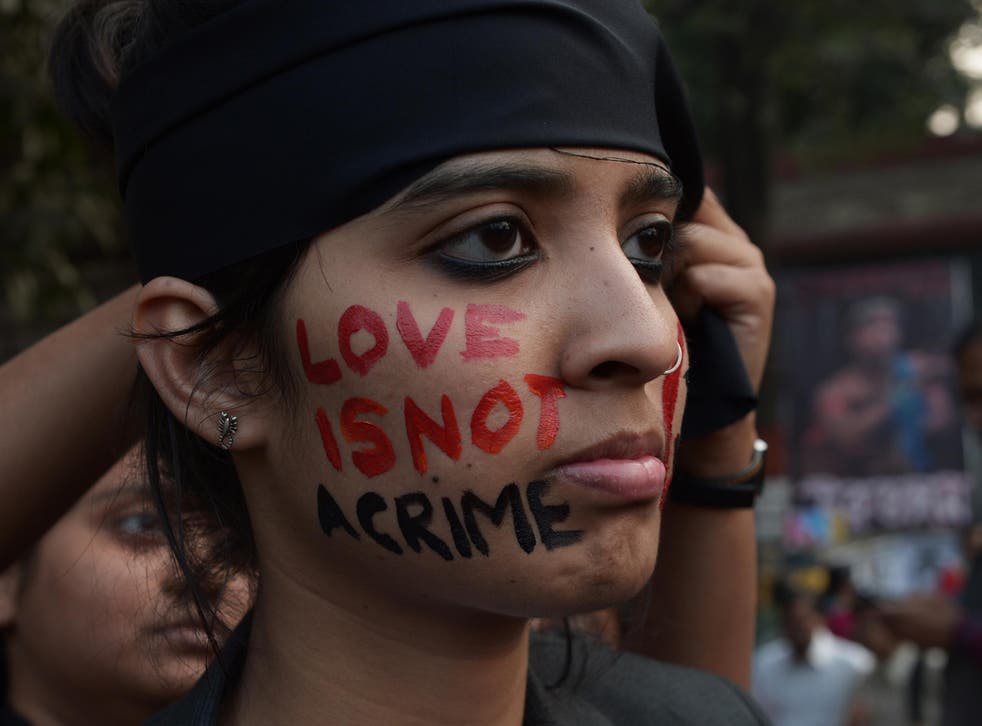 Hundreds of gay rights activists marched to the beat of drums in Delhi on Sunday, both to celebrate their sexuality and to draw attention to the continuing discrimination India's LGBT community faces.
Some participants in the annual gay pride parade said the ninth event felt different to past marches because more people have come to accept gay, lesbian, bisexual, and transgender people. But others said India's right-wing government is reversing rights gains.
Campaigners demanded the repeal of a recently re-instated law criminalising homosexual acts.
In 2009, activists cheered and danced in the street when the New Delhi High Court declared Section 377 of the Penal Code unconstitutional. The colonial era anti-sodomy law, which is vaguely worded but usually interpreted as criminalising various homosexual acts, was written into the law books of dozens of colonies by the British Empire. It still exists today in 42 of 52 British commonwealth nations.
India temporarily took the tally down to 51, but the judgment was overturned in 2013, when India's Supreme Court decided that amending or repealing Section 377 should be left to Parliament, not the judiciary.
The law makes gay sex punishable by up to 10 years in prison.
"There has been a lot of change, and we have gone back also," said Saurav Jain, a 33-year-old architect who attended the parade.
Rituparna Borah, an activist, was not very hopeful, saying that the Hindu nationalist government of Prime Minister Narendra Modi was not supportive of gay rights. "We have yet to have an inclusive society," she said.
In pictures: Gay pride march in Nepal

Show all 10
Over the past decade, LGBT people have gained a degree of acceptance in India, especially in big cities. Many bars have gay nights, and some high-profile Bollywood films have dealt with gay issues.
However, being gay is seen as shameful in most of the country, and many people keep their sexual preference and gender identity secret.
PA contributed to ths report
Join our new commenting forum
Join thought-provoking conversations, follow other Independent readers and see their replies