Malaysia flight MH370: Five of the craziest theories so far
Aliens, a new Bermuda Triangle and a Snowden connection are among just a few bizarre theories surrounding the plane's disappearance
Heather Saul
Tuesday 18 March 2014 18:07 Comments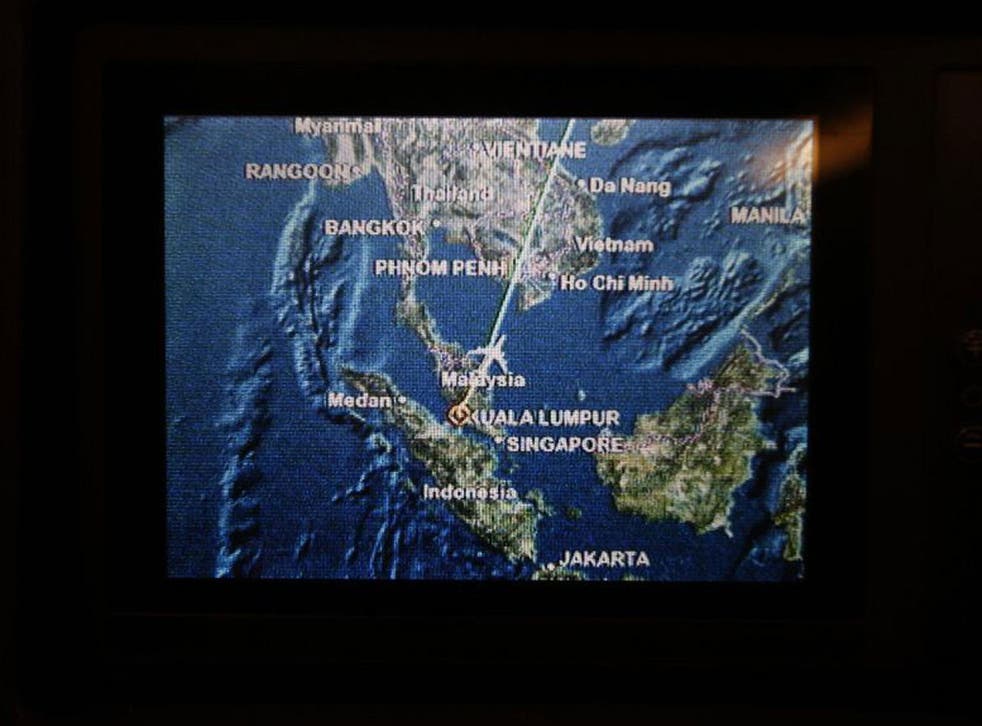 As the search for missing Malaysia Airlines flight moves into its eleventh day, theories surrounding what has become of flight MH370 are continuing to gather momentum.
While some of these theories as to how a flight carrying 239 people could have just disappeared have not been discounted by authorities, others have tended towards the unusual, bizarre and downright ridiculous.
Here are five theories currently raising eyebrows among the more sceptical readers.
The Bermuda Triangle
The long debunked Bermuda Triangle was blamed after a Malaysian politician decided the triangle had simply moved to Vietnam waters, tweeting that: "New Bermuda Triangle detected in Vietnam waters, well-equipped sophisticated devices are of no use!"
Meanwhile, viral Facebook posts claiming the missing Malaysia Airlines MH370 flight had been found near the Bermuda Triangle were in fact pieces of malware and links to fake surveys posted by hackers, who profited from the public's growing interest in the story.
The posts contained videos that appeared legitimate and claimed the plane had been found in various places, with many stating its passengers are "alive" or "saved".
The Snowden Connection
Reddit user Dark_Spectre then entered the debate into the jetliner's fate by theorising that Chinese or American authorities may have kidnapped the plane to gain access to the employees of Texas-based Freescale Semiconductor, who were believed to be aboard.
Dark-Spectre claimed there was an Edward Snowden connection in all of this because of the people he insisted were among the passengers.
"So we have the American IBM Technical Storage Executive for Malaysia, a man working in mass storage aggregation for the company implicated by the Snowden papers for providing their services to assist the National Security Agency in surveilling [sic] the Chinese.. and now this bunch of US chip guys working for a global leader in embedded processing solutions (embedded smart phone tech and defence contracting) all together..on a plane..And disappeared.. Coincidence??"
No, says Dark-Spectre, this was not a coincidence. The only probable explanation is thus: "US intelligence got late wind that their flying brain-trust of 21 were going to be arrested/detained and interrogated upon landing in China and the US intelligence community deemed the risk too great to their Asian based espionage programs and took appropriate action to "sanitize" the plane in flight."
Aliens
A list of conspiracy theories would not be complete without the obligatory alien abduction narrative. Alexandra Bruce, of Forbidden Knowledge TV, has used flight mapping website Flightradar as an example of extra-terrestrial involvement in the disappearance of MH370.
Pointing to a video by "intrepid citizen reporter" YouTube user DAHBOO7, Bruce claims radar readings in the clip "captured signals from what for now, can only be termed a UFO".
The video recreates the plane's final moments and shows a "mystery object" flying at an accelerated speed which is in fact marked as the Korean Airlines Flight 672.
Others however have needed less convincing on the alien-as perpetrator forefront.
Passengers were taken to Pyongyang
With hijack theories abound, one of the most popular has proved to be that North Korea had taken over the plane - with many now arguing that China's decision to deploy 21 satellites to assist with the search somehow suggests this supposed event is still on the table.
They did it in 1969, points out Reddit user nickryane, so why not now?
Passengers are still alive
Desperate family members of missing passengers have reported being able to ring the mobile phones of their loved ones days after the plane had disappeared, leading to speculation that they are still alive somewhere in the world.
Some were able to find their relatives on a Chinese instant messenger service, suggesting their phones were still online.
So-called phantom calls led many to assume the flight has not crashed, and others have gone so far as to counter that the phone calls are the work of the supernatural.
Tech experts dispelled these rumours, explaining that phones which have been switched off do not always go straight to voicemail, depending on the network and location.
Register for free to continue reading
Registration is a free and easy way to support our truly independent journalism
By registering, you will also enjoy limited access to Premium articles, exclusive newsletters, commenting, and virtual events with our leading journalists
Already have an account? sign in
Join our new commenting forum
Join thought-provoking conversations, follow other Independent readers and see their replies