Former Malaysian PM angry as anti-corruption police raid his home and seize luxury items
Najib Razak criticises 'cavalier' search of property as wife warns $4.5bn corruption probe could turn into 'public trial'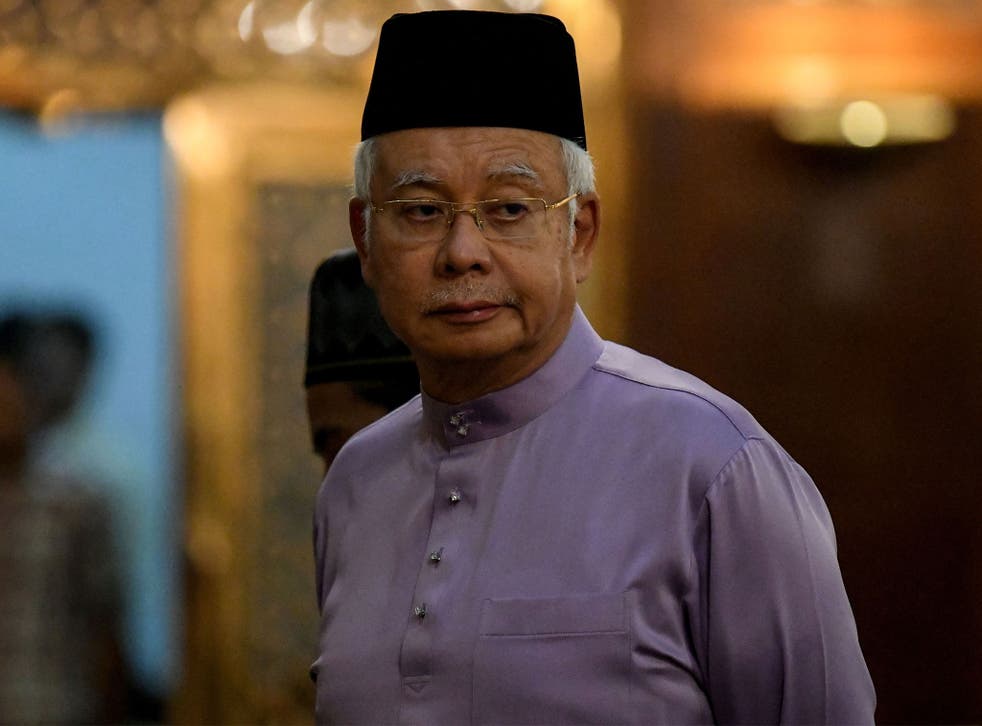 Malaysia's embattled former leader has hit out at police investigating claims he looted billions of dollars in state funds after dozens of luxury items were seized from his home.
Najib Razak has been the subject of a probe into corruption allegations after he suffered a shock defeat in the country's general election earlier in May.
Led by 92-year-old Mahathir Mohamad, the new government is examining how $4.5bn (£3.3bn) disappeared from the 1MDB state fund created by Mr Najib.
The former prime minister is alleged to have helped himself to around $700m from the fund, a claim he has routinely denied.
His home and several other locations across Kuala Lumpur were raided on Wednesday, with investigators seizing hundreds of designer handbags, many of which were said to be filled with cash and jewellery.
Mr Najib's lawyer, Harpal Singh Grewal, told reporters waiting outside the house that the former prime minister and his family were "really very unhappy" that police had confiscated clothes and shoes belonging to his children.
"No attempt was made to verify whether these dresses, shoes, babies clothes and all had anything to do with the investigations which are ongoing," he said.
Grewal also claimed the raid was carried out in a "cavalier and irresponsible manner", accusing police of "helping themselves" to food stored in the house.
A police spokesman was not available for comment.
Meanwhile, legal representatives for the 64-year-old's wife, Rosmah Mansor, warned investigators not to conduct what amounted to a "public trial".
World news in pictures

Show all 50
"It is our hope that the authorities would observe the rule of law and due process, to avoid a premature public trial," Ms Rosmah's lawyers, Valen, Oh and Partners, said in a statement on her behalf.
"Enforcement agencies should not be feeding social media trolls, but observe and uphold strict professionalism at all times," it added.
Authorities in several countries, including the US, have launched investigations into the 1MDB scandal.
Commentators have attributed the corruption claims in part for the surprise defeat of Mr Najib's National Front party during the country's general election.
Before the vote, the bloc had ruled Malaysia continuously for more than 60 years.
The former prime minister, who spent nine years in power, has routinely denied any wrongdoing, although both he and his wife have been barred from leaving the country.
The round-the-clock searches at the couple's residence have drawn some criticism of the police, even from their political rivals.
"As former victims of early dawn police raids, I must stress my disagreement in ransacking any home at such an ungodly hour," said ruling coalition politician Nurul Izzah, daughter of reformist Anwar Ibrahim, who was released from jail and given a full pardon on Wednesday.
"Charge, investigate, prudently," she added in a post on Twitter.
Meanwhile, the case of a Mongolian model murdered in Malaysia 12 years ago may be reopened.
Mongolian president Khaltmaagiin Battulga has called for the new leaders in Kuala Lumpur to resume investigations into the killing of 28-year-old Altantuya Shaariibu.
Two of Mr Najib's security detail were convicted of the woman's murder and fled the country with death sentences hanging over them.
Speaking from the detention centre in Australia where he has been held since 2015, Sirul Azhar Umar, one of the men found guilty of the murder, said he would help the government with the case so long as he walked free.
"I am willing to assist the new government to tell what actually transpired provided that the government grants me full pardon," he told news portal Malaysiakini.
Additional reporting by Reuters
Register for free to continue reading
Registration is a free and easy way to support our truly independent journalism
By registering, you will also enjoy limited access to Premium articles, exclusive newsletters, commenting, and virtual events with our leading journalists
Already have an account? sign in
Register for free to continue reading
Registration is a free and easy way to support our truly independent journalism
By registering, you will also enjoy limited access to Premium articles, exclusive newsletters, commenting, and virtual events with our leading journalists
Already have an account? sign in
Join our new commenting forum
Join thought-provoking conversations, follow other Independent readers and see their replies