The man who says he's on America's kill list and can't get off it
Mr Jalal believes he has been targeted with five drone strikes in Waziristan since 2010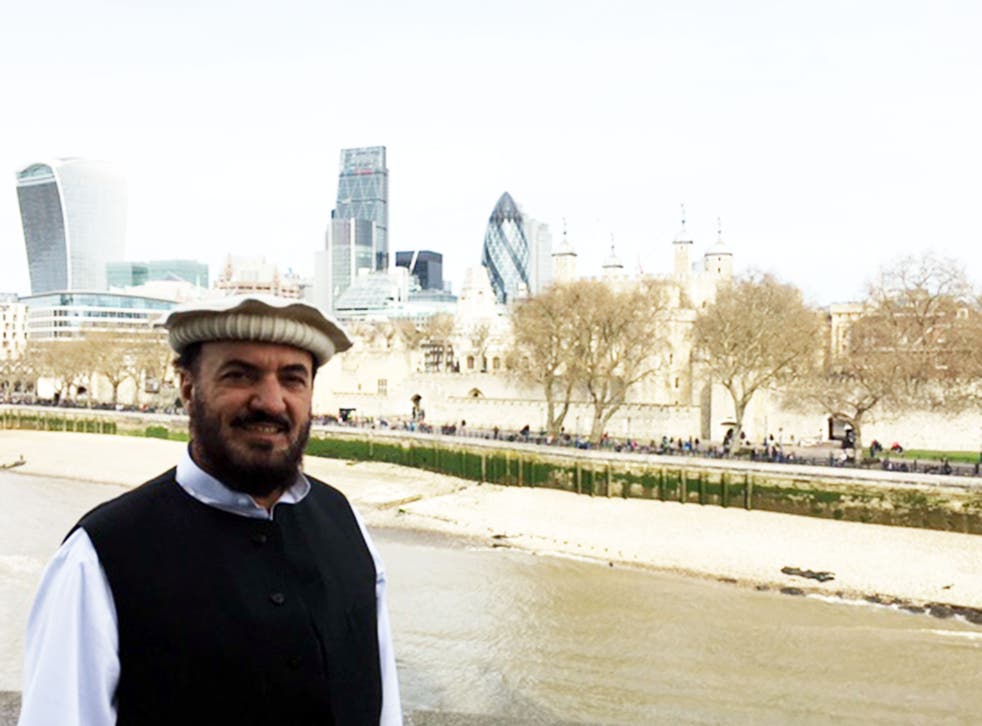 A Pakistani tribal elder who has survived four drone strikes and claims he is on America's notoriously secretive "kill list" has asked the US to stop trying to assassinate him.
Malik Jalal claims to have been targeted by the US Government on numerous occasions over the past six years because they believe he is linked to the Taliban.
He has now appealed to MPs in the UK to put pressure on the US and UK government to stop hunting him in a bid to clear his name for good.
Speaking to the Independent, Mr Jalal, who is from the Waziristan region once described by Barack Obama as the "most dangerous place in the world", described the first time in was subject to a drone strike.
"I was in an SUV with my nephew and there was another SUV, of a similar colour and model a few metres behind us," he told The Independent.
"All of a sudden there was an explosion and the other car burst into flames. There were four labourers inside, they had been going to work."
Mr Jalal and his nephew survived unharmed, and drove away with their windows smashed by the blast and the sight of a huge fireball in the rear view mirror.
"When you lived in Waziristan in those years, when drones were striking all the time, you had to live without fear," Mr Jalal recalled.
"But when I saw the impact so close and the shattered glass, for the first time I was really scared."
Mr Jalal says the attack was preceded by a similar strike a few months before.
He says he had lent his car to another nephew, Salimullah, to drive to a garage in Deegan for an oil change and routine tyre check.
"The moment he reached it another SUV parked up and while my nephew was standing there talking to a mechanic, there was a strike," he added. "The cars were completely destroyed and Salimullah was injured - he lost some of his fingers. Four people from the village died."
Mr Jalal says a third strike on 6 October of the same year led him to believe for "certain" he was being targetted.
He was on his way to his friend's house when he saw a drone approached the property and bomb it, killing three people including one of Mr Jalal's cousins.
That followed another incident in 2013 when Mr Jalal was driving to a property to meet friends for lunch and it was bombed minutes after he let its occupants know he was on his way.
He believes he was also the target of the deadliest drone strike ever to be officially acknowledged in Pakistan.
Mr Jalal was due to attend a jirga, local tribal assembly, to solve a land dispute in Datta Khel on 17 March 2011.
"I was expected to be there but I was delayed sorting something out at work," he said.
"I was leaving the office when I saw missiles heading towards the meeting place."
Two Predator drones went on to kill more the entire assembly of at least 40 people, as well as the occupants of a passing car, in a hail of missiles.
A Taliban commander was one of those thought to be killed, but the rest of the dead were tribal elders, local traders and civilians. Only 15 bodies were found intact.
None of those killed in the five strikes had any links to Taliban, al-Qaeda or any other armed groups active in the restive region, which borders Afghanistan, Mr Jalal said.
After resorting to sleeping under trees to prevent his family home from becoming a target, he fled Waziristan after the fifth strike in 2013 and now lives with his wife in a different province of Pakistan.
"I don't fear for my own life because I believe that when my departure is due, nothing can stop it," Mr Jalal said.
"The bigger fear for me is the safety of my family and extended family. We all lived together in one house, with my children, and my presence there threatened their lives as well."
He claims officials close to the security services warned him that he was on the "kill list", officially known as the Disposition Matrix.
Artists in Pakistan target drones with giant posters of child victims

Show all 5
The names it carries are a closely-guarded secret and Mr Jalal has never had any confirmation his is among them.
He believes he may have mistakenly become a target because of his work as part of the North Waziristan Peace Committee, which mediates between local tribes, government agencies and militant groups.
The group has not been without controversy, with a report in 2011 claiming Mr Jalal was among leaders vowing "revenge" on the US for the alleged killing of civilians in drone strokes.
Acknowledging the comments, he admitted saying "some things I regret" in anger and had not carried out the threat.
Asked about accusations of links with the Taliban, Mr Jalal said his committee was not affiliated with the "crazy" Islamists and worked for peace in a framework mandated by the Pakistani government.
"In all my negotiations with the Taliban we were always very clear with them that we would not support violence," he added.
His anger remains over America's drone strikes, which have killed between 400 and 950 civilians in Pakistan since the CIA campaign began in 2004 according to the Bureau of Investigative Journalism.
Its data tracking project recorded 128 strikes in the 2010 peak, with numbers of reported attacks dropping ever since.
Such was the frequency of drone attacks in Waziristan that locals have their own word to describe the remains of a human body hit by a Hellfire missile - a "bugsplat".
The United Nations has voiced concern that attempts to characterise operations against suspected extremists as part of a "transnational armed conflict" – the War on Terror – are fragile and are "subjecting unsuspecting communities to the risk of disproportionate collateral damage".
Mr Jalal argued that the programme is "counter-productive" and makes terror attacks more likely by fuelling anti-Western sentiment in the volatile region.
"They're not getting rid of militants – for every two militants hit, 10 more will spring up in their place because their families and friends have been killed," he added.
Ambassador Akbar Ahmed, the former High Commissioner of Pakistan in London says civilians in Waziristan have been "traumatised" by the almost constant presence of drones buzzing overhead.
Speaking from Washington, where he now chairs the American University's Islamic Studies department, Mr Ahmed said the US strategy had ignored the tribal complexities of the province.
He estimated that around 400 elders had been killed in the region, leaving the Taliban to move into a power vacuum left by a "decapitated society".
"There were more drone strikes in Waziristan than any other place on Earth," he added.
"The people are completely neurotic, children can't sleep at night and they are all thinking – 'Am I next'?
"Every time a drone kills someone's son or brother or mother, you have an entire extended family looking for revenge."
He said it was difficult to confirm Mr Jalal's presence on the "kill list" but his claims were credible, adding: "This is happening all the time - there are a lot of people who end up being targeted who have nothing to do with the violence."
When contacted by The Independent, a spokesperson at the US Central Command admitted that "US entities operate" in Pakistan but said information on targeting could not be disclosed.
The State Department, Pakistan's foreign ministry and London High Commission have not yet responded to requests for comment, while the Foreign Office said it does "not comment on intelligence matters".
Jennifer Gibson, a lawyer from Reprieve campaign group who represents Mr Jalal, said letters addressed to the Home Secretary and Foreign Secretary, and requests for meetings with the American Embassy had also gone unanswered.
A meeting with MPs during his London visit went "very well" but brought no closure, she said, adding: "Unfortunately he has gone back home without any answers on how he can protect himself."
Asked why he had not attempted to travel to the US to make his plea, Mr Jalal quipped: "They won't give me a visa, they're trying to kill me."
Last week's visit was his first time in the UK - he said he hoped the support of British MPs and officials would be helpful given the two countries' close intelligence co-operation.
"I came with the hope that I can clear the misunderstanding in my case because my role has always been as a negotiator and peace-maker," Mr Jalal said. "I just want to clear my name."
Register for free to continue reading
Registration is a free and easy way to support our truly independent journalism
By registering, you will also enjoy limited access to Premium articles, exclusive newsletters, commenting, and virtual events with our leading journalists
Already have an account? sign in
Register for free to continue reading
Registration is a free and easy way to support our truly independent journalism
By registering, you will also enjoy limited access to Premium articles, exclusive newsletters, commenting, and virtual events with our leading journalists
Already have an account? sign in
Join our new commenting forum
Join thought-provoking conversations, follow other Independent readers and see their replies