Man jumps to his death after argument with girlfriend in Chinese shopping mall, state media say
Police investigation now underway to establish what led the man to allegedly commit suicide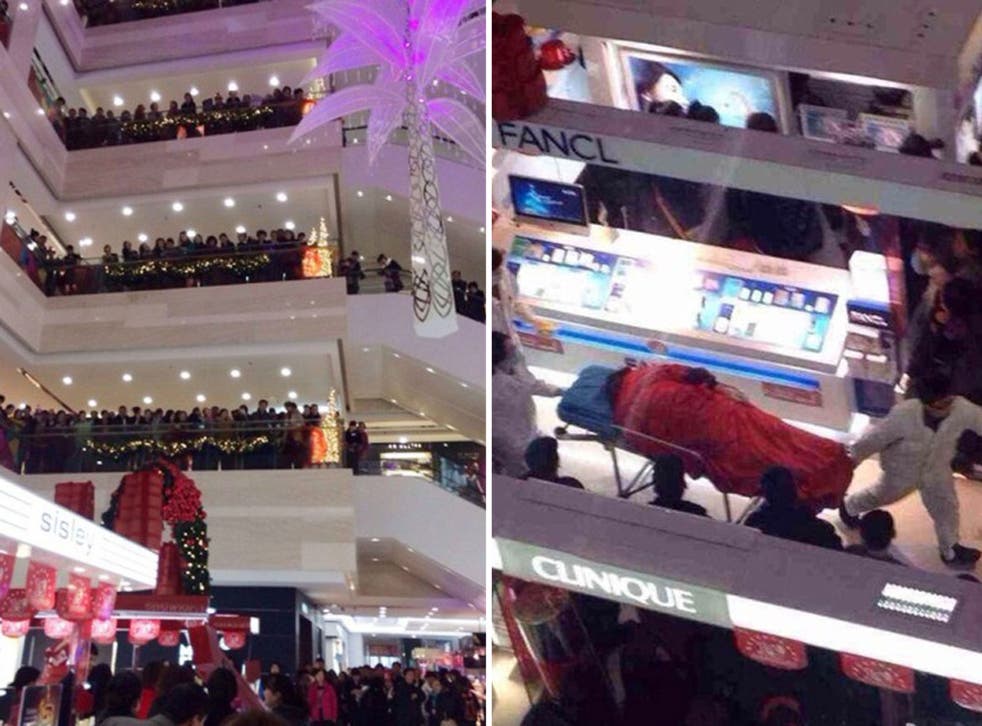 A man has committed suicide in a busy Chinese shopping centre after a heated argument with his girlfriend, according to state media reports.
CCTV footage from the Xuzhou Golden Eagle mall on Saturday showed the man, believed to be 38-year-old Tao Hsiao, apparently exiting a seventh-floor escalator and jumping over a balcony railing to his death.
Police told the state-operated People's Daily that an investigation was underway to determine exactly what had happened, but the newspaper quoted eye-witness accounts saying there had been a dispute between the man and his girlfriend moments earlier.
The mall issued an official news release to microblogging sites confirming the incident which occurred at around 4pm on 7 December, as speculation abounded over social media as to how long the couple had been there and what it was that led him to jump.
Reporters for 21CN said 120 emergency personnel were called to the scene, though the man was later said to have died on impact.
The news outlet quoted a woman working on a ground floor cosmetics stand saying: "Today is the weekend, with lots of customers particularly in the first floor lobby. I heard a 'bang', then someone said someone had jumped and I looked back and saw a man lying on the ground motionless."
For confidential support call the Samaritans on 08457 90 90 90, visit a local Samaritans branch or see Samaritans.org
Register for free to continue reading
Registration is a free and easy way to support our truly independent journalism
By registering, you will also enjoy limited access to Premium articles, exclusive newsletters, commenting, and virtual events with our leading journalists
Already have an account? sign in
Register for free to continue reading
Registration is a free and easy way to support our truly independent journalism
By registering, you will also enjoy limited access to Premium articles, exclusive newsletters, commenting, and virtual events with our leading journalists
Already have an account? sign in