'Mass molestation' in India blamed on women wearing Western clothes
Minister sparks outrage as he says: 'These kinds of things happen'
Harriet Agerholm
Tuesday 03 January 2017 17:10 Comments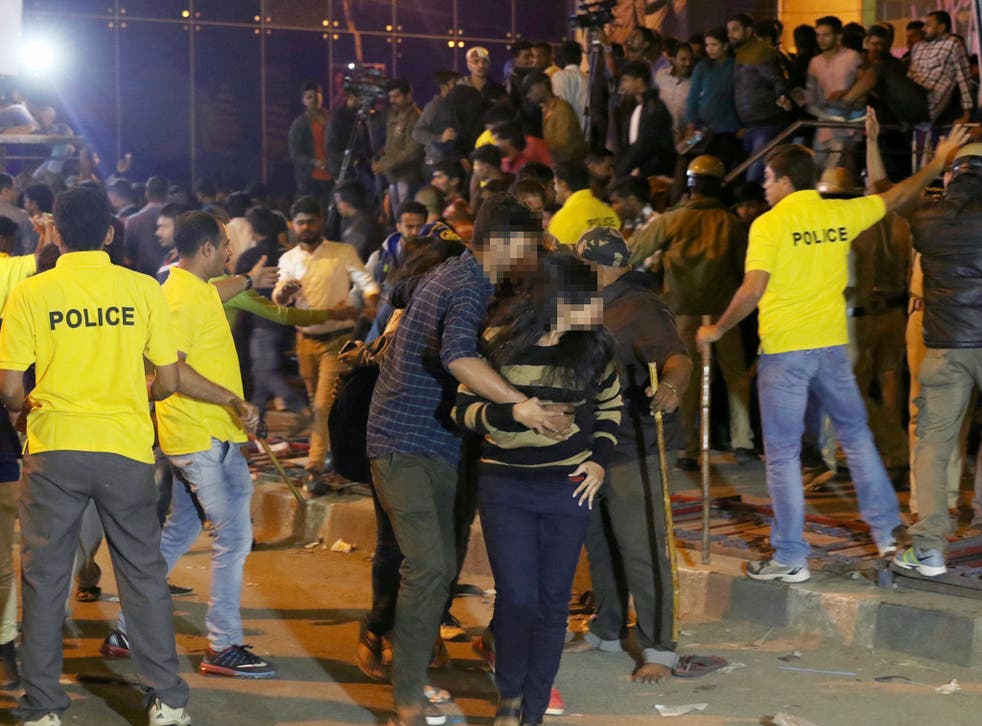 An Indian minister has sparked outrage by suggesting that a "mass molestation" of women in one of the country's busiest nightlife hubs took place because they dressed "like westerners".
Multiple women were groped during New Year celebrations in Bangalore, the capital of India's southern Karnataka state, according to local and social media reports.
Photographs of distraught women rushing out of crowds and seeking help from police appeared on both.
But Karnataka State Home Minister, G Parameshwara, caused uproar after said the alleged attacks were the result of Western influences.
"They tried to copy the Westerners, not only in their mindset but even in their dressing," he said. "So some disturbance, some girls are harassed, these kinds of things do happen."
The minister's comments have sparked uproar, with National Commission for Women chief Lalitha Kumaramangalam telling local media: "Such remarks from the Home Minister is unacceptable and regrettable.
"I want to ask this Minister are Indian men so pathetic and weak that when they see a woman in Western clothes on a day of revelry, they get out of control?"
The "brazen, mass molestation of women" took place between as revellers gathered for New Year celebrations, according to the Bangalore Mirror.
"All hell broke loose close to midnight as hooligans in the garb of revellers started pawing, molesting and passing lewd remarks on women on the streets, forcing some of them to literally take off their stilettoes and run for help," the paper reported.
World news in pictures

Show all 50
"The police asked them to identify the men, but they couldn't. It was a mob frenzy."
Chaitali Wasnick, a photographer, wrote on Facebook that a man tried to grope her with "so much ease he did as if he thought il (sic) not utter a word" as she made her way home in another part of the city.
But she had "punched and kicked" him until he ran away.
She told the Independent there were no police officers nearby and there was "nothing I could do" after the assault.
Police said they have received no complaints but were examining CCTV footage for evidence of molestation.
"We had deployed 1,600 police personnel in the area for new year's celebrations and around 60,000 people had come there that night," Nagaraj, a police inspector, told the Hindustan Times.
But he insisted: "We had the situation under control.... If such incidents did take place that night we urge people to come forward and file complaints."
The stigma around sexual assault in India means it largely goes unreported.
In 2015, Police were reported to have sent text messages to 600,000 men who had previously been accused of sexual misconduct, ahead of the New Year celebrations.
Register for free to continue reading
Registration is a free and easy way to support our truly independent journalism
By registering, you will also enjoy limited access to Premium articles, exclusive newsletters, commenting, and virtual events with our leading journalists
Already have an account? sign in
Join our new commenting forum
Join thought-provoking conversations, follow other Independent readers and see their replies