Mayon volcano: Thousands flee 'quiet eruption' in Philippines amid warnings of 'hazardous explosion'
Volcano spews lava and ash as alert level indicates explosion possible 'within weeks or even days'
Samuel Osborne
Tuesday 16 January 2018 08:19 Comments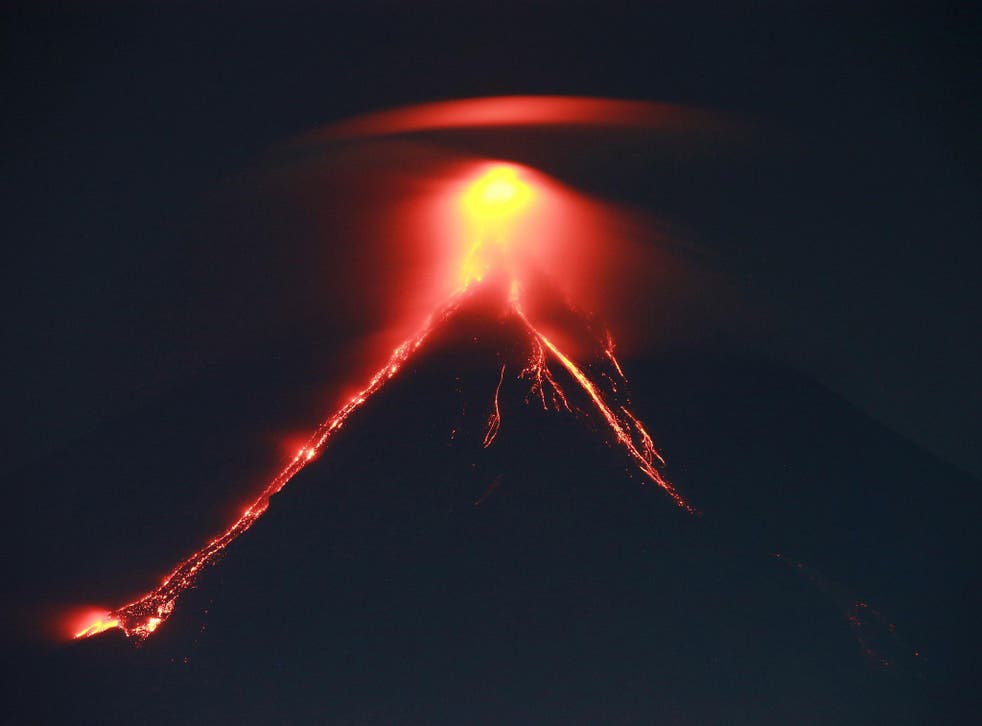 Nearly 15,000 people have fled their homes near the Philippines' most active volcano, which is undergoing a "quiet eruption" authorities warned could turn into a hazardous explosion "within weeks or even days."
Mount Mayon was spewing lava that has been quietly flowing in some places but at others erupting like a fountain, the Philippine Institute of Volcanology and Seismology (Phivolcs) said. It has also been emitting ash which has fallen on nearby towns.
"Technically, the volcano is erupting but the eruption is fairly quiet. It may escalate into a hazardous eruption," Paul Alanis, science research specialist at the institution, told the AFP news agency.
He said an explosive eruption would mean a lava fountain or spray of hot rocks and gases, which could move as fast as 60kmph.
Phivolcs has recorded nine episodes of tremor, four of which accompanied lava fountains, and 75 lava collapse events as pressure builds up.
Several small pyroclastic flows were generated by fragments in the lava streams and not by an explosion from the crater vent, like occurred with Mount Pinatubo, Renato Solidum, who heads the volcano institute, told the Associated Press. Pyroclastic flows are superheated gas and volcanic debris that can race down slopes and incinerate everything in their path, and are feared in a major eruption.
"The pyroclastic flows, there were several, were not generated by an explosion from the crater with lava, molten rocks and steam, shooting up the volcano then rolling down," Mr Solidum said. "These were generated by lava fragments breaking off from the lava flow in the upper slopes."
He also said Mayon has not seen enough volcanic earthquakes of the type that would prompt scientists to raise the alert level to four, which would indicate an explosive eruption may be imminent. Emergency response officials previously said they may have to undertake forced evacuations if the alert is raised to four.
World news in pictures

Show all 50
After steam explosions on Saturday and lava rising in the crater on Sunday, the alert was raised to three on a scale of five, indicating a hazardous eruption is possible "within weeks or even days."
Mayon lies in coconut-growing Albay province about 210 miles (340km) southeast of Manila. With its near-perfect cone, Mayon is popular with climbers and tourists but has erupted about 50 times in the last 500 years, sometimes violently. In 2013, an ash eruption killed five climbers who had ventured near the summit despite warnings.
Mayon's first recorded eruption was in 1616 and the most destructive in 1814 killed 1,200 people and buried the town of Cagsawa in volcanic mud.
The Philippines lies in the so-called "Ring of Fire," a line of seismic faults surrounding the Pacific Ocean where earthquakes and volcanic activity are common.
In 1991, Mount Pinatubo in the northern Philippines exploded in one of the biggest volcanic eruptions of the 20th century, killing about 800 people.
Register for free to continue reading
Registration is a free and easy way to support our truly independent journalism
By registering, you will also enjoy limited access to Premium articles, exclusive newsletters, commenting, and virtual events with our leading journalists
Already have an account? sign in
Join our new commenting forum
Join thought-provoking conversations, follow other Independent readers and see their replies