Three women media workers shot dead in eastern Afghanistan
Local broadcaster Enikass TV said the three victims were its employees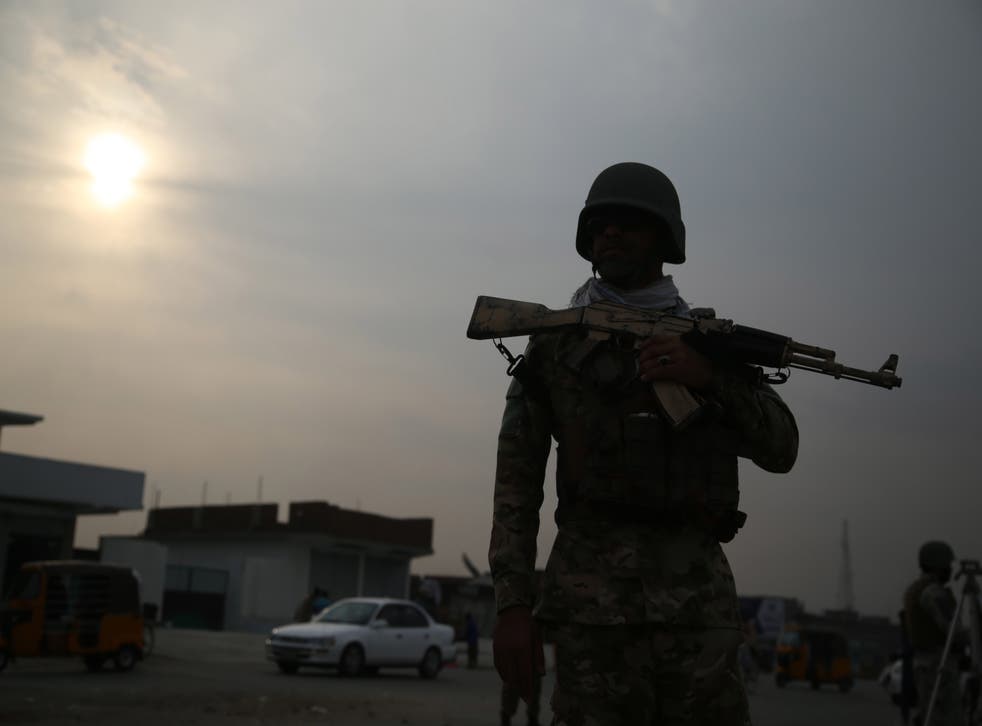 Three female media workers were shot dead whilst making their way home from work in the city of Jalalabad, in eastern Afghanistan, government officials said.
This marks the latest shooting in a spate of killings that has spread fear among professionals working in urban parts of the war-torn country.
Local broadcaster Enikass TV have confirmed that the three victims were its employees.
Government sources said that the three women were on their way home from work at the time of the killing, with witnesses describing how gunmen shot the women in the head before fleeing from the scene.
"They are all dead. They were going home from the office on foot when they were shot," said Zalmai Latifi from Enikass TV, Agence France-Presse (AFP) reported.
According to Ms Latifi, the women were killed in two separate attacks. She added that all three of the victims had worked in the broadcaster's dubbing department, AFP reported.
As yet, it is not clear who was behind the shootings and no groups have said that they carried out the attack. The insurgent Taliban denied responsibility.
In recent months, journalists, religious scholars, studentsactivists and mid-level government employees and civil society workers have all been targeted in a wave of attacks in the middle eastern country. These have included shootings and attacks using small bombs, attached to vehicles. 
As a result, many professionals have gone into hiding or even fled the country, such is the level of fear.
The Taliban denies having been involved in the attacks, but both the Afghan government and some foreign powers have placed the blame on the organisation. It seems that the group has a presence in the province of Nangahar, where the city of Jalalabad is the capital.
Mujib Khalwatgar, head of Afghan media advocacy group Nai, expressed concerns that the killing of journalists could "cause a state of fear" which may in turn lead to "self-censorship, abandonment of media activities, and even leaving the country."
He went on to add that the most recent attack could prompt female journalists working in the province of Nangahar to avoid going to work.
A female journalist, who had worked at the same broadcaster, was killed in a similar event which occurred at the end of last year. This resulted in many women journalists avoiding going into work in the months that followed.
Head of Afghan Independent Human Rights Commission, Shaharzad Akbar, said on Twitter: "Afghan women have been targeted and killed too often.... This must stop. Stop killing civilians and destroying (Afghanistan's) future."
Ms Akbar also called the event "horrific."
The number of killings seem to have increased since peace talks began last year between the Taliban and Afghan government. This represents yet another attempt to put an end to the conflict there.
Register for free to continue reading
Registration is a free and easy way to support our truly independent journalism
By registering, you will also enjoy limited access to Premium articles, exclusive newsletters, commenting, and virtual events with our leading journalists
Already have an account? sign in
Register for free to continue reading
Registration is a free and easy way to support our truly independent journalism
By registering, you will also enjoy limited access to Premium articles, exclusive newsletters, commenting, and virtual events with our leading journalists
Already have an account? sign in
Join our new commenting forum
Join thought-provoking conversations, follow other Independent readers and see their replies