Mile-high skyscraper set to be world's tallest and twice as tall as the Burj Khalifa
The building is set to be 5,577ft tall and play host to 55,000 people
Matt Payton
Saturday 06 February 2016 18:31 Comments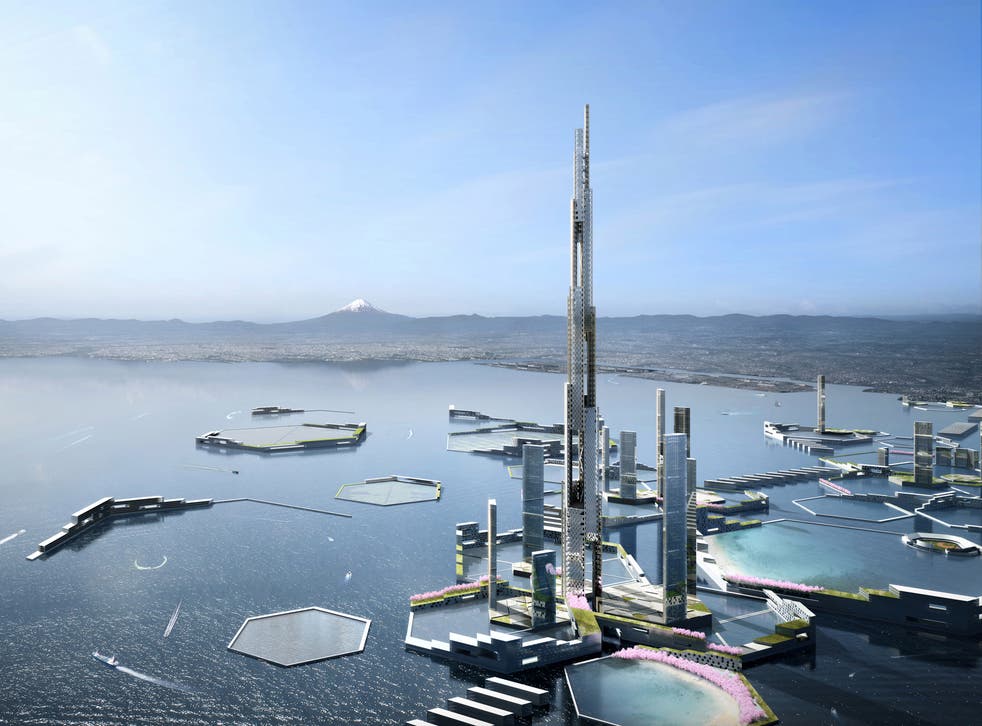 Plans for a mile high skyscraper in Tokyo could be twice as tall as the current tallest building in the world, Dubai's Burj Khalifa.
This super-tall building is set to reach a height of 5,577ft and host up to 55,000 people in Tokyo bay, an inlet southeast of the Japanese capital.
If the plans are accepted - the 'Sky Mile Tower' would be surrounded by a series of man-made hexagonal islands, Architectural Digest reports.
These islands are designed to protect Tokyo from flooding and act as foundation for homes for around half a million people.
The skyscraper is set to be completed by 2045.
The tower and satellite islands, designed by Kohn Pedersen Fox and engineering firm Leslie E. Robertson, are planned to be partially powered by it transit system.
Eagle flies from Burj Khalifa
Additionally - wind farms, solar panels and algae farms on the islands are planned to provide electricity.
In pictures: The big six skyscraper hotels

Show all 6
The tower's facade is designed to collect filter and store water preventing the need to pump water to the top floors.
According to Architectural Digest, the tower will have "multilevel sky lobbies where residents would share amenities such as shopping centers, restaurants, hotels, gyms, libraries, and health clinics."
Register for free to continue reading
Registration is a free and easy way to support our truly independent journalism
By registering, you will also enjoy limited access to Premium articles, exclusive newsletters, commenting, and virtual events with our leading journalists
Already have an account? sign in
Join our new commenting forum
Join thought-provoking conversations, follow other Independent readers and see their replies