Miniskirts get Indonesia's MPs hot under the collar
Government bids to outlaw 'provocative' clothes in largest Muslim country
Kathy Marks
Sunday 15 April 2012 22:12 Comments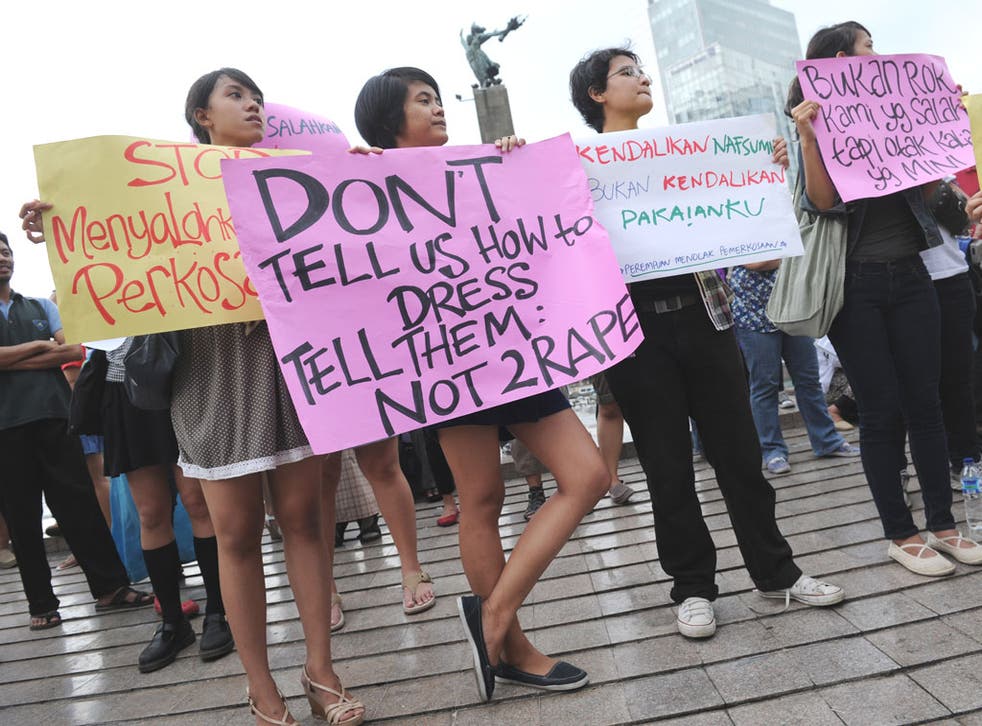 In the Ramayana department store in Koja, a densely populated district of north Jakarta, four sales assistants swap gossip as they tidy a display of men's shirts. All are wearing tight, black miniskirts, teamed with burnt orange tunics and high heels.
If a new anti-pornography taskforce has its way, Ramayana will be forced to redesign its staff uniform and millions of Indonesian women will have to restyle their wardrobes. Its head, the Religious Affairs Minister, Suryadharma Ali, recently declared miniskirts beyond the pale, and likely to be outlawed.
That followed a threat by Indonesia's parliamentary speaker, Marzuki Alie, to ban female politicians from wearing short skirts, because "there have been a lot of rape cases and other immoral acts recently, because women aren't wearing appropriate clothes". He added: "You know what men are like. Provocative clothing will make them do things."
The proposed ban, denounced by women's groups and human rights organisations, has highlighted tensions between conservatives and liberals in the world's most populous Muslim country. The taskforce was set up by President Susilo Bambang Yudhoyono to implement a tough anti-pornography law drafted by Islamic parties. Although widely condemned, the law has been used in high-profile prosecutions, one of which led to the jailing last year of a pop star, Nazriel "Ariel" Irham, for making two sex tapes which found their way on to the internet.
Opposition politicians accuse Mr Yudhoyono of trying to distract attention from a corruption scandal gripping his Democratic Party, and from a plan to raise fuel prices – temporarily shelved following protests.
In the Jakarta offices of the National Commission on Violence Against Women, Nurherwati sighs when asked about the hemline row. "Totally ridiculous," she says. As for the pornography law: "It's supposed to protect women, but it actually criminalises them."
Nurherwati, a commissioner, gives the example of a striptease dancer in Bandung, West Java, who was prosecuted under the law although she was a trafficking victim. When women report sexual assaults, she says, "the first thing police ask is, 'What did you do to get raped?'"
Among ordinary Indonesians, opinions about a miniskirt ban are divided; not surprisingly, in a country where women wear everything from cut-off shorts and tank tops to hijabs (Muslim headscarves) and abayas (long robes).
Izzah Inzlamiyah, who works for an American-based labour rights NGO, Solidarity Center, says: "Politicians seem to think their only job is to regulate the skirt length, rather than doing things that are really important, like improving education and creating economic opportunities. Men can wear whatever they want; why can't women?"
However, Rani, 39, who was rifling through a discount bin in Ramayana, said: "A miniskirt in the house or at the swimming pool is OK, but in the street it's not good."
Critics point to the sprawling archipelago's regional and cultural variations. In Papua, for instance, women routinely bare their breasts. In Aceh, which has adopted Sharia law, headscarves are compulsory.
Register for free to continue reading
Registration is a free and easy way to support our truly independent journalism
By registering, you will also enjoy limited access to Premium articles, exclusive newsletters, commenting, and virtual events with our leading journalists
Already have an account? sign in
Join our new commenting forum
Join thought-provoking conversations, follow other Independent readers and see their replies