Missing AirAsia flight QZ8501: Fears for 162 people on board as jet disappears from radar
Frantic scenes at airport as relatives are told plane is missing, while British-Malaysian owner of airline describes incident as 'his worst nightmare'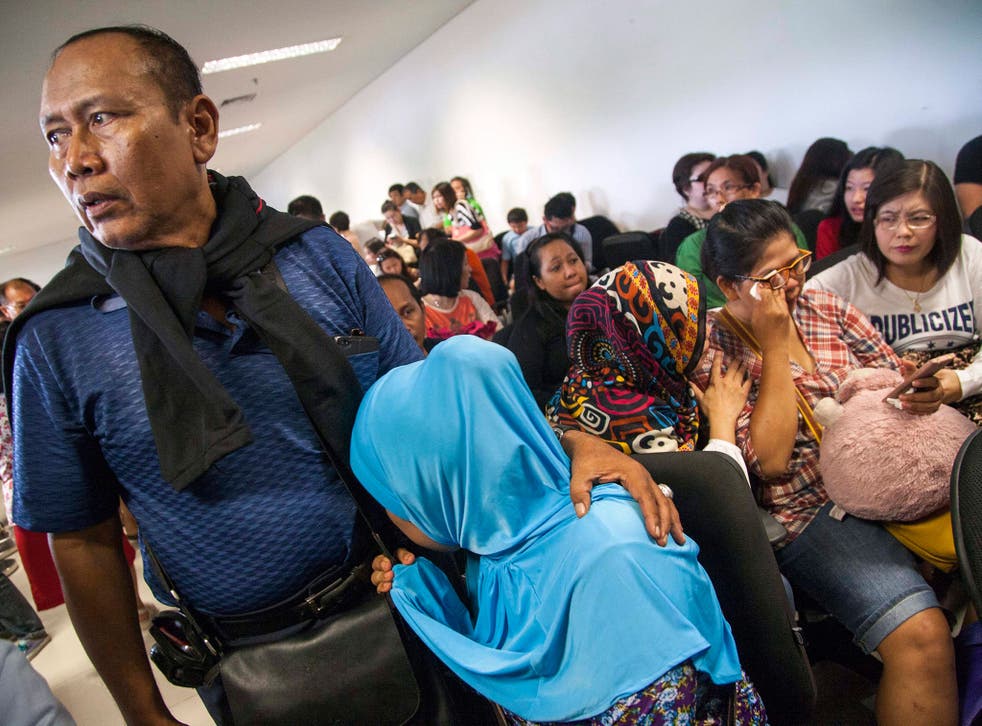 A third passenger aircraft belonging to a Malaysian-based airline has gone missing, presumed to have crashed in the Java Sea, killing all 162 people on board.
For the third time in a year, relatives came to an airport, this time Singapore, and waited in vain to see their loved ones walk through arrival halls. There were again scenes of despair and disbelief as news emerged of the missing AirAsia aircraft, which vanished over stormy Indonesian waters.
The flight is thought to have been travelling in airspace thick with storm clouds on its way from Surabaya, Indonesia, to Singapore.
At Surabaya airport, family members pored over the plane's manifest, crying and embracing. Nias Adityas, a housewife from Surabaya, was overcome with grief when she found the name of her husband, Nanang Priowidodo, on the list.
The 43-year-old tour agent had been taking a family of four on a trip to Singapore, Malaysia and Indonesia's Lombok island, and had been happy to get the work. "He told me: 'Praise God, this new year brings a lot of good fortune,'" she recalled.
Tony Fernandes, the British-Malaysian founder of AirAsia, described the loss as "my worst nightmare". One Briton was named as being among those on board. Chi-Man Choi is thought to have been travelling with his two-year-old daughter. The Foreign Office confirmed a British national was on the flight and the family had been informed. Indonesian media identified Mr Choi as the managing director of an energy company who had been living in Singapore.
In pictures: Missing AirAsia flight QZ8501

Show all 28
The aerial search of the Java Sea for flight QZ8501 resumed at first light this morning, almost 24 hours after air-traffic controllers lost contact with the Airbus A320.
After taking off from Indonesia's second city shortly after dawn, the jet climbed to a cruising altitude of 32,000ft between the islands of Borneo and Java. Forty minutes into the flight, the pilots sought permission to alter direction and climb to 38,000ft to avoid a thunderstorm. An airline statement said: "The aircraft was on the submitted flight-plan route and was requesting deviation due to en-route weather before communication with the aircraft was lost."
The last communication with the ground was 41 minutes after take-off. One minute later, radar contact was lost. No distress call was transmitted. All but six of the 155 passengers were Indonesian. The remainder comprised three South Koreans, and one citizen from each of the UK, Malaysia and Singapore. Six of the crew were Indonesian; the first officer was French.
Mr Fernandes, the owner of Queens Park Rangers football club, told a news conference in Surabaya: "There is nothing more important now than our crews' families and passengers' families, and we'll look after them.
"The aircraft had just had a check at the end of November. It had gone through all the procedures that were needed and was in good condition. It never had any problems. We have no idea at the moment what went wrong. The weather conditions were not good. Other than that we do not want to speculate. Let's find the aircraft and then we will do a proper investigation."
Relatives who had gone to Changi airport in Singapore were offered the chance to fly to Surabaya or to stay in a hotel at the airport. Indonesian and Singaporean aircraft searching for wreckage were recalled at dusk. The search-and-rescue mission began again this morning with ships and aircraft fanning out from the point at which the aircraft is presumed to have crashed.
As with MH370, the Malaysia Airlines 777 that went missing in March, and MH17, which was shot down over Ukraine in July, the lost jet was in the cruise phase of the flight. Losses of aircraft during the cruise are unusual. Scott Hamilton of the aviation website Leeham News and Comment, said: "Investigators will put weather conditions at the top of their list of areas to probe. They will attempt to determine whether there was a high-altitude upset due to turbulence that caused the plane to lose control; whether the plane was intact when it presumably crashed into the sea or whether it came apart in flight, and if so whether this possibility was caused by stresses beyond design limits."
Tony Fernandes believed no-frills aviation could flourish in South-east Asia, and set out to emulate easyJet in building a high-frequency network in a heavily populated region. This year, AirAsia will fly more than 40 million passengers. It has a fleet of Airbus A320 jets; the lost aircraft was delivered new in 2008 to AirAsia.
Join our new commenting forum
Join thought-provoking conversations, follow other Independent readers and see their replies