Malaysia Airlines flight MH370: Distraught families told by text message to assume 'beyond doubt no one survived'
Some family members reportedly refuse to accept news in light of weeks of 'misinformation' from officials orchestrating search effort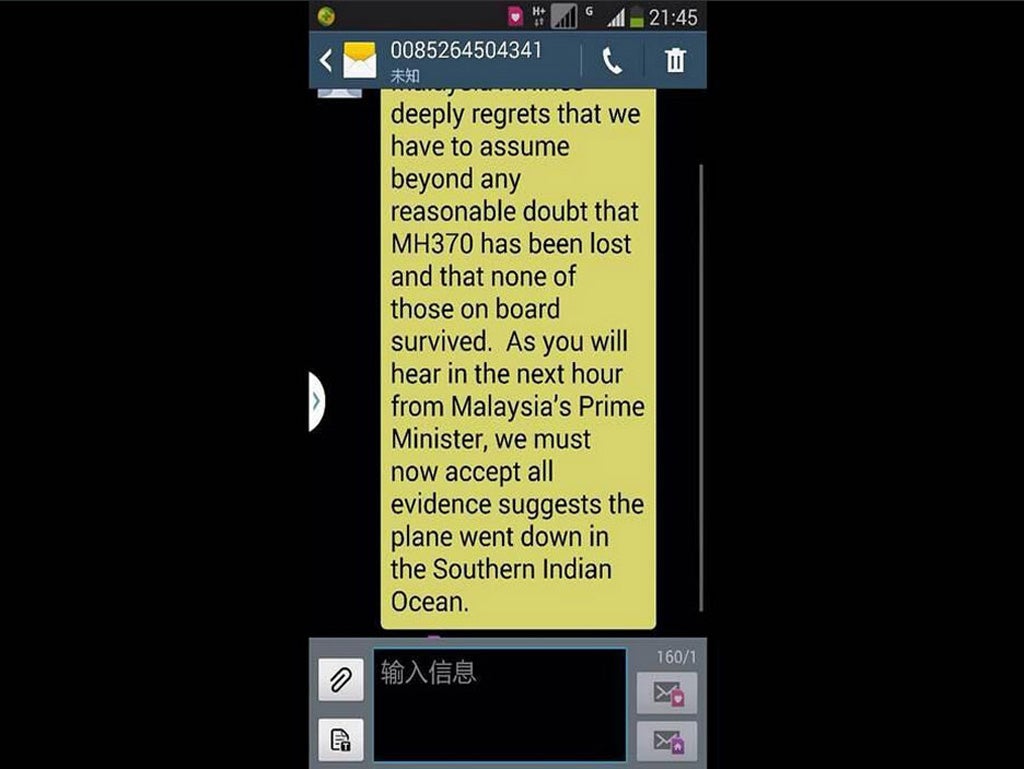 After weeks without news about the fates of their loved ones, the families of passengers on missing Malaysian Airlines flight MH370 have been told that it is "beyond doubt" they were killed – via an SMS message.
Family members waiting for information in Kuala Lumpur were called to an emergency meeting ahead of a press conference this afternoon, and were told the latest development via a single mass text just minutes before prime minister Najib Razak informed the world.
More than 150 of the 239 passengers on board the missing Boeing 777 were from China, and there were distraught scenes among relatives in Beijing as they received the news.
According to BBC reports, some have such mistrust in the Malaysian authorities after 17 days of apparent misinformation that they refused to accept their relatives were indeed dead.
In the text message, the airline told families "we must now accept all evidence suggests the plane went down in the Southern Indian Ocean".
It said: "Malaysia Airlines deeply regrets that we have to assume beyond any reasonable doubt that MH370 has been lost and that none of those on board survived."
The search for missing Malaysia Airlines plane
Show all 115
Relatives of passengers in Beijing had been called to a hotel near the airport to hear the announcement. Afterward, they filed out of a conference room in heart-wrenching grief.
According to reporters with the Associated Press, men and women sobbed uncontrollably and one mother, collapsing to her knees, cried: "My son! My son!"
Speaking at a press conference in Kuala Lumpur, Mr Razak said he had been briefed by representatives from the UK Air Accident Investigation Branch (AAIB), which informed him that satellite data from the UK company Inmarsat, using techniques "never before used in an investigation of this sort", revealed the final position of the plane.
"Based on new analysis we have concluded [the jet] flew along southern corridor and that its last position was in the middle of Indian Ocean west of Perth," he said.
"This is a remote location far from any possible landing site.
"It is therefore with deep sadness and regret that I must inform that in accordance with this new data Flight MH370 ended in the southern Indian Ocean."
Join our commenting forum
Join thought-provoking conversations, follow other Independent readers and see their replies