Missing Malaysia Airlines Flight MH370: Those who still hope and pray for missing aircraft
Andrew Buncombe
,
Ian Johnston
Sunday 23 March 2014 01:00 Comments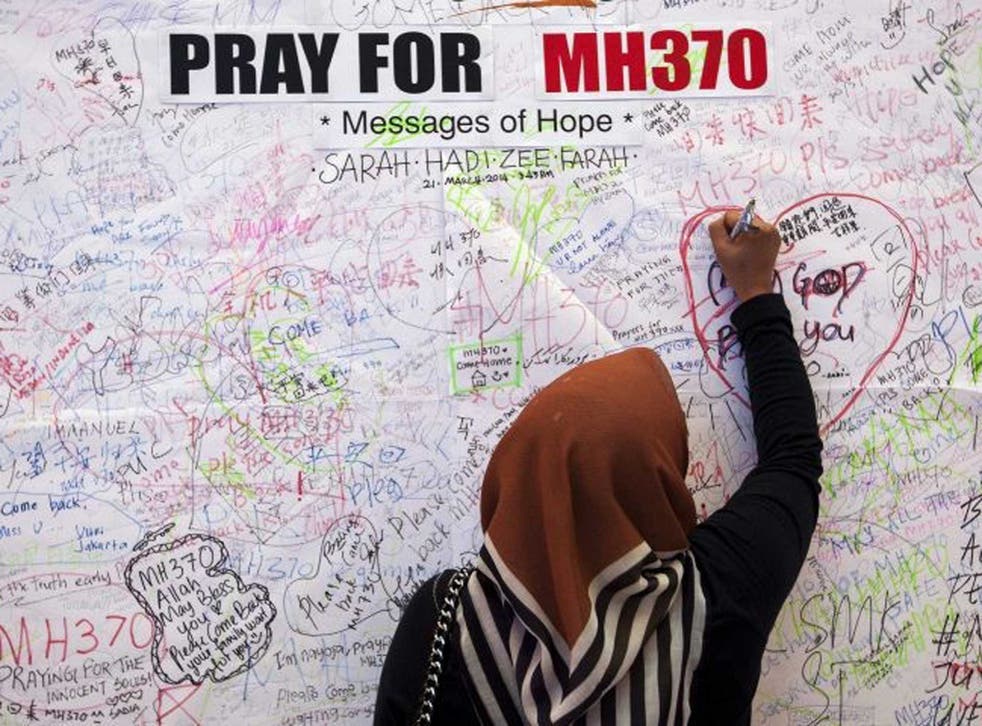 The messages of hope and support are still being written and officials are still taking care with their words. Even at this stage, they insist, their priority is still the search for any survivors.
"We are still focussed on that – finding people to be rescued," said John Young, of Australia's Maritime Safety Authority, which is coordinating the search off the coast of Perth.
But more than two weeks after Flight MH370 disappeared, leaving just the faintest digital trace, Malaysia is being increasingly forced to confront the dark prospect that there will likely be no happy ending. They may never even find the plane; there may be no bodies to bury.
Bad weather and the remote location of the search area are hampering efforts to locate the suspected debris detected by satellite. Officials are aware the battery life of the emergency locator transmitter attached to the black box data recorder is just 30 days. They know too, that it took almost two years to locate the black box when Air France Flight 447 plunged into the ocean north-east of Brazil in 2009.
"This is going to be a long-haul effort," Malaysia's Transportation Minister, Hishammuddin Hussein, said on Friday. "I still pray that the plane will be found before 30 days. But we are discussing what we would need to carry on with the search after that point."
Australia's deputy prime minister, Warren Truss, was more blunt. Searchers may never find what the satellites spotted, he said. "Something that was floating on the sea that long ago may no longer be floating."
After Flight AF447 went missing on route between Rio de Janeiro and Paris, search teams found debris and some of the bodies of the 228 people onboard after a five day search. More were recovered later, but 74 were never found.
This week, relatives of passengers on board that flight urged the families of MH370 to demand an investigation by experts of their choice to "safeguard full transparency and best practices". Bernd Gans, who lost a daughter, and Barbara Crolow, who lost her son, wrote an open letter said the relatives should also demand financial aid from the Malaysian government.
Patricia Coakley, who lives near Whitby in Britain, knows how the relatives waiting for news of MH370 feel. Her husband, engineer Arthur Coakley, 61, was among those on Flight AF447. She spent endless, agonising news waiting for news.
"I was convinced he would be found. The only thing we lived on was hope," she told The Independent on Sunday.
The body of Mrs Coakley husband was eventually recovered. She said the search for MH370 should continue until it succeeded.
"Otherwise, the people with [loved ones] on board will never, never rest. It will just be an ongoing nightmare for them. They have to find it," she added.
"They said at the time that looking for Art's plane was like looking for a needle in a haystack. This is even worse. There's all this speculation … but nobody can prove it. I know exactly what they are going through."
Experts said families could seek compensation now. Floyd Wisner, a US lawyer who represented the families of Flight AF447, said he had secured a deal with the insurers of Indonesia's Adam Air in 2007 before any trace was located. "The families may seek compensation even before any wreckage or bodies are found," he told the Independent on Sunday.
The leaders of Malaysia's different faiths – Muslim, Buddhist, Christian, Hindu and others – say they are still praying that the passengers will be found alive.
"Last Friday we held a special service for MH370. Many people kneeled to pray. Some cried," said Ebeneezer, a priest at Kuala Lumpur's Sri Subang Lutheran Church. "It's our sincere prayer that they are alive. Nothing is difficult for the lord."
At the Buddhist Maha Vihara temple in the city's Brickfields area, the head monk, Datuk Kirinde Dhammaratana, declined to speculate that the plane would not be found. "I don't think that they might be dead. Until the confirmation [otherwise,] I hope we will be able to get some good news."
In the absence of a body, different religions follow different practices. In the aftermath of Japan's 2011 tsunami, a number of those who lost loved ones were advised by Buddhist priests to have a stone or keepsake blessed and then to bury it.
In the Muslim faith, special prayers, or du'a, would be said for the person who is missing. A spokesman for Malaysia's National Mosque, this week refused to comment, saying the matter was too sensitive.
Dato Woo Ser Chai, president of the organisation that runs Kuala Lumpur's Thean Hou Temple, built on a quiet hill in the Chinese Buddhist tradition, said if there was no body, a prayer could be said, asking that the person's spirit be permitted to go to heaven. They could also pray in front of a photograph of the person.
"So far, even though it is more than 10 days there is still hope," he added. "Even though the hope is very slim, a miracle might happen."
The days since Flight MH370 disappeared have highlighted many of the faultiness that have run through Malaysia since the country secured independence from Britain in 1957. It has thrown up issues of transparency, the role of the nation's ruling elite and even the history of al-Qa'ida-linked militants in the country.
And after a reported claim – widely rejected - that Zaharie Ahmad Shah, the pilot, intentionally crashed the plane to avenge the jailing of opposition leader Anwar Ibrahim, it has also exposed the political toxicity that permeates a country ruled without break for 57 years by the Barisan Nasional (National Front) coalition.
In the past two weeks, leaders have repeatedly asked for unity during the time of crisis. Many Malaysians appear prepared to give the government some lee-way over the way it has handled the matter.
"Because I am Muslim, I believe that God has planned everything and that everything that happens reminds us we are human," said Sara Zulkifli, 28, an employee at Kuala Lumpur's ornate, old railway station, built in 1910. "The government has wanted to play safe and only give out the correct information."
In the coming days there are likely to be more difficulties for the government and the people of Malaysia, more pain.
"In some senses, Malaysia and China may go through the grief the US experienced following the September 11 terrorist attacks, after which many bodies were never recovered," said Murray Hiebert, a south-east Asia expert at the Centre for Strategic and International Studies in Washington.
He added: "Obviously this is a disaster that Malaysia will carry in its national psyche. It will have to find a way to incorporate it into its narrative, and learn to live and move forward with the pain and loss, which won't go away for a long time."
Additional research: Robert Griffiths
Register for free to continue reading
Registration is a free and easy way to support our truly independent journalism
By registering, you will also enjoy limited access to Premium articles, exclusive newsletters, commenting, and virtual events with our leading journalists
Already have an account? sign in
Join our new commenting forum
Join thought-provoking conversations, follow other Independent readers and see their replies