Missing Malaysia Flight MH370: Search teams could find possible debris from stricken plane 'within hours'
Two planes from China joined search today, with one crew reporting 'two large square objects and other smaller white debris'
Adam Withnall
Monday 24 March 2014 11:10 Comments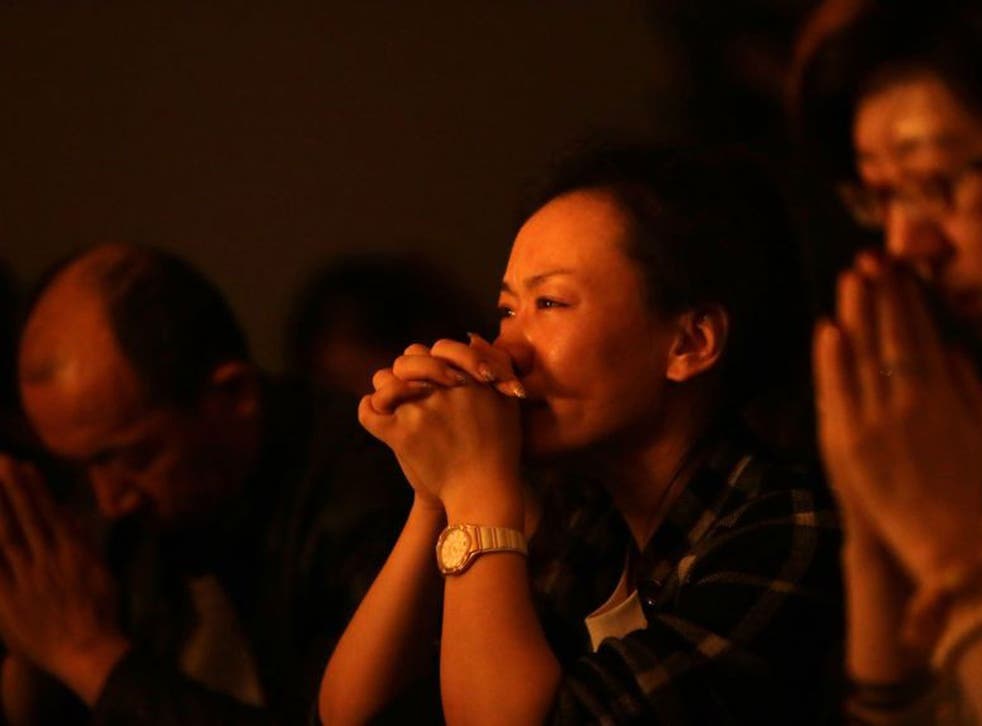 The hunt for possible debris from the missing Malaysian Airlines Flight MH370 could be resolved within hours, an official confirmed today.
An Australian navy ship, the HMAS Success, is said to be closing in on the potential wreckage after a mounting number of sightings of floating objects in the area over the past couple of days.
The objects, spotted in the southern Indian Ocean, could be reclaimed by Tuesday morning at the latest according to Malaysia's transport minister Hishammuddin Hussein.
According to a statement issued by the Australian Maritime Safety Authority (Amsa), "a grey or green circular object and an orange rectangular object" were located by an Australian air force Orion aircraft.
Amsa confirmed that the HMAS Success had made its way out to the remote search area some 2,500km (1,550 miles) from Perth, and that the objects were seen within the stretch of water being scoured today.
"HMAS Success is on scene and is attempting to locate and recover these objects," Australian Prime Minister Tony Abbott, who called his Malaysia counterpart Najib Razak to inform him of the sighting, said in a statement to parliament.
So far, ships in the international search effort have been unable to locate several "suspicious" objects spotted by satellites in grainy images or by fast-flying aircraft over a vast search area in the remote southern Indian Ocean.
The search for missing Malaysia Airlines plane

Show all 115
Earlier on Monday spotters on a Chinese plane said they had seen two white, square-shaped objects in the southern Indian Ocean, at that stage the second possible sighting of plane debris made with the naked eye in the search for the missing Malaysia Airlines Boeing 777.
Spotters aboard that search plane reported the coordinates to a Chinese icebreaker ship, Xue Long, which was making its way to the area - as well as to the central Australian command centre.
In addition to the two larger floating objects, the searchers also reported seeing a range of smaller, white debris scattered over several square miles, according to China's Xinhua news agency.
The sightings were all made in the area identified in previous satellite images from Australia and China.
The developments came as the US prepared to send a specialised device that can locate black boxes into the region.
The US Pacific command said the Towed Pinger Locator, which is pulled behind a vessel at slow speeds, has highly sensitive listening capability so that if the wreck site is located, it can hear the black box pinger down to a depth of about 20,000 feet.
Commander Chris Budde, a US Seventh Fleet operations officer, said: "This movement is simply a prudent effort to preposition equipment and trained personnel closer to the search area so that if debris is found we will be able to respond as quickly as possible since the battery life of the black box's pinger is limited."
The two Chinese planes joining the search today increased the number of aircraft to 10 from eight a day earlier.
An Australian plane scouring the search area spotted a wooden pallet and other objects late on Saturday, including what looked like variously coloured straps or belts. However, it was unable to get up close or take photographs, and other aircraft dispatched to the site on Sunday could only see seaweed.
The Australian Maritime Safety Authority's rescue co-ordination centre said the weather in the area was expected to deteriorate with rain likely.
Australian transport minister Warren Truss said "nothing of note" was found yesterday, which he described as a "fruitless day".
"It's going to be a challenge, but we'll stick at it," he told Australian Broadcasting Corporation radio before the first aircraft left Perth at dawn.
"We're just, I guess, clutching at whatever little piece of information comes along to try and find a place where we might be able to concentrate the efforts."
A cyclone bearing down on the Australian north-west coast "could stir up less favourable weather," he said.
Flight 370 vanished while en route from Kuala Lumpur, Malaysia, to Beijing, setting off a multinational search that has turned up no confirmed pieces and nothing conclusive on what happened to the jet.
The southern Indian Ocean is thought to be a potential area to find the jet because Malaysian authorities have said pings sent by the Boeing 777-200 for several hours after it disappeared indicated that the plane ended up in one of two huge arcs.
One is a northern corridor stretching from Malaysia to Central Asia, and the other a southern corridor that stretches toward Antarctica.
Malaysian authorities have not ruled out any possible explanation for what happened to the jet, but have said the evidence so far suggests it was deliberately turned back across Malaysia to the Strait of Malacca, with its communications systems disabled. They are unsure what happened next.
Authorities are considering the possibilities of hijacking, sabotage, terrorism or issues related to the mental health of the pilots or someone else on board.
In the US, Tony Blinken, President Barack Obama's deputy national security adviser, said on CNN: "There is no prevailing theory."
"Publicly or privately, we don't know," he said. "We're chasing down every theory."
Additional reporting by AP
Register for free to continue reading
Registration is a free and easy way to support our truly independent journalism
By registering, you will also enjoy limited access to Premium articles, exclusive newsletters, commenting, and virtual events with our leading journalists
Already have an account? sign in
Join our new commenting forum
Join thought-provoking conversations, follow other Independent readers and see their replies