Missing Malaysia flight MH370: Satellite images show 122 objects in Indian Ocean 'debris field'
Officials describe images as 'the most credible lead we have'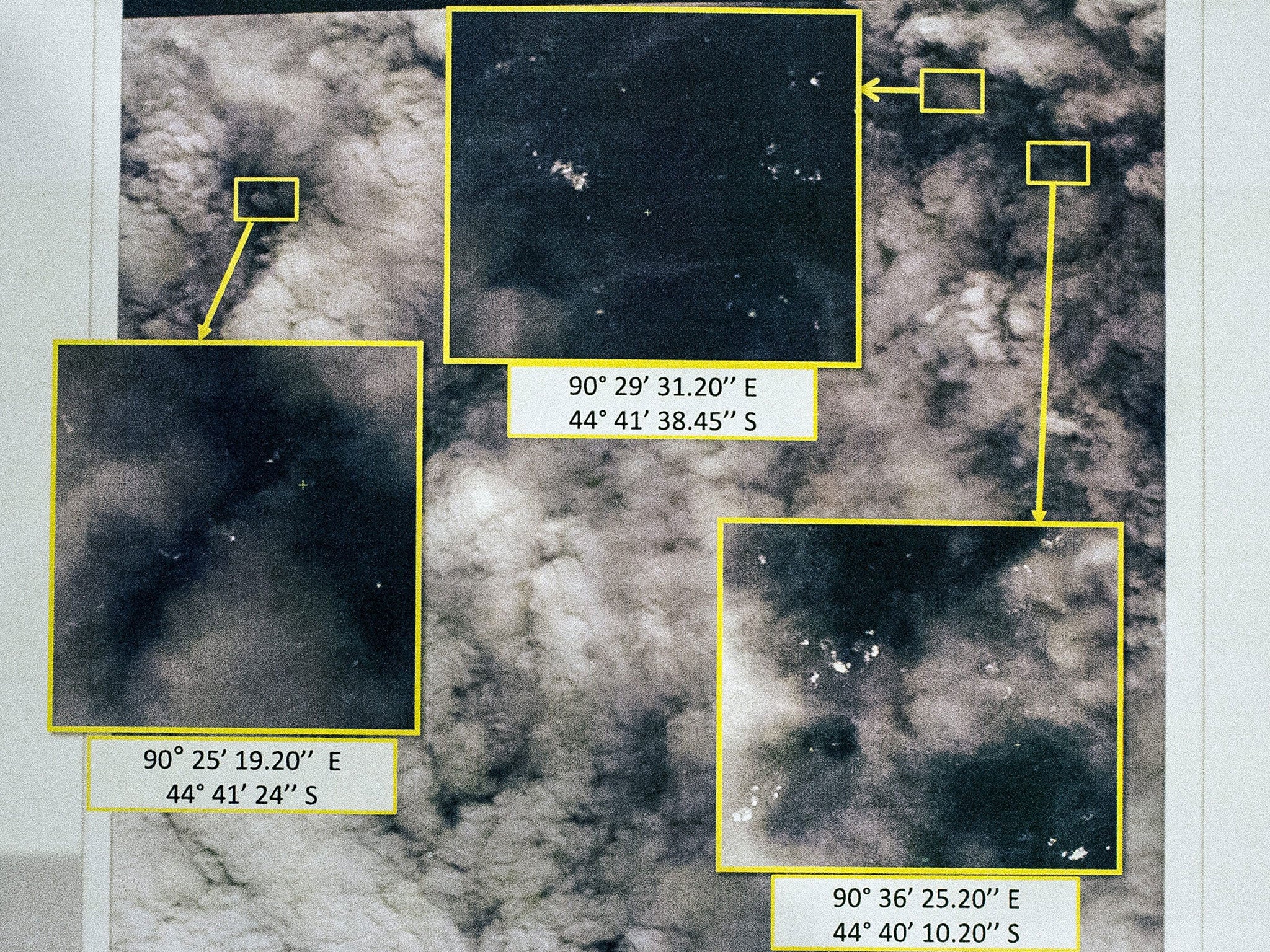 Satellite images have revealed a possible "debris field" of 122 objects floating in the southern Indian Ocean where the hunt for the missing Malaysia Airlines flight MH370 resumed today.
Speaking at a press conference in Kuala Lumpur, Malaysia's acting transport minister Hishammuddin Hussein said new images taken by a French satellite on 23 March showed more than 100 images of varying brightnesses and sizes, some measuring up to 23m (75ft).
The so-called "debris field" was seen 2,557km (1,600 miles) southwest from Perth, the minister said, "not far" from previous possible debris sightings and within the search area previously identified. Experts said the find was consistent with a plane having struck the sea nearby.
Mr Hishammuddin said the images represent "the most credible lead that we have".
More than 18 days after the Boeing 777 disappeared from radar screens, time is running out to find the submerged jet's secure recording device, known as the "black box" – which has a limited battery life of around 30 days.
A US device for locating black boxes has now been deployed off the Australian coast, officials said. If it fails to find the wreckage before the battery dies and it stops pinging out its location, other deep sea salvage techniques will have to be deployed.
Meanwhile, as the Australian-led search resumed on Wednesday morning following a spell of bad weather prime minister Tony Abbott vowed his country "will do what we can to solve this riddle".
The search for missing Malaysia Airlines plane
Show all 115
"The crash zone is as close to nowhere as it's possible to be but it's closer to Australia than anywhere else," Mr Abbott said, before leading the country's parliament in a moment's silence.
"A considerable amount of debris has been sighted in the area where the flight was last recorded. Bad weather and inaccessibility has so far prevented any of it from being recovered. But we are confident that it will be."
With clearer skies and calmer seas at first light this morning, a dozen aircraft from Australia, the US, New Zealand, China, Japan and South Korea returned to scour an estimated 620,000 square-mile (1.6 million square-kilometre) stretch of the southern Indian Ocean, some 1,550 miles(2,500km) southwest of Perth.
Earlier this week the Malaysia prime minister, Najib Razak, confirmed that satellite data showed the missing jet had ended its flight in "the middle of the Indian Ocean … a remote location, far from any possible landing sites".
The revelation came from unprecedented analysis of data from the British satellite company Inmarsat – yet even this apparently-confirmed fact seemed to still be shrouded in mystery.
According to Hishammuddin Hussein, Malaysia's acting transport minister, the series of routine hourly "pings" sent to satellites – and used to calculate the plane's final trajectory – were followed by one last unexplained message just eight minutes later.
Investigators said this final attempted "ping", not fitting into the regular pattern, could be the result of the plane entering its " catastrophic phase" as it came down in the Indian Ocean.
The minister said: "There is evidence of a partial handshake between the aircraft and ground station at 00:19 GMT. This transmission is not understood and is subject to further ongoing work."
While much information has been drawn from satellite data, many questions will remain unanswered if the black box cannot be found before it goes silent in the coming days.
An Australian navy ship, Chinese icebreaker and three Chinese navy vessels have now arrived in the search zone, while the Australian Maritime Safety Authority (Amsa) tweeted on Wednesday afternoon that seven aircraft were in the area, with four more en route.
The prolonged and so far fruitless search and investigation have taken a toll, with dozens of distraught relatives of Chinese passengers clashing with police in Beijing on Tuesday, accusing Malaysia of "delays and deception".
Malaysia's confused initial response to the plane's disappearance and a perception of poor communications has enraged many relatives of the more than 150 Chinese passengers and has strained ties between Beijing and Kuala Lumpur.
Chinese special envoy, Zhang Yesui, was set to meet with the Malaysian prime minister on Wednesday, state media reported.
Join our commenting forum
Join thought-provoking conversations, follow other Independent readers and see their replies