Pakistan executes child serial killer convicted of killing six-year-old Zainab Ansari and six others
Police refuse father's request to hang Mohammad Imran publicly to act as a deterrent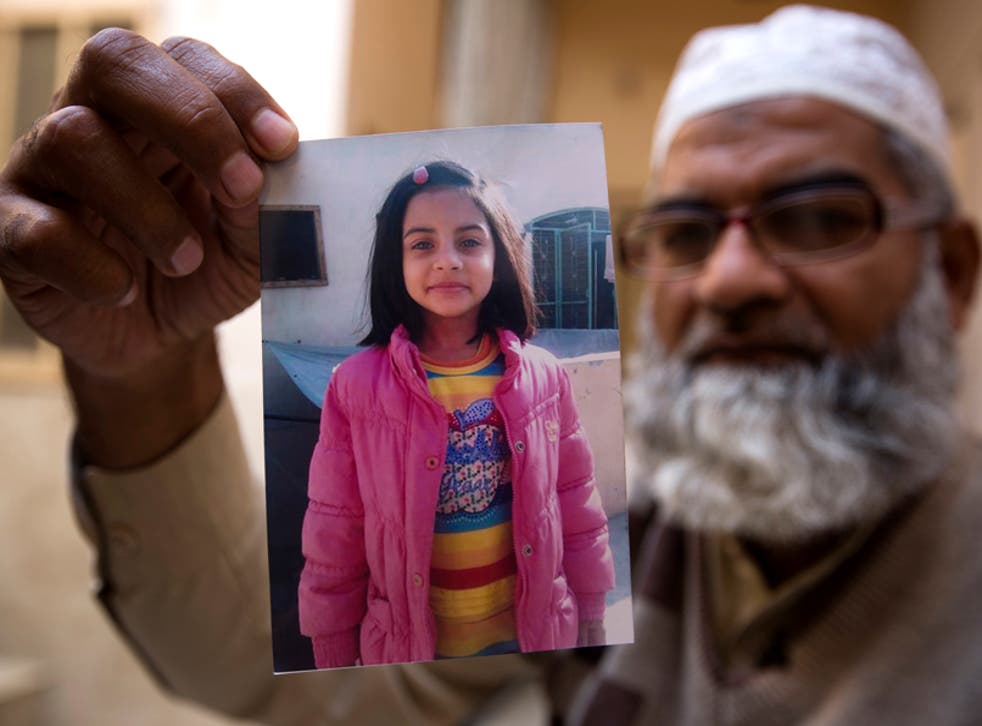 The man who committed a spate of child murders in the Pakistani city of Kasur has been executed.
Mohammad Imran was found guilty in February of raping and murdering six-year-old Zainab Ansari before throwing her body into a rubbish dump a month earlier.
He was later also convicted of a series of similar killings of young girls in Kasur over previous years.
Zainab's father, Mohammed Amin Ansari, asked for Imran's execution to take place in public, to deter others. The request was turned down, but he was allowed to witness the hanging at a prison in the city of Lahore.
His daughter's horrific murder sparked outrage on social media when her brutalised body was discovered in January.
The hashtag #JusticeForZainab quickly began trending on social media as anger around the case swept Pakistan.
The outrage was further fuelled by the emergence of CCTV footage, found by the Ansari family and not the police, which showed a man leading Zainab away hand in hand. She had been on her way to a religious studies class.
Protests against the police's handling of the case in Kasur boiled over and became violent, leading to two people's deaths and dozens of injuries.
World news in pictures

Show all 50
Almost three weeks after Zainab went missing police arrested Imran, 24, having connected him to the crime through DNA evidence.
The same DNA was also found on six other young girls, all who went missing very close to their homes and then were left in rubbish dumps or abandoned homes nearby. All the victims lived within a two mile radius.
Although hardly any notice was given to the spate of child killings before Zainab went missing, the father of one of the other girls, Asif Baba, told the BBC that the city had been traumatised by the grim litany of murders.
"People in the town are scared. The kids are scared to even go to the bathroom – they say to their mothers to wait outside – we won't lock the door," he said in January.
"My other daughter didn't speak for four months. There was a family wedding, she said she's not coming because she might be kidnapped."
Shortly after witnessing the execution of the man who raped and killed his daughter, Mr Ansari told reporters: "My daughter will not come back, but I am satisfied that we got justice."
Support free-thinking journalism and attend Independent events
Some reports have suggested Zainab's case was only taken up seriously by the local police because her extended family have connections to senior figures in the Pakistan opposition party.
According to a local child rights NGO, Sahil, there were 1,039 cases of child abduction reported in Pakistan in 2017 and 109 cases of murder after sexual abuse of a child.
Join our new commenting forum
Join thought-provoking conversations, follow other Independent readers and see their replies