Myanmar Muslim migrants abandoned at sea have been 'drinking their own urine' to survive after Thailand refuses boat entry
An estimated 6,000 Myanmar refugees have been left stranded as countries in Southeast Asia turn boats carrying hundreds of people away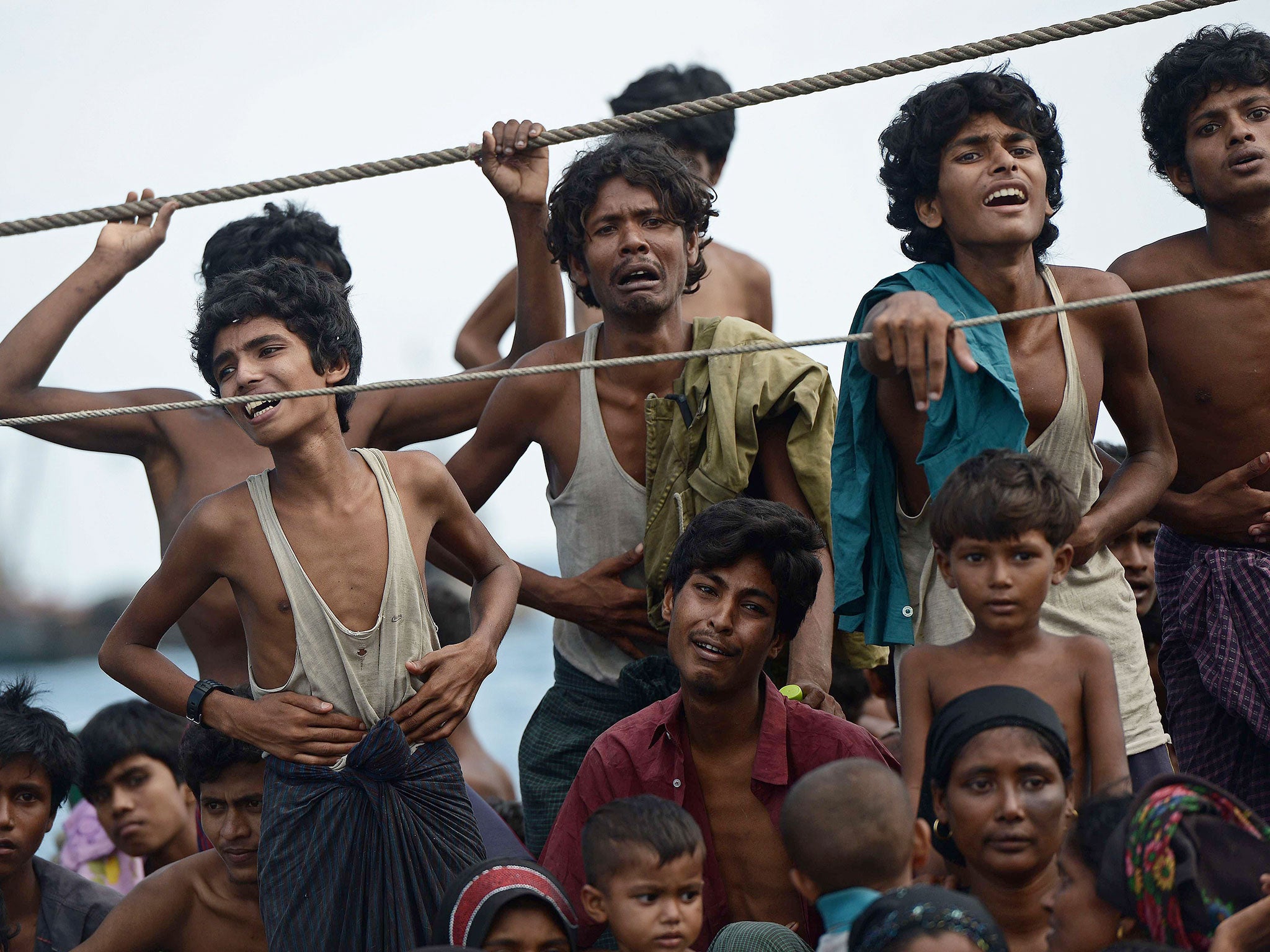 Myanmar migrants left abandoned at sea after being refused entry to Thailand have been forced to drink their own urine to survive, it has been reported.
At least ten people have died on the fishing boat which has been stranded in the Andaman Sea for the last week with up to 350 Rohingya Muslims on board, the BBC has reported.
An estimated 6,000 Myanmar refugees have been left abandoned as other countries in Southeast Asia turn boats carrying hundreds of people away.
The region finds itself in a spiralling humanitarian crisis as members of Myanmar's 1.3 million Rohingya Muslims attempt to flee persecution in the Buddhist-majority country.
According to reports, more than 120,000 members of the Muslim minority have boarded ships to other countries in a bid to escape.
Smugglers however have now started to abandon ships, leaving migrants to fend themselves, in the face of a crackdown by the security forces of other countries.
According to Associated Press, while Thailand kept a large vessel carrying hundreds of hungry people at bay, a further two boats crammed with Rohingya Muslims and Bangladeshis were also left with nowhere to go after being turned away from Malaysia.
The BBC's Jonathan Head has reported from alongside the boat situated off the southern coast of Thailand.
He said: "We can see there are actually people drinking their own urine from bottles. We've been throwing them bottles of water - everything we've got on board."
Despite appeals by the UN and aid agencies, authorities in Thailand, Indonesia and Malaysia all appear to be unwilling to take the refugees.
"What do you expect us to do," Malaysian Deputy Home Minister Wan Junaidi Jafaar said.
"We have been very nice to the people who broke into our border. We have treated them humanely but they cannot be flooding our shores like this."
Thai Prime Minister General Prayuth Chan-ocha meanwhile has also said: "If we take them all in, then anyone who wants to come will come freely. I am asking if Thailand will be able to take care of them all. Where will the budget come from?"
"No one wants them. Everyone wants a transit country like us to take responsibility. Is it fair?" he said.
Wan Junaidia said roughly 500 people on a boat found off the Penang coast were given provisions before being sent on.
Two unidentified Malaysia officials have been reported by AP as saying another boat carrying 300 migrants was also turned away from near Langkawi island overnight.
A senior naval officer told AP meanwhile that migrants on the boat near Lipe island, in the sea border between Thailand and Malaysia, were given food and water.
"To bring them into our country is not our policy," he said. "If they need fuel or food to go on (to a third country) we would help them with it."
Matthew Smith, executive director of nonprofit human rights group Fortify Rights said: "This is a grave humanitarian crisis demanding an immediate response.
"Lives are on the line."
Additional reporting by AP
Join our commenting forum
Join thought-provoking conversations, follow other Independent readers and see their replies