Nato fears split over Afghan withdrawal will fuel bloodshed
Hollande's pledge to pull out troops early will dominate Chicago talks as UK bill is set to hit £20bn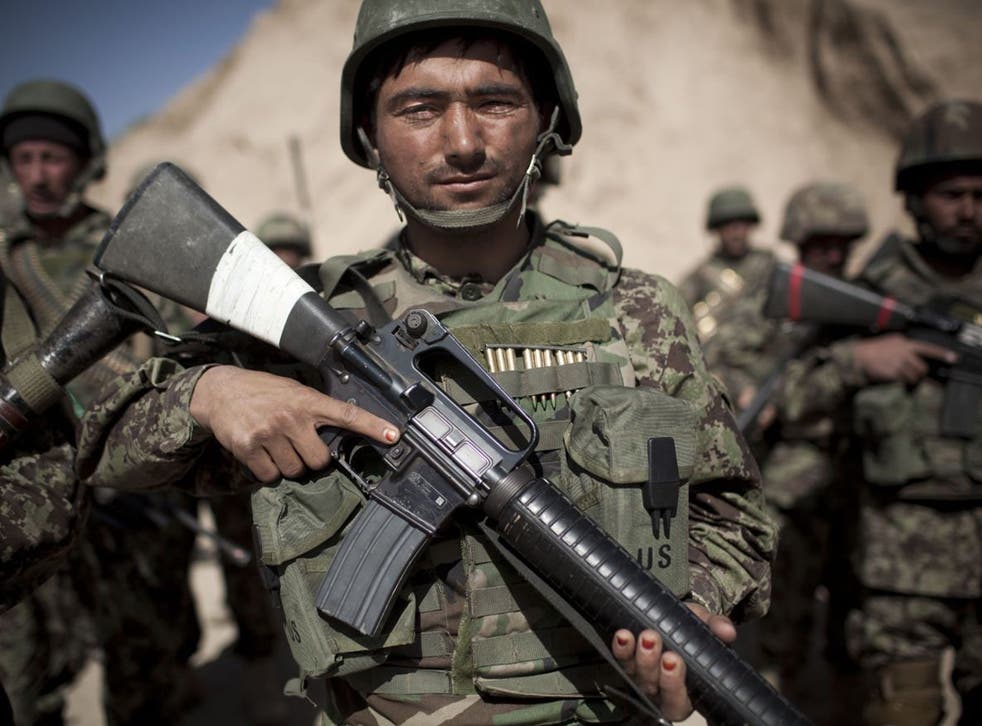 Nato's leaders will try to avert a damaging split tomorrow over when Western troops are pulled out of Afghanistan after the new French President's election pledge to withdraw its forces early.
François Hollande has promised to end the French military presence by the end of this year – two years ahead of the schedule backed by the United States.
A two-day summit in Chicago will attempt to find a common position between Nato's 28 members amid fears that signs of division could encourage insurgent forces to step up attacks.
The meeting was originally scheduled to agree a detailed timetable for ending the decade-long mission, but its leaders are facing a more immediate challenge in stopping the alliance's common front from fracturing.
They will also have to consider whether the security situation is stabilising sufficiently for the planned drawdown to take place at all. More than 150 Nato troops, including 20 Britons, have been killed in Afghanistan so far this year. Two died yesterday when rockets crashed into an American base in the north of the country.
Barack Obama, backed by David Cameron, has set a deadline of the end of 2014 for the US-led mission to finish, although the aim is to hand over responsibility for security to Afghan forces a year earlier. The US has 90,000 of the 129,000 coalition troops in the country, with Britain supplying the second-largest force of 9,500.
During his election campaign, Mr Hollande said he was committed to an "immediate withdrawal" of his nation's 3,300-strong contingent.
If he sticks to that pledge, the German Chancellor, Angela Merkel, who faces an election next year, could come under domestic pressure to promise to withdraw her country's 4,900 troops early.
Two weeks ago, Mr Hollande appeared to soften his stance when he said "combat units" would be withdrawn this year, suggesting French advisers could remain until the Nato deadline expires.
Philip Hammond, the Defence Secretary, has said that a "properly structured exit" is important for the alliance's cohesion, but has indicated he believes the differences within Nato's leadership can be resolved. His statement came as official figures revealed that the UK has spent £17.3bn on the Afghan war since 2001, on top of normal defence spending. It could rise to £20bn by the time the last UK personnel leave.
Jon Wilks, the former ambassador to Yemen, has been appointed a special envoy to advise Syrian opposition groups following the crackdown that has cost 10,000 lives. Mr Cameron has also agreed to send a senior officer to head a United Nations team of military observers, the first British military personnel to be involved. A No 10 source hinted that more UK troops could join UN teams in Syria.
Troop withdrawal: The options
Speed up:
Domestic pressure builds in the US, UK and other western European nations to accelerate withdrawal. There are signs that the security situation is stabilising more quickly than expected as attacks on International Security Assistance Force (Isaf) troops decline and government soldiers assert themselves across the country. Western forces pull out by the end of next year – 12 years after their initial deployment. Likelihood *
Stick to plan A:
Barack Obama and David Cameron persuade wavering Isaf members to stick to plans to hand over front-line security to the Afghans in 2013 with total withdrawal by December 2014. Nations such as France, Germany and Australia keep a token presence – or are allowed to keep a rapid reaction force in the region to be called back in an emergency. Likelihood ****
Slow down:
The insurgency intensifies ahead of the planned withdrawal date and there is a surge in "green on blue" attacks by men in Afghan military uniform. Alarmed senior commanders, fearing that the country's forces are too weak to respond, convince the politicians to relax the mission's end date. Public opinion is hostile to the move – and some nations will pull their troops out anyway. Likelihood **
Join our new commenting forum
Join thought-provoking conversations, follow other Independent readers and see their replies