Navy SEAL team that killed Osama bin Laden 'taking part in military drills against North Korea for first time'
The elite unit will practise destroying communist state's weapons of mass destruction, reports suggest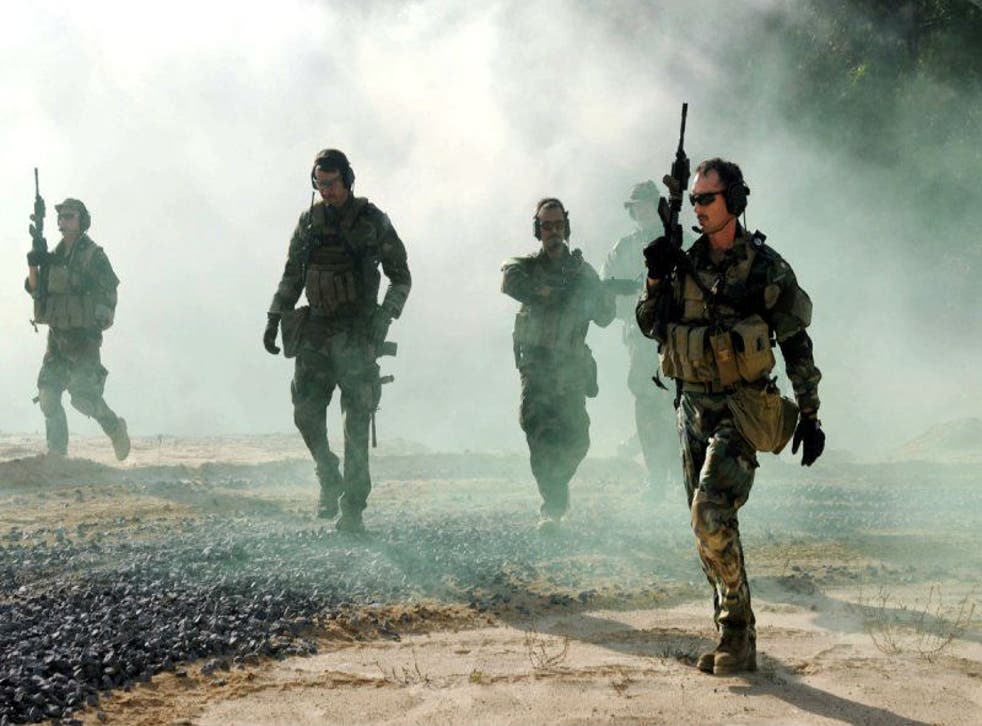 The US Navy SEAL team that killed Osama bin Laden is reportedly set to join military training drills against North Korea for the first time.
Along with other elite US units including the Army Rangers, Delta Force and the Green Berets, SEAL Team Six will take part in annual training exercises alongside South Korean forces, according to Yonhap News.
"A bigger number of and more diverse US special operation forces will take part in this year's Foal Eagle and Key Resolve exercises to practise missions to infiltrate into the North, remove the North's war command and demolition of its key military facilities," a South Korean official told the news agency.
SEAL Team Six would practice removing Kim Jong-un and destroying North Korea's weapons of mass destruction, South Korea's Defence Ministry told the Joong Ang Daily newspaper.
A ministry official told the newspaper it would send a "strong message" to the communist state.
But US Navy Commander Gary Ross denied the US military would practice taking out the North Korean leader. "Foal Eagle is designed to enhance the Republic of Korea-US alliance's ability tio defend the RoK," he said.
F-35 fighter jets will also reportedly carry out strike simulations on key North Korean sites, while a joint amphibious landing drill involving the US and South Korea will begin next month.
North Korea has already warned of "merciless attacks" if the USS Carl Vinson, a US aircraft carrier currently in South Korean waters, infringes on its "sovereignty and dignity even a bit".
Kim Jong Un 'will press the button' if his rule is threatened, North Korea defector reveals
The secretive state last week fired four ballistic missiles into the sea off Japan in response to the annual military drills, which it sees as preparation for war.
Both the US and South Korea maintain that the exercises are purely defensive.
Asked if Navy SEAL Team Six was will be involved in the exercise, Commander Ross said: "There are variety of Special Operations Forces (SOF) participating in Foal Eagle, as they do in most regional exercises."
He continued: "Foal Eagle is a regularly-scheduled, annual exercise that is the culmination of many months of planning and it is not being conducted in response to the current situation on peninsula."
North and South Korea are technically still at war because the 1950-53 Korean War ended in an armistice, not a peace treaty.
Inside the daily life in North Korea

Show all 19
An internal White House review of strategy on North Korea reportedly includes the possibility of direct military action to counter North Korea's nuclear threat.
The US Department of Defense has been contacted for comment but none had arrived at the time of publication.
Register for free to continue reading
Registration is a free and easy way to support our truly independent journalism
By registering, you will also enjoy limited access to Premium articles, exclusive newsletters, commenting, and virtual events with our leading journalists
Already have an account? sign in
Register for free to continue reading
Registration is a free and easy way to support our truly independent journalism
By registering, you will also enjoy limited access to Premium articles, exclusive newsletters, commenting, and virtual events with our leading journalists
Already have an account? sign in
Join our new commenting forum
Join thought-provoking conversations, follow other Independent readers and see their replies