Nepal earthquake: Doctors forced to operate in tents with hospitals overwhelmed as death toll rises – and aftershocks keep coming
People have been left wandering the streets with nowhere safe to go
Peter Popham
,
Anil Giri
Monday 27 April 2015 08:50 Comments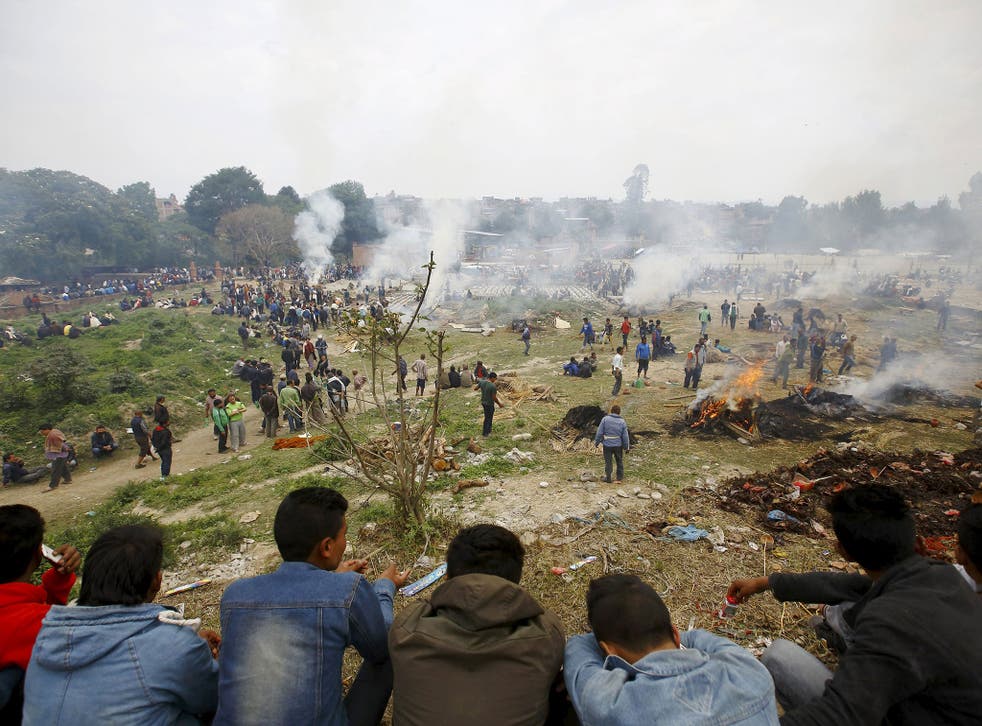 Hundreds of thousands of people have spent a second night out of doors in Kathmandu as severe aftershocks continued to terrify people in the Nepalese capital and surrounding areas.
The worst earthquake to hit Nepal in 80 years has killed more than 3,200 people, injured more than 6,500 and reduced several World Heritage sites to rubble. Some of the city's buildings were smashed to pieces, others tilted at crazy angles. Partial collapses exposed living rooms, furniture and belongings stacked on shelves.
Out in the countryside the situation was no better. In the farming district of Dhading, 50 miles outside Kathmandu, people camped in the open, the hospital was overflowing, power was off and the shops were closed.
"Many people have lost their homes," said Chandra Lama, an English teacher. "We are waiting to see what the government will do." Deepak Panda, a member of the country's disaster management organisation, said: "We are overwhelmed with rescue and assistance requests from all across the country."
The congested and heavily polluted home to 1.2 million people, the Kathmandu valley sits on an ancient dried-up lake bed whose very soft soil amplifies seismic motion. The epicentre north-west of the city, between Kathmandu and Pokhara, was a mere nine miles below the ground and it caused death and destruction as far away as in Bangladesh, Tibet and northern India. The tremors were felt 400 miles away in Delhi.
Powerful earthquake hits Nepal

Show all 44
But it was in the densely packed narrow lanes of the ancient quarters of Kathmandu, where tens of thousands live in high, narrow, tightly packed buildings, that the impact was most disastrous. With the first and most violent shaking at 11.45am on Saturday, temples and tenements and monuments were thrown to the ground, killing hundreds outright, while survivors ran screaming into the streets. Since then, more than 100 aftershocks have forced hundreds of thousands of people to take shelter in the open, fearing to return to their homes. Some have erected tents while others have spread their bedding on the roads.
"The aftershocks keep coming, so people don't know what to expect," said Sanjay Karki, country head of Mercy Corps. "All the open spaces in Kathmandu are packed with people who are camping outdoors. When the aftershocks come you cannot imagine the fear. You can hear women and children crying." Hundreds of volunteers have been providing food, drinking water and other necessities to people taking shelter out of doors.
The aftershocks forced doctors and staff to move hundreds of patients into the city streets on stretchers and sacks and lay them on the road outside Kathmandu Medical College, where an improvised operating theatre was set up in a tent. Outside the National Trauma Centre hundreds of the injured with fractured and bloody limbs lay in tents made from hospital sheets.
"We only have one operating theatre here," said Dipendra Pandey, an orthopaedic surgeon, who said he had carried out 36 critical operations since the earthquake.
Nepal's envoy to India, Deep Kumar Upadhyay, said: "Both private and government hospitals have run out of space and are treating patients in the open."
Nepal's giant neighbours were quick to dispatch help as the government declared a state of emergency. An Indian plane carrying heavy lifting equipment was the first to land at Tribhuvan international airport after the quake struck. Members of its National Disaster Response Force followed, while China sent in a 60-strong emergency team. Pakistan was sending four aircraft with a 30-bed hospital, search-and-rescue teams and relief supplies. Other countries promised rapid relief.
But in the first, and most important, 24 hours most survivors were left to fend for themselves, tearing at rubble with bare hands to try to reach relatives and friends. Electricity was out, and communication by telephone, mobile and internet was fitful.
Earthquakes are a fact of life in Nepal, where the Himalayas were created by the collision, 25 million years ago, of the Indian and Eurasian plates. The last really big quake, in 1934, killed more than 10,000 people. Heavy migration to the city and the building of high, flimsy homes has magnified the hazard. According to one expert, the shaking lasted between one and two minutes and moved the whole city southwards by 10ft.
In this major centre of both Hinduism and Buddhism, many of Nepal's most revered structures were destroyed or damaged. Among those hit most heavily were the Unesco heritage sites of Patan and Bhaktapur in the Kathmandu region, several of whose ancient palaces and pagodas were reduced to rubble. The Buddhist stupa of Boudhanath, the largest in Nepal, was seriously cracked.
The holy Hindu shrine of Pashupatinath, on the bank of the Bagmati river, by contrast, sustained only minor damage and its priests were soon working overtime. A row of corpses, covered in saffron sheets, spilled out of the cremation area, while plumes of smoke rose above the city.
Register for free to continue reading
Registration is a free and easy way to support our truly independent journalism
By registering, you will also enjoy limited access to Premium articles, exclusive newsletters, commenting, and virtual events with our leading journalists
Already have an account? sign in
Join our new commenting forum
Join thought-provoking conversations, follow other Independent readers and see their replies