Nepal earthquake: Inside the 'classic medieval village' that is now a place of desperation and sorrow
It was once a Nepalese village famous for being the home of the 16th-century temple to the deity Rato Machhendranath. Now it lies in ruins, its distraught inhabitants huddled in tents
Kim Sengupta Comments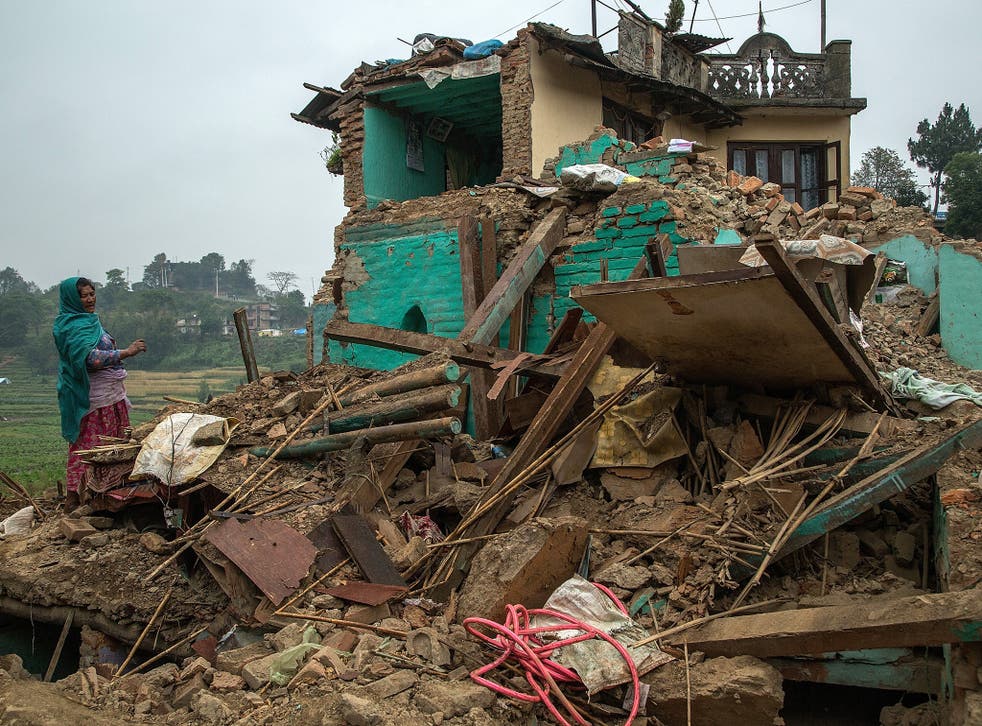 It has been, for many years, a prized destination for travellers from across the world seeking culture and history in Nepal. Lonely Planet is just one of many guides lavish in its praise, describing Bungamati as "a classic medieval village… one of the prettiest in the valley".
Today it is a place of desperation and sorrow. Families, many of the young and elderly among them distraught, are huddled in tents, their homes destroyed or severely damaged by devastating earthquakes. The 16th-century Rato Machhendranath temple, named after the divinity reputedly born there, lies in ruins. The craftsmen whose intricate skills, handed down through generations, had been a source of great attraction are salvaging what little they can from their ruined workshops while worrying about their future.
News of what happened to this village has been slow to emerge, surprisingly so, given that it just 20 miles from Kathmandu. The winding streets in its centre, previously lined by the kind of characterful old homes that would be photographed by tourists, are now lined with rubble.
But the clearest sign of the devastation wrought by last weekend's earthquake is the damage done at the heart of Bungamati: the temple to Rato Machhendranath, the deity who the country's Hindu population believe was Lord Shiva reborn, and who the Buddhists regard as a reincarnation of Avalokiteshvara, the great bodhisattva who gained ultimate spiritual enlightenment.
The front of the temple half collapsed, its pillars twisted and buckled. The rest now lies in ruins. The death toll, from a population of around 1,000 in the inner village, is 27, with twice as many wounded. Dozens more have left their damaged homes fearing that the structures may collapse. They will remain under tents in the fields until the buildings are repaired: and they do not know who will carry that out.
Powerful earthquake hits Nepal

Show all 44
Part of Suman Mahajan's home collapsed, injuring his brother Krishna, and sister Sobha. But he has also lost two of his five cows; the milk from the small herd a major part of the family's income. The two dying animals were pulled out of a hole and laid down next to the village pond, which, with its filthy water, is the only place where the villagers can wash their clothes, their cooking pots and themselves.
"I heard the cows all night, it was a terrible sound – we don't like to see out animals suffer, especially cows, which are sacred to us," said Hari Bhaktar Ramajan, 48, also a farmer. He and his 45-year-old wife Malya will have to rebuild their house. "I don't know where I will get the money, I am a farmer, a poor farmer, I have no savings," Mr Ramajan said.

"We were lucky, we were out in the fields working, so no one got hurt," he continued. "But now we will be back on the fields, living in tents, in the future. No official has come to offer any help, despite us being so near the capital."
Although officials have been slow in coming to Bungamati, worshippers have been travelling from great distances since they heard what had happened. Asima Sarbodaya had been brought by her son, Arun, from Bhaktapur, which has also suffered from the earthquake. Her brother Manoj has serious head injuries, her daughter Saraswati's legs were crushed: both are in hospital in Kathmandu.
Ms Sarbodaya, 63, was praying before what was left of the temple. "It is such a famous place," she said. "Our family has a tradition of coming here in times of trouble and, of course, we are all very worried about Saraswati and Arun, so I was praying for them. But I was also praying for Lord Machhendranath because his home has been destroyed. People are saying this is a bad omen, I don't know if it is true," she added.
There have been rumours circulating that another severe earthquake may come in the next few days. In this febrile atmosphere, some are planning to seek refuge in what they consider to be places of greater safety. "I am staying right here, there can't be a safer place," declared Usha Majar, who had taken shelter just outside the ruins of the temple with her three children. "There cannot be a safer place than in front of Lord Machhendranath".
But had not the temple also been damaged by the quake? Ms Majar did not share Mrs Sarbodaya's foreboding. "That will not happen twice."
Mr Dhakal was worried there would be no future for him in Bungamati even without more tremors. He used to run a handicrafts shop. "Will the visitors come back here? We might get some young people, those ones with bags on their backs, because of curiosity. But I don't know whether families would want to come to a place where there has been an earthquake. So I don't know what will happen," he said, spreading his hands in resignation.
Many craftsmen who supplied the merchandise for Mr Dhakal's shop and those of others have problems of their own. Kavi Taladhar, a woodcarver, has very little left undamaged in his workshop. "I wasn't earning much, about 20,000 rupees (£130) a month, but I was doing something taught by my father, something he had been taught by his father, so it would be sad if I had to give it up," he said.
"Maybe people like me will be employed again if reconstruction takes place... but I will have to have a workshop, the right tools – and all of it will be expensive."
Mr Taladhar, 44, spoke in front of the door to his house, a beautiful piece of his own handiwork. "Lots of houses have these doors, they are supposed to bring luck," he smiled. Not one corner of his home is undamaged. "But look at this door," he continued. "Not a mark on it. Maybe this says good things will come in the future. We need to keep hold of any hope we have."
Register for free to continue reading
Registration is a free and easy way to support our truly independent journalism
By registering, you will also enjoy limited access to Premium articles, exclusive newsletters, commenting, and virtual events with our leading journalists
Already have an account? sign in
Join our new commenting forum
Join thought-provoking conversations, follow other Independent readers and see their replies