Nepal earthquake: Rescuers forced to dig with their bare hands in search for survivors as images show damage to historic buildings
More than 1,900 have been killed by the earthquake, which triggered a deadly avalanche on Mount Everest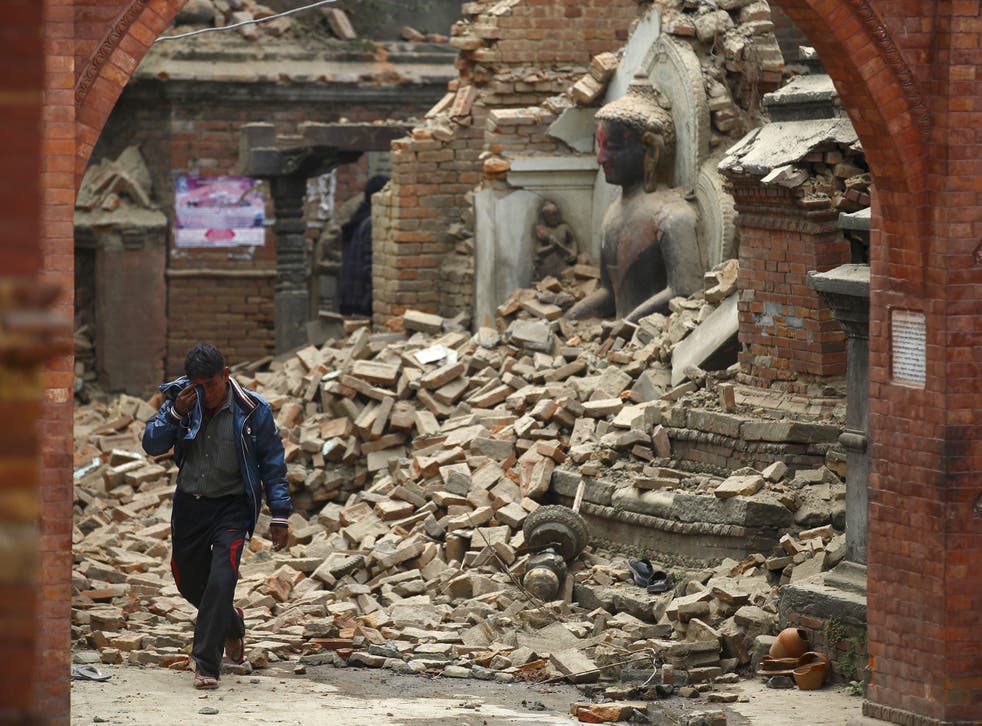 Rescuers have been forced to dig with their bare hands to find survivors and bodies after a huge earthquake in Nepal killed at least 2,000 people and triggered a deadly avalanche on Mount Everest.
Along with the huge loss of human life, critical infrastructure, homes and buildings have been destroyed by the magnitude-7.8 earthquake which struck before noon on Saturday, 50 miles outside the capital, Kathmandu.
Planes from neighbouring countries are now landing laden with aid, relief workers and doctors to help the impoverished country deal with the disaster.
Authorities say at least 2,152 people have died as a result of the earthquake, all but 60 of them in Nepal. In the capital, which was badly affected, at least 721 people were killed.
India and China have already sent relief teams and medical supplies to Nepal, while Britain, the US and Pakistan have offered to help the rescue efforts.
Powerful earthquake hits Nepal

Show all 44
The massive earthquake also triggered an avalanche on Mount Everest, killing at least 17 people and injured a further 60, in what is the mountain's worst disaster.
The first 15 injured climbers have been flown to Kathmandu, but there is said to be confusion at the mountain where hundreds of climbers, many of whom are foreign, remain stranded.
Gelu Sherpa, a climber transferred to the capital, said "the toll will rise" and added "tents have been blown away" by the avalanche.
In Kathmandu an historic tower, built in 1832 for the Queen of Nepal, has been reduced to rubble. The 60m high Dharahara Tower had been open to the public for the last 10 years. Police said up to 200 people had been trapped in the structure when it collapsed.
Other precarious, poorly-constructed buildings toppled when the earthquake hit, trapping and killing scores of people.
A powerful magnitude-6.7 aftershock hit the Kathmandu Valley region on Sunday, causing further panic and devastation.
Fear of aftershocks, which continued for hours after the initial quake, led many thousands of people to sleep outside on Saturday night in low temperatures.
Rural areas of Nepal were totally unprepared for the level of destruction that the quake caused, according to aid group World Vision.
Villages near the epicenter "are literally perched on the sides of large mountain faces and are made from simple stone and rock construction.
"Many of these villages are only accessible by 4x4s and then foot, with some villages hours and even entire days' walks away from main roads at the best of times," the group's local staff member, Matt Darvas, said in the statement.
"It will likely be helicopter access only for these remote villages," he added.
Additional reporting by agencies
Register for free to continue reading
Registration is a free and easy way to support our truly independent journalism
By registering, you will also enjoy limited access to Premium articles, exclusive newsletters, commenting, and virtual events with our leading journalists
Already have an account? sign in
Register for free to continue reading
Registration is a free and easy way to support our truly independent journalism
By registering, you will also enjoy limited access to Premium articles, exclusive newsletters, commenting, and virtual events with our leading journalists
Already have an account? sign in
Join our new commenting forum
Join thought-provoking conversations, follow other Independent readers and see their replies