Nepal honours chronicler of Himalayan mountaineering Elizabeth Hawley by naming peak after her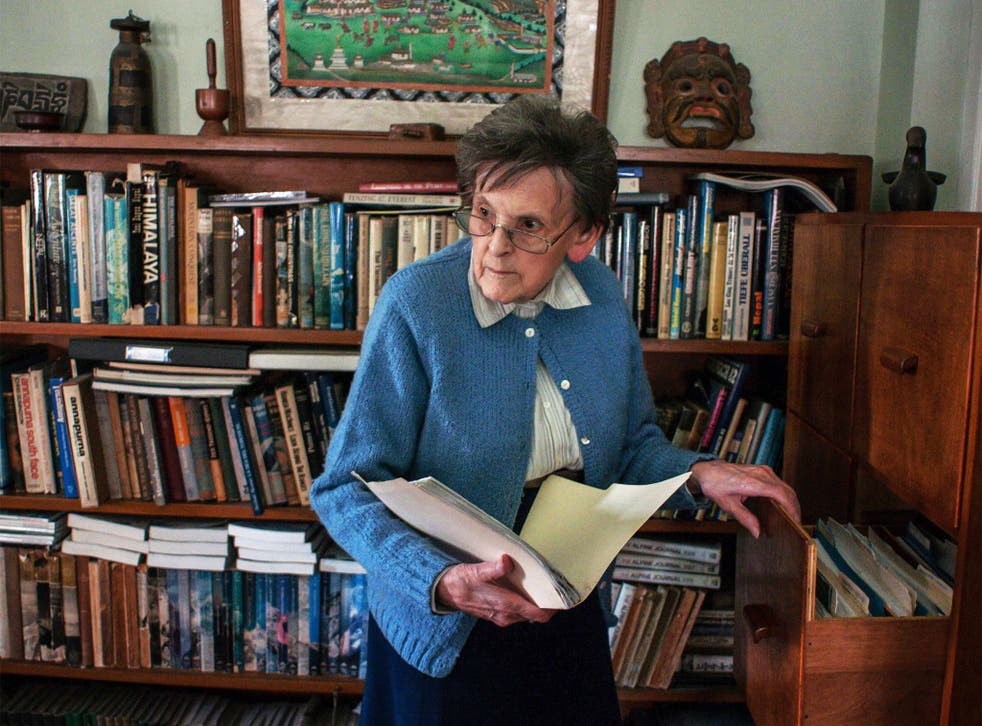 For her than five decades, Elizabeth Hawley has been chronicling the highs and lows of Himalayan mountaineering.
From confirming the first ascent of Everest by a blind climber to raising doubts about a Korean woman's claim to have bagged a crucial, 8,000m summit, the American journalist has enjoyed a royal box seat to many of mountaineering's greatest dramas. And at the age of 90, she expresses no enthusiasm for giving up what she loves.
And this week, the authorities in Nepal underscored the contribution Ms Hawley has made to their country by announcing they were naming a mountain after her. They also said that Peak Hawley – at 6,182 metres, relatively modest by Himalayan standards - will for the first time be open to foreign climbers.
"I think it's a joke," Ms Hawley told The Independent from Kathmandu. "They should not name mountains after people."
Ms Hawley, originally from Chicago, first arrived in the Nepalese capital in 1959, less than a decade after Nepal first opened its borders to foreign visitors. Having left the US to travel in Europe and Asia, she had been offered a chance to write for Time magazine and contribute any stories she discovered in the Himalayan kingdom. She found herself entranced.
One of her first scoops related to the 1963 US expedition to Everest. According to reports, Ms Hawley persuaded the US military attache to allow her to use a secret radio set that was at the Everest base camp. As a result, she was able to file her copy about the successful attempt long before her rivals.
A graduate of the University of Michigan, Ms Hawley eventually landed the job of mountaineering correspondent for the Reuters news agency.
But it was her involvement with the Himalayan Database that has saw her assume a central position within the world of Nepalese mountaineering. Combining the skills of detective and a librarian, she has logged the ascents of all major peaks within Nepal. To this day, most climbers or expedition leaders arriving in Nepal will pay her a visit at her apartment in the city centre.
While she occupies no official position, an entry in the database she oversees has for decades represented confirmation of a climb to the mountaineering world. Likewise, her raising doubts about a climber's claims to have reached the top, or to have followed a certain route, can doom it.
Asked for some of the most memorable ascents she has catalogued, Ms Hawley referred to that 1963 US summiting of Everest, a vast expedition that saw American Jim Whittaker and and Sherpa Nawang Gombu reach the top. She also mentioned the first ascent of Everest by a blind climber, an undertaking achieved in 2001 by Erik Weihenmayer.
Less pleasant was acting as an arbiter in the hugely controversial record claim made by South Korean female climber Oh Eun-Sun, who in 2010 completed an ascent of Annapurna, and claimed as a result to have climbed all 14 of the world's 8,000m mountains.
There were widespread accusations from other climbers that Ms Oh had failed the year before to reach the summit of Mt Kanchenjunga, located on the border of Nepal, India and China. Ms Hawley looked into the matter and interviewed sherpas involved in the expedition. She marked Ms Oh's climb as "disputed".
Ms Oh later admitted that adverse weather had forced her to stop a few feet short of the summit of Mt Kanchenjunga. Edurne Pasaban, a Spanish climber is now recognised as the first woman climber to have successfully summited the 8,000m mountains, after having climbed China's Shishapangma in May 2010.
Earlier this year, officials in Nepal announced they were opening a number of previously off-limits mountains to foreign climbers, who provide crucial foreign currency in the form of fees and permits.
They also named several of those mountains, including two peaks close to Everest, which were named after Sir Edmund Hillary and Sherpa Tenzing Norgay, who made the first ever ascent of the world's highest mountain in 1953.
Officials may have been inspired to act over Peak Hawley by French climber François Damilano, who made the first ascent of the mountain, located close to the border with China, six years ago. At the time, he unofficially named the mountain, in the Humla district of north-west Nepal, after her.
"There have been several mountains named after people who have contributed to the development of mountaineering and who have been honoured," said Ang Tshering Sherpa, president of the Nepal Mountaineering Association. "She is very, very important. She has been keeping the chronology of Nepal's mountaineering history. She is still working."
Dipendra Paudel, an official with Nepal's tourism ministry, confirmed the decision to name the mountain after the American nonagenarian.
"She has honoured our lives by her work and the government wanted to name the mountain after her to honour her," he said. "She is a great lady."
Ms Hawley, who still drives herself around Kathmandu, grumbled that Nepal's move to name mountains after individuals rather than using local names was not in line with practices elsewhere.
She pointed to the struggle by the US state of Alaska to officially rename Mt McKinley, the highest peak in North America, to Denali, the name used by the local indigenous tribes and which means "great one". Efforts to do so at a federal level have been blocked by the US Congressional delegation from Ohio. Ohio was home to William McKinley, the 25th president of the US.
Ms Hawley said she had no plans to give up her work. "Why would I stop? What would I do, sit around and watch TV? I don't even a TV," she said. "Go home? I've not been to the US for 60 years and it has changed so much. Where would I live?"
She added: "I am happy with what I'm doing, as long as I can do the job and keep my wits about me."
Register for free to continue reading
Registration is a free and easy way to support our truly independent journalism
By registering, you will also enjoy limited access to Premium articles, exclusive newsletters, commenting, and virtual events with our leading journalists
Already have an account? sign in
Register for free to continue reading
Registration is a free and easy way to support our truly independent journalism
By registering, you will also enjoy limited access to Premium articles, exclusive newsletters, commenting, and virtual events with our leading journalists
Already have an account? sign in
Join our new commenting forum
Join thought-provoking conversations, follow other Independent readers and see their replies