New-look yakuza tries to become the friendly face of Japan
Tolerated for much of the postwar period, the mob is finally being brought to heel by the authorities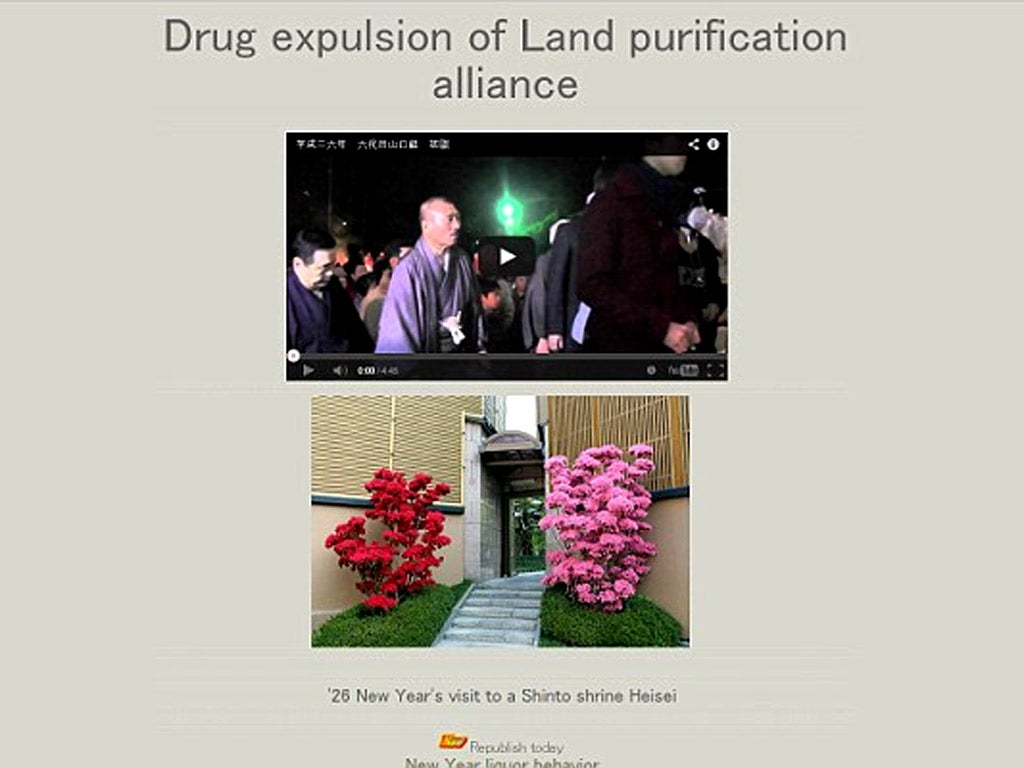 Japan's largest organised crime syndicate has launched a website in an apparent bid to reverse its declining fortunes.
Instead of guns, molls and mayhem, the site is festooned with pictures of cheery blossoms and religious temples, and carries an anti-drug plea.
Yakuza-watchers say the site, run by the Alliance for Drug Eradication and National Land Purification, is a shop window for the Yamaguchi-gumi. A message says it was set up to help create a "beautiful, orderly Japan" where young people are protected, drugs are outlawed and the happiness of ordinary people is pursued.
Video clips and photos show hardened gangsters pounding sticky rice for a New Year festival, visiting Shinto shrines and acting as good Samaritans after the earthquake that devastated Kobe – home of the Yamaguchi-gumi – in 1995. A folk song unloads the burdens of mob life
Gangsters operate in plain sight. Crime syndicates have offices registered with local public safety commissions, and membership is legal. The Yamaguchi-gumi is based behind a high-walled compound in one of the wealthiest parts of Kobe. A large sign on the wall says the group promises to be neighbourly and law-abiding. Recent police estimates put the size of the gang at an all-time low of 27,000, well down from the 40,000 it boasted six years ago.
Tolerated for much of the postwar period, the mob is finally being brought to heel by the authorities. Yakuza-exclusion ordinances, introduced two years ago, stop companies from knowingly engaging in business with gangsters. Businesses from megabanks to corner shops are now obliged to confirm that customers are not related to organised crime.
Alarmed mob bosses have discovered a new zeal for PR. The Yamaguchi-gumi recently produced an in-house tabloid with features on fishing, board games and a morale-boosting message from its godfather, Tsukasa Shinobu. An entertainment section contains accounts of fishing trips by its bosses, along with haiku poems and tips on how to play board games.
Shinobu reportedly dislikes drug use, reserving special disdain for amphetamines, the traditional drug of choice in the Japanese underworld. Drugged-up gangsters have committed hundreds of violent crimes over the years. But the anti-drug campaign is also a way for the yakuza to fight the police, who officially call them "anti-social forces".
Experts say the Japanese mob is involved in a range of criminal or near-criminal activities, including loan-sharking, extortion, intimidation and fraud. "Their main businesses are basically the same as those of crime gangs everywhere: drug dealing, smuggling, prostitution, gambling, and protection rackets," says a paper by Andrew Rankin, a researcher at Cambridge University, who also notes a recent shift to white-collar crime.
The website, however, illustrates the romantic self-image cultivated by yakuza members, who describe themselves as ninkyo-dan, roughly translated as "chivalrous groups".
Jake Adelstein, an American journalist whose book about working the crime beat of Japan's biggest newspaper is being made into a Hollywood movie, told The Japan Times: "The yakuza motto is 'help the weak and fight the strong'. In practice, it's usually the reverse."
Join our commenting forum
Join thought-provoking conversations, follow other Independent readers and see their replies