Africans being attacked by roaming mobs in India
A mob beat one man unconscious with knives and bricks
Thursday 30 March 2017 12:04 Comments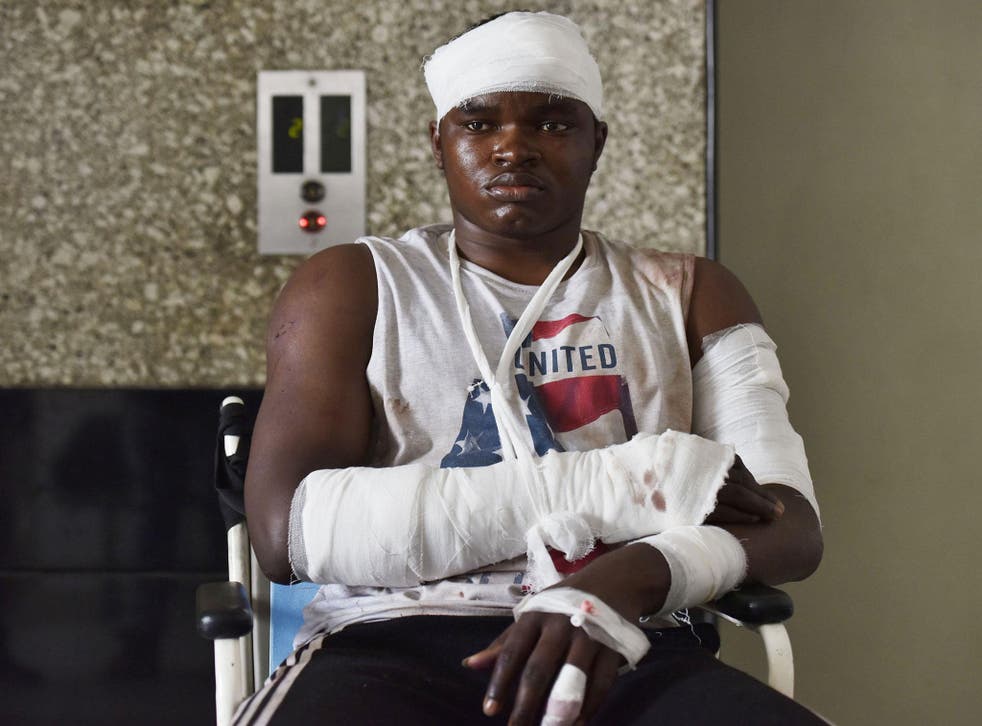 Africans living in northern India are locking themselves into their homes after a spate of mob attacks left several people hospitalised.
Five Nigerian students were attacked by crowds and another was beaten unconscious by a mob inside a shopping mall in the district of Noida, near Delhi.
Film of the attack prompted a social media outcry and the victim told local media no one had helped or called the police as he was beaten unconscious with knives and bricks.
Two more African students were assaulted in a separate incident by masked men.
The attacks began after the parents of a local teenager blamed Nigerian students for supplying him with the drugs that caused him to die of an overdose.
Police detained five local Nigerian men on suspicion of drug dealing, abduction murder, but they were later released after a post mortem failed to confirm an overdose was the cause of death.
After their arrest, a group of African students gathered to peacefully demonstrate, which was met with a counter protest by locals.
Violence broke out and police said 100 people then attacked students in a nearby shopping mall.
"We kept crying for help, but no one came, not even the security marshals. I was running but they followed me and attacked me," Precious Amalawa, told NDTV.
Police have been assessing video of the attacks and five men have been arrested.
World news in pictures

Show all 50
It has prompted the Association of African Students in India issued a statement to all Africans in the area and urged them to stay indoors. They also claimed they would continue to publicise the continuing "racism" Africans face in India.
"All African Students Studying in Greater Noida are hereby instructed to stay at home as the situation remains volatile. We are advising all the student representatives from Africa to request their students to remain at home," their advisory said.
Enduranca Amalawa, 21, an economics student at a local university, was caught up in the mob attack.
Calling the attacks "deplorable" Gopal Baglay, a Ministry of External Affairs spokesman said authorities were working "to keep the situation under control."
External affairs minister Sushma Swaraj also tweeted: "I have asked for a report from Government of Uttar Pradesh about the reported attack on African students in Noida."
Register for free to continue reading
Registration is a free and easy way to support our truly independent journalism
By registering, you will also enjoy limited access to Premium articles, exclusive newsletters, commenting, and virtual events with our leading journalists
Already have an account? sign in
Join our new commenting forum
Join thought-provoking conversations, follow other Independent readers and see their replies