Alek Sigley: North Korea releases Australian student missing for almost 10 days
'This outcome demonstrates the value of discrete behind-the-scenes work'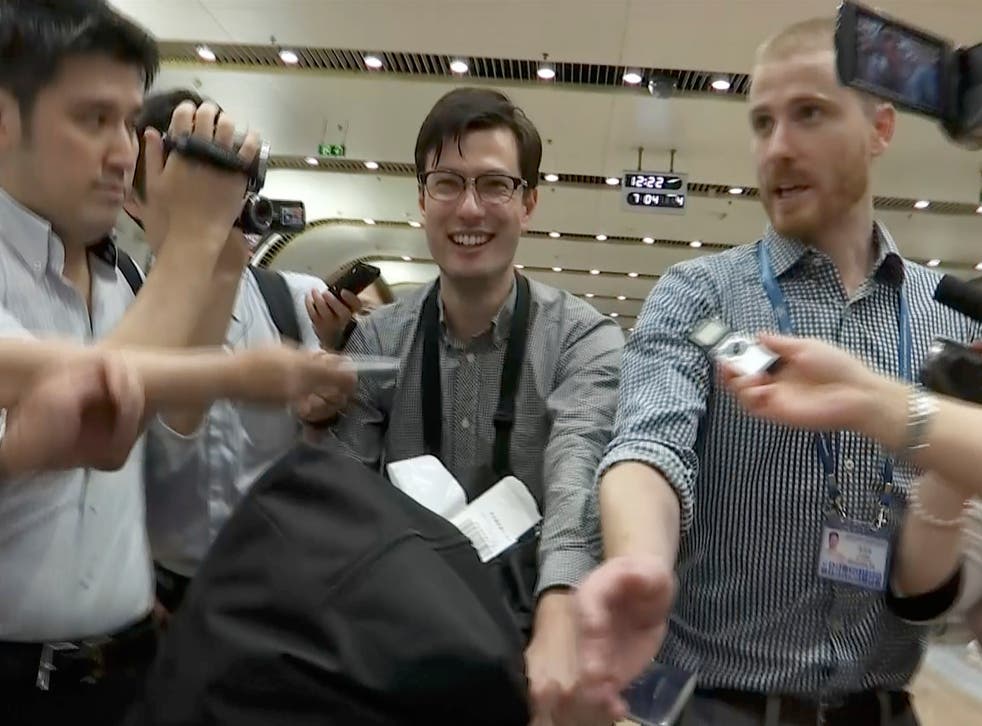 An Australian student who had been missing in North Korea for almost 10 days is "safe and well" and has been released from detention, the Australian prime minister said.
Scott Morrison's statement to parliament was the first confirmation that Alek Sigley, a Pyongyang university student, had been arrested by the North Korean authorities. He had not spoken to family and friends since last Tuesday.
"Alek is safe and well ... we were advised that the DPRK [Democratic People's Republic of Korea] have released him from detention and he has safely left the country and I can confirm that he has arrived safely," Mr Morrison said.
Reporters met a relaxed-looking Mr Sigley on arrival at Beijing airport, though the student refused to answer any questions about his detention.
"I'm OK, I'm OK, I'm good. I'm very good," Mr Sigley said.
North Korea's pervasive leaders: the Kim portraits

Show all 16
His father, Gary Sigley, said his son would soon be reunited with his Japanese wife, Yuka Morinaga, in Tokyo.
"He's fine. He's in very good spirits. He's been treated well," the father told reporters in his hometown of Perth.
Australia does not have an embassy in Pyongyang, so diplomats from Sweden met with North Korean officials on Wednesday in order to negotiate Mr Sigley's release on Australia's behalf, Mr Morrison said.
He thanked the Swedish authorities for "their invaluable assistance in securing Alek's prompt release".
"This outcome demonstrates the value of discreet behind-the-scenes work of officials in resolving complex and sensitive consular cases in close partnership with other governments," he said.
Mr Sigley, 29, was one of only a handful of Western students living in North Korea.
Join our new commenting forum
Join thought-provoking conversations, follow other Independent readers and see their replies