Earthquake detected near North Korea nuclear site
Tremor follows state's sixth and most powerful atomic explosion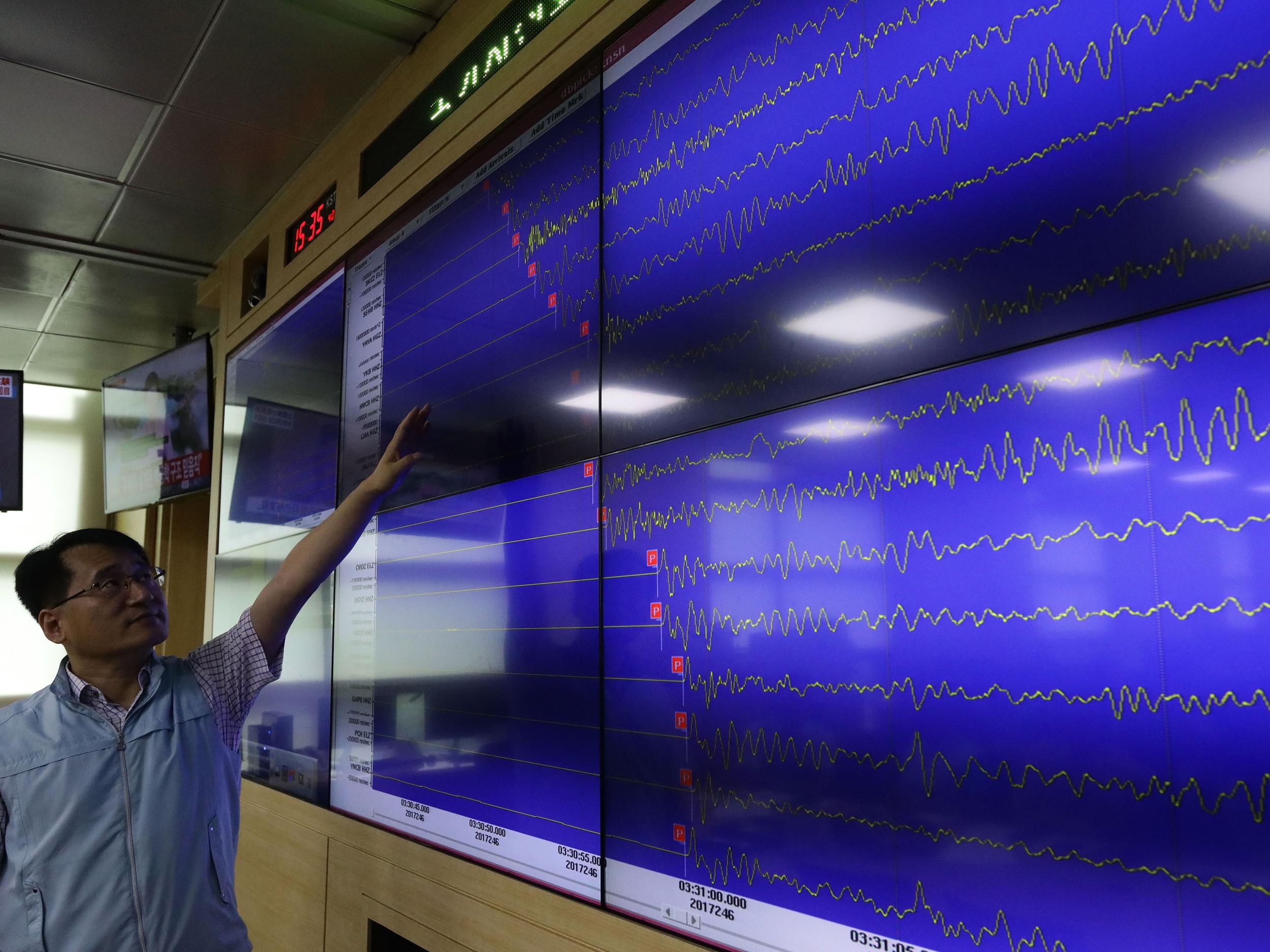 A 2.5-magnitude earthquake has been detected in North Korea near where the country recently conducted a nuclear test, Seoul's weather agency said.
The tremor occurred at 7.45am on Saturday in Kilju, North Hamgyeong Province, around 2.7 kilometres away from the Punggye-ri nuclear site, according to the Korea Meteorological Administration (KMA).
Kim Jong-Un's regime conducted its sixth and most powerful nuclear test at the site on 3 September, damaging geological structures in the area, the agency said. Four tremors have been detected there since.
North Korea announces test of new long-range missile
"The quake is a natural one and it is believed to have occurred in the aftermath of the sixth nuclear test," the KMA said.
The September atomic explosion triggered an artificial 6.3-magnitude earthquake at the test site, monitors at the time said. It was almost 10 times more powerful than the 10-kiloton test carried out by the North last year, according to South Korean experts.
North Korean monitoring group 38 North said the tremors could be an indication of "Tired Mountain Syndrome" — a condition where rock becomes increasingly permeable following a below-ground nuclear blast.
Reports have speculated the nuclear test site will have to close because of the tremors, but 38 North said "complete abandonment of the test site as a whole remains unlikely".
Donald Trump says 'we will take care of it' after North Korea fires missile
The isolationist state recently tested a new intercontinental ballistic missile that, it claimed, could reach anywhere on the US mainland.
Experts said the Hwasong-15 appeared capable of transporting a nuclear warhead, although it is unclear whether the isolated state is yet capable of making a weapon small enough to be fitted to the missile.
North Korea announces intercontinental missile launch
Show all 13
At the end of November the US unveiled fresh sanctions against the North, which it said were designed to stop its funding of nuclear and ballistic missile programmes.
Donald Trump has also redesignated North Korea as a state sponsor of terrorism.
On Friday the US state of Hawaii tested a nuclear attack warning siren for the first time since the Cold War. Some experts believe a North Korean missile could take just 20 minutes to reach the state.
Although Hawaii is protected by US anti-missile systems, local people are being told to have an emergency plan if alarms warn a strike is imminent.
Join our commenting forum
Join thought-provoking conversations, follow other Independent readers and see their replies