North Korea calls South Korean president a 'bare-faced and impudent bitch'
Insults follow President Park's invitation to North Koreans to build a better life in the South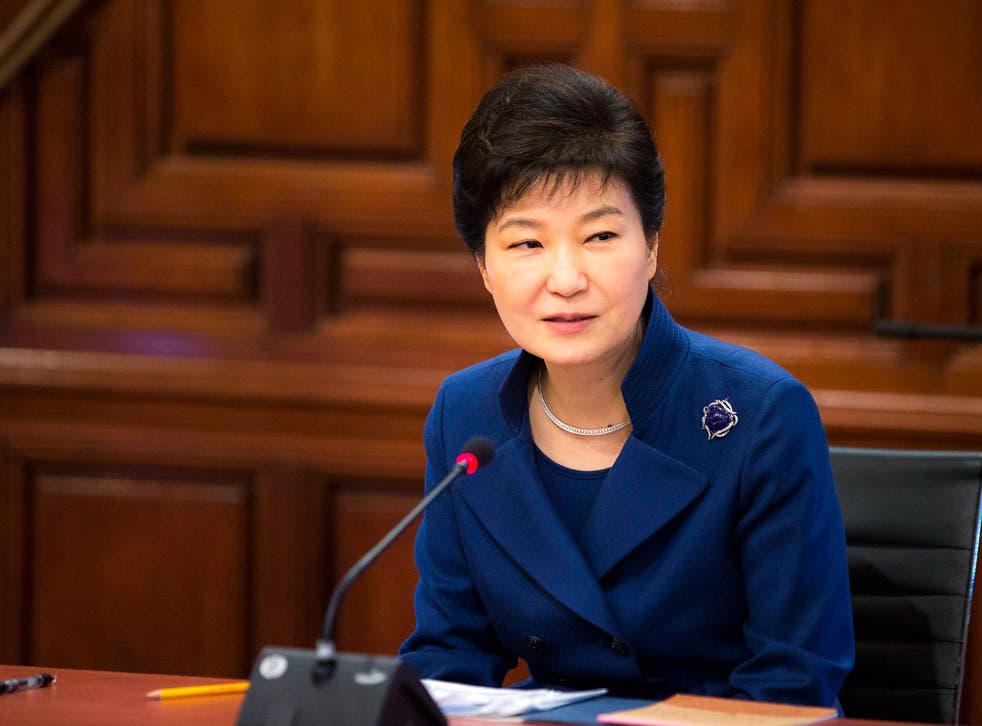 North Korea has called the South Korean president "a barefaced and impudent bitch" and denounced her "insane baloney" following her call for North Koreans to move to the South.
President Park Guen-hye has previously encouraged North Koreans to desert their homeland and build a better life in South Korea, saying there was "a road open" for them to "live a new life".
In response, North Korea's Rodong Sinmun, the official newspaper of the Workers' Party of Korea, wrote: "It's ridiculous and foolish that Park Geun Hye flutters her feet to smear our dignified leader's reputation with infamy by persisting hallucinations in her head as an established fact.
"Park Geun Hye has the gall to ignore the reality within her grasp and to doggishly and overtly utter ravings . . . encouraging defection. There is no such a barefaced and impudent bitch elsewhere."
President Park made the direct invitation to North Koreans in a speech on South Korea's Armed Forces Day. She said: "We are well aware of the gruesome realities you face. The universal values of freedom, democracy, human rights and welfare are the precious rights you should also enjoy.
"We will keep the road open for you to find hope and live a new life. Please come to the bosom of freedom in the South whenever you want... I look forward to your participation in ushering in a new era of a unified Korean Peninsula, free from the terror of nuclear weapons and war, and where human dignity is respected."
President Park also warned of trouble to come along the borders between North and South, a site that has seen many clashes in the past, adding: "Chances are high that to fend off internal instability and social confusion, North Korea will stage various acts of terrorism and provocations."
Her appeal came amid growing concern among North Koreans over President Kim Jong-un's increasingly iron-fisted rule.
North Korea successfully test-fired a submarine-launched ballistic missile off its east coast in August, two days after South Korea and the United States began annual military exercises in the South. The missile travelled more than 300 miles, indicating that North Korea had overcome some of its previous technological challenges.
Weeks later North Korea fired three ballistic missiles off its east coast, in a show of power coinciding with the G20 economic summit in China.
A North Korean soldier recently fled across the border between the two states and the second most senior official at Pyongyang's embassy in London has recently abandoned the country.
More than 29,000 North Koreans are said to have fled to South Korea in search of freedom. In the first eight months of this year, a total of 894 North Koreans arrived in the South, up 15 per cent from a year earlier, according to Seoul government data.
Inside the daily life in North Korea

Show all 19
In response to the insults against President Park, an official at Seoul's unification ministry said: "North Korea should focus on the lives of its ordinary people who are in serious distress without trying to avoid its situation with its sophistry," according to Yonhap News,
In September it was reported that South Korea was planning to assemble a military force aimed at removing Kim Jong-un from power, according to the country's defence minister.
The minister said South Korea should maintain an army of 500,000 soldiers on active duty to counter the threat of the North's estimated 1.2 million troops, should Kim Jong Un choose to invade.
Join our new commenting forum
Join thought-provoking conversations, follow other Independent readers and see their replies