North Korea fires 'ballistic missile' towards Japan
South Korean president calls emergency meeting in response to launch
Benjamin Kentish Comments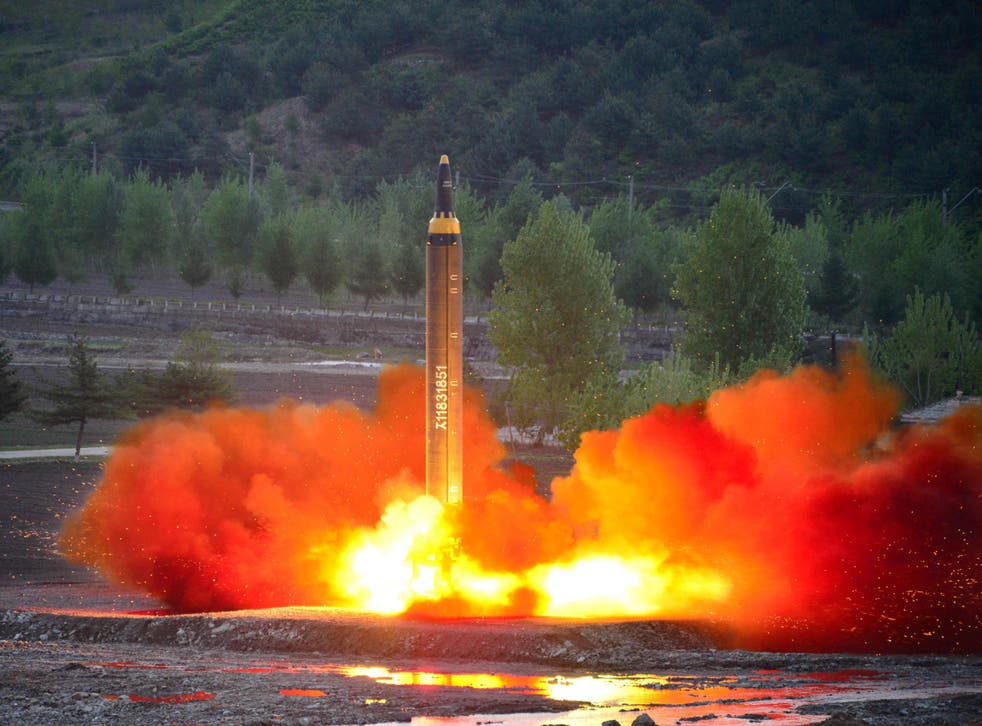 North Korea has fired an "unidentified projectile", believed to be a ballistic missile, towards Japan, South Korean officials have said.
The object was launched from the Wonsan region on North Korea's east coast and aimed eastwards, the South Korean Joint Chiefs of Staff said in a statement.
President Moon Jae-in of South Korea has called an emergency meeting of the National Security Council to assess the launch.
The projectile is believed to be a Scud-type missile that travelled around 280 miles before landing in the Sea of Japan, South Korean military sources said.
A Japanese government minister confirmed the missile appeared to have landed in Japan's waters but said no damage had been caused.
"This ballistic missile launch by North Korea is highly problematic from the perspective of the safety of shipping and air traffic and is a clear violation of United Nations Security Council resolutions," said Yoshihide Suga, the chief cabinet secretary.
"Japan absolutely cannot tolerate North Korea's repeated provocative actions. We have strongly protested to North Korea and condemn its actions in the strongest terms."
In pictures: North Korea military drill

Show all 8
The White House said Donald Trump had been briefed about the latest launch. The US Pacific Command said it had detected and tracked the short-range missile for six minutes, determining that it did not pose a threat to the US.
North Korea has test-fired a number of missiles in recent weeks, with the latest launch taking place on May 21, when a rocket landed in the sea off its east coast.
It recently ordered largescale production of a medium-range ballistic missile capable of reaching Japan and major US military bases.
The Pukguksong-2 rocket was approved by North Korean dictator Kim Jong-un.
"Saying with pride that the missile's rate of hits is very accurate and Pukguksong-2 is a successful strategic weapon, he approved the deployment of this weapon system for action," the KCNA state news agency reported.
Earlier this month, South Korea fired warning shots at an "unidentified object", reported to be a drone, that was flying towards the country from its northern neighbour.
Register for free to continue reading
Registration is a free and easy way to support our truly independent journalism
By registering, you will also enjoy limited access to Premium articles, exclusive newsletters, commenting, and virtual events with our leading journalists
Already have an account? sign in
Join our new commenting forum
Join thought-provoking conversations, follow other Independent readers and see their replies