North Korea hydrogen bomb test: Chinese citizens express fears following detonation just miles from border
'If they're going to carry out even larger-scale tests, this will definitely harm our lives,' says resident in Tumen, just 120 miles from the test site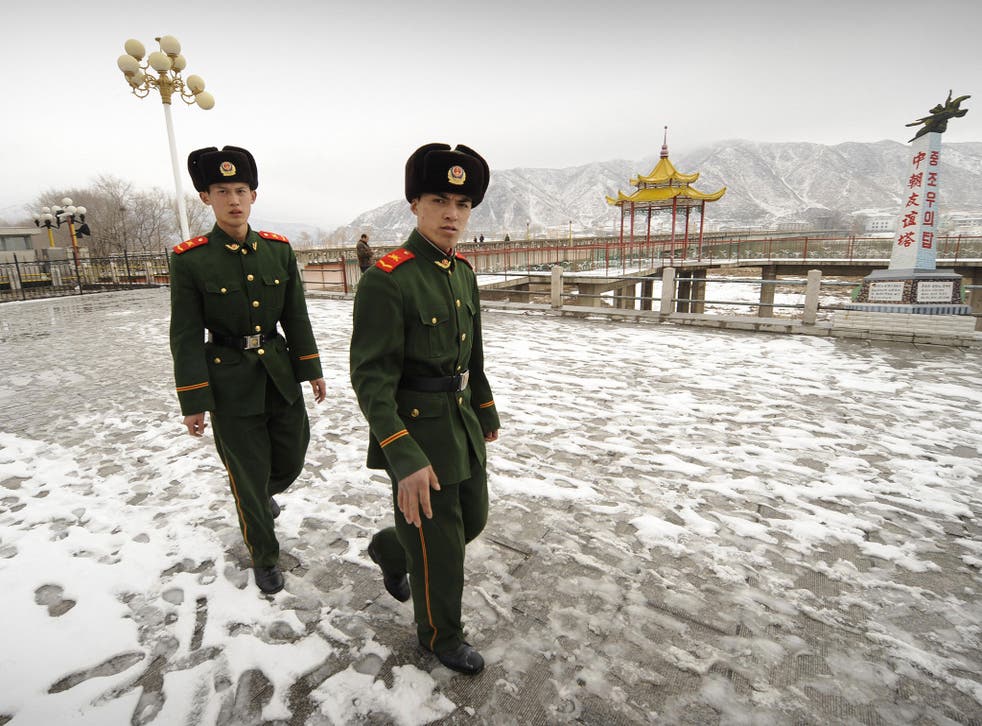 On the banks of the frozen Tumen River, dividing China and North Korea, there was little sign of Beijing's displeasure at its rogue neighbour and its so-called "H-bomb of justice".
Military officers and police stopped tourists taking photos of the few North Koreans walking along a craggy path with a horse and cart to the river's edge on Thursday. On the Chinese side, children skated on a frozen pond and lorries regularly crossed the bridge that divides the countries.
"I'm worried about the health impacts. The test was so close to us, and a nuclear bomb is a dangerous thing," said Liu, outside a railway station in Tumen, 120 miles from North Korea's nuclear test site.
"I feel a little afraid," said Piao Yanjin, 23, an ethnic Korean student in Yanji, a nearby town. "If they're going to carry out even larger-scale nuclear weapons tests, this will definitely harm our lives. We should definitely think of more ways [to prevent it]."
On Friday, its leader's 32nd or 33rd birthday, North Korea faces increasingly stringent United Nations sanctions. China has signed up to the measures, which include border inspections. The official China Daily newspaper said in an editorial that there would be "no tolerance and compromise" from Beijing when it came to North Korea's pursuit of a nuclear arsenal. But China also provides large amounts of aid "off the books" to Pyongyang.
Xie Tao, a North Korea expert at Beijing Foreign Studies University, said that if China dramatically changed course with North Korea, it would raise questions about historical mistakes made by the Chinese Communist Party.
"We fought a war," he said, referring to the 1950-53 Korean War in which China sided with North Korea. "Half a million Chinese people died, and now you say, 'sorry, we made a terrible mistake'. If you made that terrible mistake, are there any other terrible mistakes that you made since 1949?"
Firmly aligned against Pyongyang's nuclear posturing is Seoul. The government was said to be in talks with the US to deploy strategic weapons on the Korean peninsula.
South Korea also said it would resume propaganda broadcasts by loudspeaker into North Korea from Friday, Mr Kim's birthday. The broadcasts, which are likely to infuriate the regime, are meant to raise questions in North Korean minds about the infallibility of the ruling Kim family. They will not, however, be heard in Tumen.
Reuters
Register for free to continue reading
Registration is a free and easy way to support our truly independent journalism
By registering, you will also enjoy limited access to Premium articles, exclusive newsletters, commenting, and virtual events with our leading journalists
Already have an account? sign in
Register for free to continue reading
Registration is a free and easy way to support our truly independent journalism
By registering, you will also enjoy limited access to Premium articles, exclusive newsletters, commenting, and virtual events with our leading journalists
Already have an account? sign in
Join our new commenting forum
Join thought-provoking conversations, follow other Independent readers and see their replies