North Korea displays ice sculptures of ballistic missile it claims can reach the US
Families pose for photographs in front of the display depicting the Hwasong-15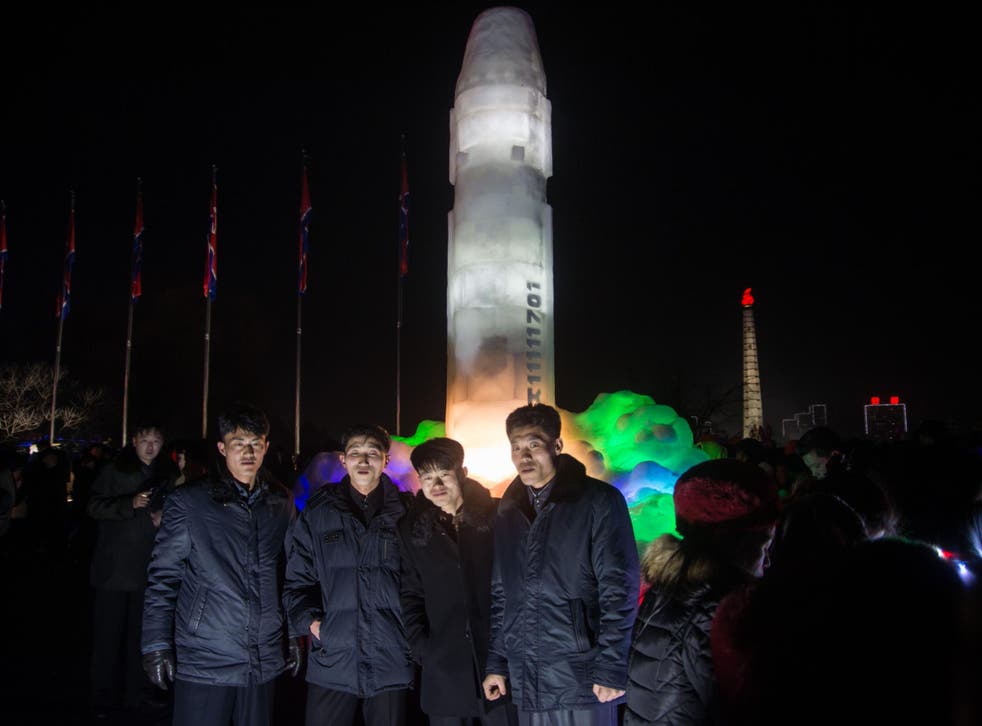 Ice sculptures depicting long-range missiles have gone on display in North Korea's capital Pyongyang to celebrate the New Year.
Adults and children posed for photographs in front of them. in footage released by state media.
The display was part of the Ice Sculpture Festival on Kim Il-sung Square. Other designs included North Korean landmarks, dolphins, a tractor, and a fishing boat.
North Korea claims the Hwasong-15 ballistic missile depicted by the ice sculpture, is much more technologically advanced than its predecessors.
South Korea's military also believes the missile is potentially capable of striking targets as far as 13,000km (8,100 miles), which would put Washington DC within reach.
During a November test launch, the rocket flew 950km (600 miles) before splashing down in waters near Japan. A US official said it broke up as it re-entered the Earth's atmosphere.
Pyongyang still needed to prove it had mastered critical missile technology, such as re-entry, terminal stage guidance and warhead activation, South Korea's deputy minister of defence policy Yoo Jeh-seung told his country's parliament shortly after the launch.
The ice sculpture display came shortly after the country's supreme leader Kim Jong-un, warned the US that a nuclear launch button "was always on my desk".
"The entire United States is within range of our nuclear weapons," he said during a televised speech on New Year's Day.
He added that the nuclear button was a "reality, not a threat."
North Korea announces intercontinental missile launch

Show all 13
Mr Kim also made overtures to South Korea, saying the path to dialogue was open. He added that it was imperative to lower military tensions on the peninsula.
The dictator also suggested that he could send a North Korean delegation to the Pyeongchang Winter Olympics, which is being held in the South Korean county, in February.
Register for free to continue reading
Registration is a free and easy way to support our truly independent journalism
By registering, you will also enjoy limited access to Premium articles, exclusive newsletters, commenting, and virtual events with our leading journalists
Already have an account? sign in
Register for free to continue reading
Registration is a free and easy way to support our truly independent journalism
By registering, you will also enjoy limited access to Premium articles, exclusive newsletters, commenting, and virtual events with our leading journalists
Already have an account? sign in
Join our new commenting forum
Join thought-provoking conversations, follow other Independent readers and see their replies