North Korea claims Kim Jong-un can control the weather
'It was a marvellous scene with glee at the reappearance at its great master'
Harry Cockburn
Tuesday 12 December 2017 22:02 Comments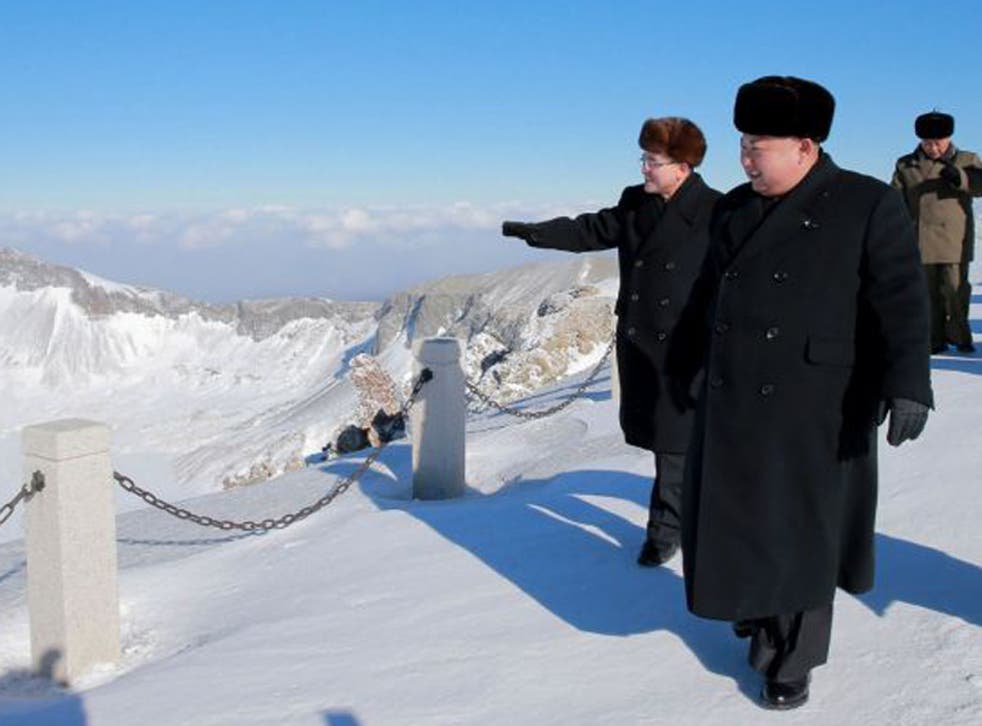 North Korea's leader Kim Jong-un is personally able to control the weather if he wishes, the country's KCNA news agency has indicated.
The dictator's new superpower was reported after Mr Kim was photographed in fine clear weather at the top of a 9,000ft active volcano near North Korea's border with China.
Pictures showed Mr Kim walking around at the snow-covered summit of Mount Paektuthe, wearing a smart black coat and formal dress shoes.
KCNA claimed the dictator had completed the 2 mile trek to the top, apparently in this outfit, and said that the good weather was due to Mr Kim's presence.
The news agency said conditions in December were usually inhospitable, but when Mr Kim arrived, "it was a marvellous scene with glee at the reappearance at its great master". The organisation added that the mountain showed "fine weather unprecedented".
KCNA then paid homage to Mr Kim describing him as the man "who controls the nature".
The North Korean news agency has a grand history of making outlandish claims about Mr Kim's ingenuity and achievements.
He has previously been said to have found a unicorn's lair, and learnt to drive at the age of three.
Last year the dictator was celebrated by KCNA for helping to create a wonder drug that cures Aids, Ebola and cancer.
It has previously claimed Mr Kim's father Kim Jong Il invented the hamburger and had magical powers which meant he did not ever need to use the lavatory.
World news in pictures

Show all 50
The site of Mr Kim's latest meteorological feat also has an important place in North Korean history: Kim Jong Il was said to have been born in a secret military base on Mount Paektuthe, prompting the creation of a double rainbow. Unfortunately for the regime, records show he was born in Siberia.
Register for free to continue reading
Registration is a free and easy way to support our truly independent journalism
By registering, you will also enjoy limited access to Premium articles, exclusive newsletters, commenting, and virtual events with our leading journalists
Already have an account? sign in
Join our new commenting forum
Join thought-provoking conversations, follow other Independent readers and see their replies