North Korea: Russia and China carry out military drills close to border
Joint submarine rescue missions and anti-submarine drills involving ships and aircraft take place days after Pyongyang's mid-range ballistic missile test
Tom Batchelor
Monday 18 September 2017 14:40 Comments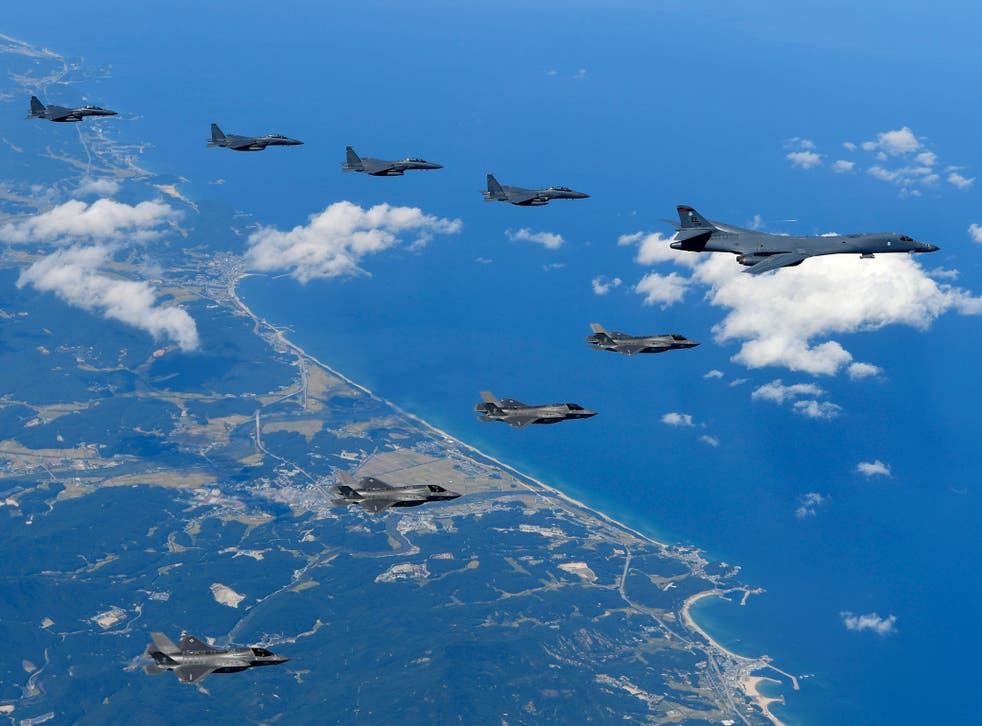 Russia and China have begun major military drills less than 100 miles from the North Korean border, amid continuing tensions over the isolated state's nuclear ambitions.
Chinese warships arrived in Peter the Great Bay, just outside of the Russian port of Vladivostok, for joint naval exercises that will extend into the Sea of Okhotsk, north of Japan.
The drills, which follows China-Russian naval exercise in the Baltic in July and runs until 26 September, have not been directly linked to the diplomatic crisis engulfing the region.
But they come amid a flurry of air, sea and land exercises on the Korean peninsula triggered by the North's missile programme.
Both sides will carry out joint submarine rescue missions and anti-submarine drills involving ships and aircraft.
Military sources told Russian news agency Tass the drills aimed to "consolidate partnership and practical cooperation between the two militaries" and were not aimed at any one country.
The US, South Korea and Japan conducted their own bombing drills involving two American B-1B bombers and four F-35 jets from Guam and Japan.
They were joined by four South Korean F-15K fighters in drills that are now being held on a near-weekly basis, South Korea's defence ministry said.
Both exercises come before a UN General Assembly meeting on Tuesday, where the threat from North Korea is likely to dominate.
China has faced criticism for failing to act decisively against Pyongyang after a string of nuclear and missile tests this summer; its latest coming last Friday over Japan.
But its ambassador to the US said China would never accept North Korea as a nuclear weapons state.
World leaders react to North Korea's latest missile launch
China's Communist Party newspaper, the People's Daily, criticised the US for demanding that Beijing put more pressure on North Korea to rein in its weapons programmes.
It said Beijing "will never accept the 'responsibility' imposed by the US".
China accounts for about 90 per cent of North Korea's trade.
Kim Jong-un inspects weapon North Korea says is powerful hydrogen bomb

Show all 6
Later, Chinese foreign ministry spokesman Lu Kang told reporters that "some related parties" - a reference to the US and North Korea - "keep sending threatening messages both in words and deeds that include warnings of military action".
"These kinds of actions don't help solve the problem but further complicate the situation," he said.
Much like China, Russia's reaction to the North Korean standoff has been subdued, with the foreign ministry calling the missile launch "regrettable".
Moscow has urged "all the parties involved [to] stop escalating tensions that accompany each new cycle of responses and counter responses", laying partial blame on Washington for ratcheting up tensions.
Register for free to continue reading
Registration is a free and easy way to support our truly independent journalism
By registering, you will also enjoy limited access to Premium articles, exclusive newsletters, commenting, and virtual events with our leading journalists
Already have an account? sign in
Join our new commenting forum
Join thought-provoking conversations, follow other Independent readers and see their replies