North Korean images appear to show two new missile designs
The pictures appeared two days after the US launched military drills with South Korea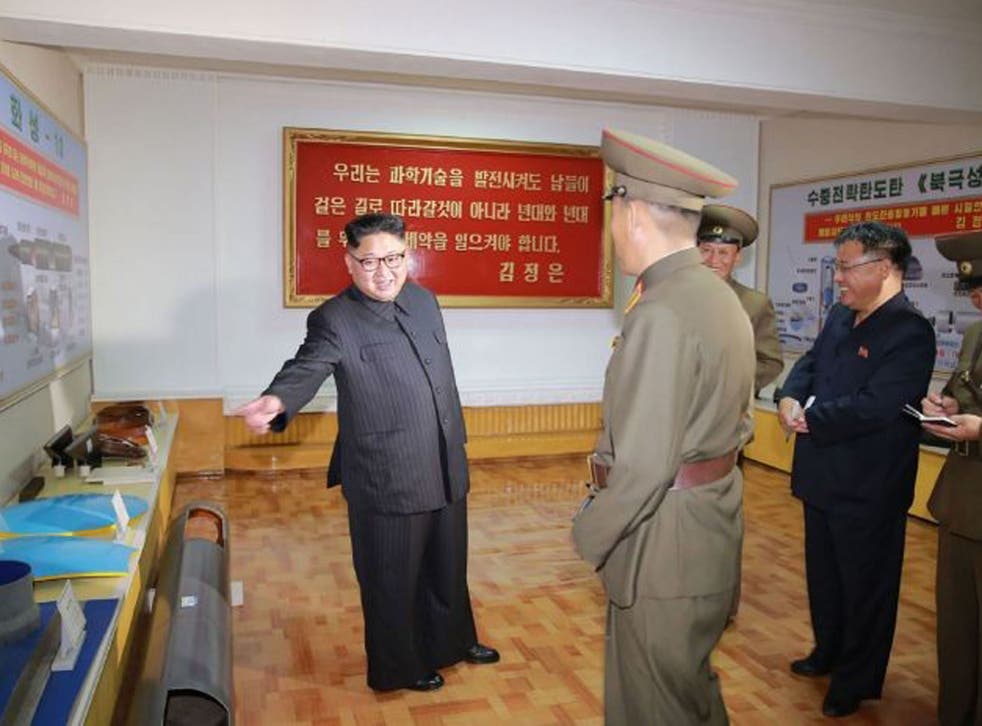 North Korea's state media has released a set of images which appear to show the designs for one or two new missiles.
Concept diagrams of the missiles were hanging on the wall behind leader Kim Jong-un, who was pictured visiting a plant that makes solid-fuel engines for the country's intercontinental ballistic missile (ICBM) programme.
One photo, to the right of the leader, shows a diagram for a missile called Pukguksong-3, which is part of its ongoing Pukguksong or Polaris intermediate range ballistic missile programme.
To his left is another diagram for a missile which is harder to read. But it appears to carry the insignia of the Hwasong, or Mars, another ballistic missile programme.
In between the two diagrams, behind Kim's head, is an inspirational quote by the dictator.
The photos were first published by state newspaper Rodong Sinmun and later released by the Korean Central News Agency.
They appeared two days after the US and South Korea began their annual military exercises, which the North has called a rehearsal for war.
Relations between the US and the tiny dictatorship have been severely strained over the past few months. US President Donald Trump promised to unleash "fire and fury" if North Korea continued to threaten the West.
In pictures: North Korea military drill

Show all 8
In response, the secretive communist state said it has developed a nuclear warhead small enough to fit onto an intercontinental ballistic missile, that was capable of reaching the US island of Guam.
The row prompted fears that North Korea was finally living up to its boasts and would soon be in a position to threaten the mainland US with a nuclear strike.
Michael Duitsman, a research associate at the Center for Nonproliferation Studies, said the Pukguksong-3 missile was "definitely new".
North Korea successfully tested Pukguksong-1 last August and followed up by firing the Pukgouksong-2 in February.
Both are believed to be capable of reaching Japan, and the US bases stationed there, but not mainland US.
Prof Duitsman said the quality of the pictures made it hard to tell what the other missile was but it was likely to be either a Hwasong-13 or Hwasong-11.
Hwasong is the name North Korea gives for most of its missiles, including its only ICBM – the Hwansong-14 – which was tested last month.
He said: "If it is the Hwasong-13, then there has been an enormous change to the design. The Hwasong-13 was originally paraded in 2012 as a liquid-fueled missile.
"Changing an entire missile from liquid to solid fuel, or vice versa, is generally something you don't do. The design principles are very different."
Join our new commenting forum
Join thought-provoking conversations, follow other Independent readers and see their replies