North Korea ends peace talks with South and fires two new test missiles
Pyongyang issues angry response to South Korean president's 'senseless' calls for renewed dialogue while joint US military drills continue
Adam Withnall
Asia Editor
Friday 16 August 2019 05:43 Comments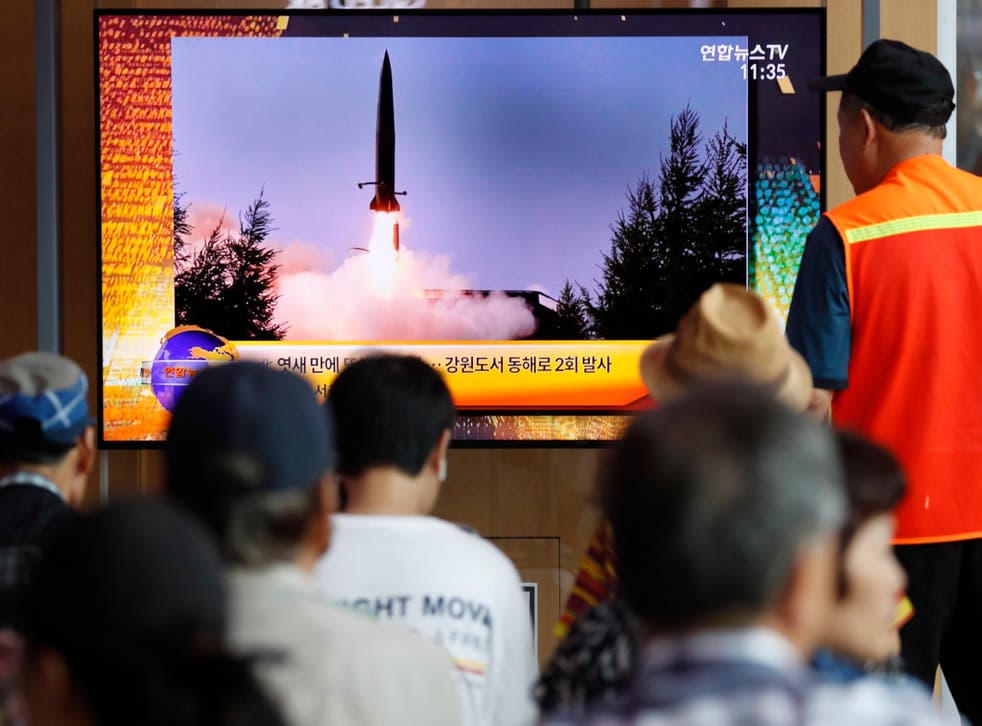 North Korea fired at least two projectiles into the sea on Friday as it issued an angry statement saying it was walking away from peace talks with the South.
Pyongyang has been increasingly outraged by the joint military drills, which began last week between the US and South Korea. It says they clearly breach a commitment made by Donald Trump in Singapore last year.
The North has launched several short-range missile tests in recent weeks, including some which experts said could involve new technology.
The "unidentified projectiles" spotted by the South Korean military on Friday were launched off North Korea's east coast shortly after 8am local time and flew about 230km (143 miles) to an altitude of 30km, a statement from Seoul said.
Shortly before news of the launches emerged, North Korea rejected calls for dialogue from South Korean president Moon Jae-in, made a day earlier in a televised speech marking Korea's liberation from Japanese rule.
North Korea's pervasive leaders: the Kim portraits

Show all 16
"We have nothing to talk any more with the South Korean authorities nor have any idea to sit with them again," the North's spokesperson for the Committee for the Peaceful Reunification of the Country said in a statement carried by the official KCNA news agency.
Mr Moon had vowed to reunify the two Koreas by 2045, and said denuclearisation talks were at a "critical juncture". He urged Pyongyang to turn back from its recent "worrying actions" and instead follow his plan for peace, adding that "a new Korean peninsula, one that will bring peace and prosperity to itself, east Asia and the world, awaits us".
The North's spokesperson described Mr Moon as an "impudent guy" who is "overcome with fright".
He said Mr Moon had no standing to talk about engagement with the North because of the ongoing military manoeuvres.
"His open talk about 'dialogue' between the North and the South under such a situation raises a question as to whether he has proper thinking faculty," the spokesperson said.
It was "senseless" to think that inter-Korean dialogue would resume once the military drills with the US were over, he said.
The loss of dialogue momentum between the North and South and the stalemate in implementing pledges made at a historic summit between their two leaders last year was entirely the responsibility of the South, the North Korean spokesperson said.
Despite this setback, North Korea remains open to continuing denuclearisation talks with the US, and indeed has previously said it would only talk to Washington, not Seoul, about the nuclear issue.
Donald Trump and Kim Jong-un both committed to revive those talks at an impromptu meeting in the Demilitarised Zone between the two Koreas on 30 June.
Additional reporting by agencies
Register for free to continue reading
Registration is a free and easy way to support our truly independent journalism
By registering, you will also enjoy limited access to Premium articles, exclusive newsletters, commenting, and virtual events with our leading journalists
Already have an account? sign in
Join our new commenting forum
Join thought-provoking conversations, follow other Independent readers and see their replies