North Korea fires missiles hours after Trump boasts of receiving 'very beautiful letter' from Kim Jong-un
Launch interpreted as 'show of force' against US-South Korea joint military drills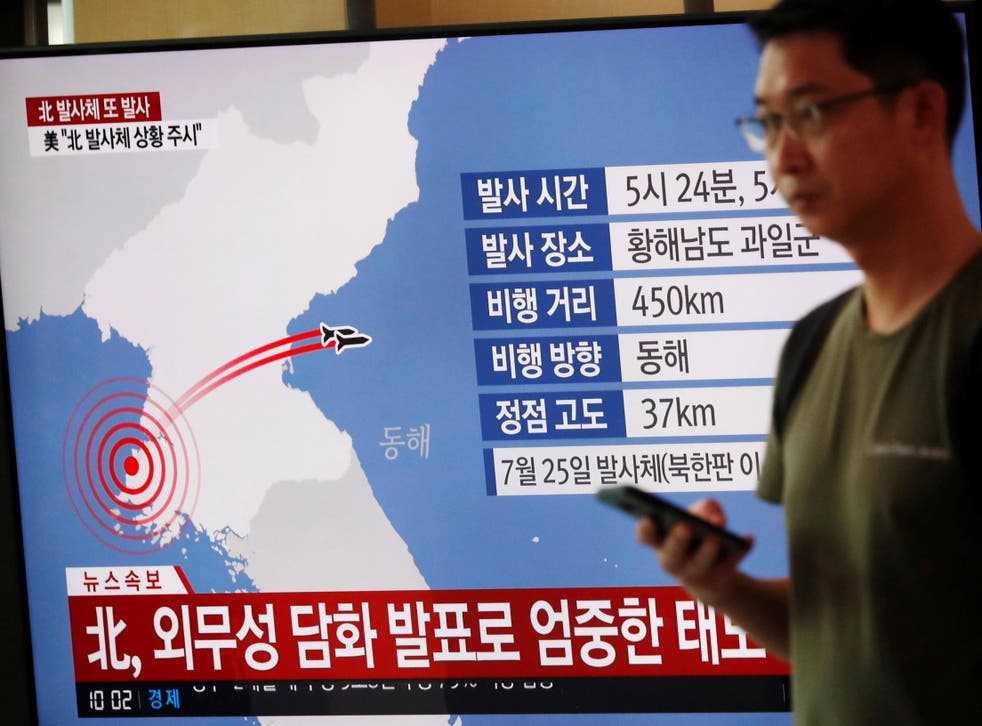 North Korea fired two missiles on Saturday, South Korea said, just hours after US President Donald Trump boasted of receiving a "very beautiful letter" from North Korean leader Kim Jong-un.
South Korea's Joint Chiefs of Staff said in a statement that the missiles appeared to be short-range and were fired in a "show of force" against this month's US-South Korea joint military drills.
South Korea believes more missile launches are highly probable, as the North Korean military is conducting its own summer drills.
The launch came a few hours after US President Donald Trump told reporters he had received a "very beautiful letter" from North Korean leader Kim Jong-un.
Trump said Kim had written in his letter that he was "not happy" about the war games and missile tests. He added he could have another meeting with Kim.
North Korea's pervasive leaders: the Kim portraits

Show all 16
The episode was the fifth round of launches in three weeks. North Korea has continued to test missiles and rockets despite Mr Kim and Mr Trump agreeing at a June 30 meeting to revive stalled denuclearisation talks.
Mr Trump played down the recent North Korean weapons launches when he spoke to reporters earlier on Friday.
He said he was not bothered by the launches despite the growing threat they pose to US allies in the region, saying Pyongyang has never broken its pledge to pause nuclear tests.
"I say it again: There have been no nuclear tests," he said. "The missile tests have all been short-range. No ballistic missile tests. No long-range missiles."
South Korea's Joint Chiefs of Staff said the presumed ballistic missiles were fired from the North's eastern coast and flew about 400 kilometres (some 250 miles) before landing in waters between the Korean Peninsula and Japan.
The United States and South Korea have kicked off largely computer-simulated exercises as an alternative to previous large-scale annual drills that were halted to expedite denuclearisation talks.
The projectiles were fired at dawn on Saturday from an area around the northeastern city of Hamhung, South Korea's Joint Chiefs of Staff said.
Kim's regime seems to be testing capabilities of a new short-range missile Pyongyang is developing, South Korea's presidential office said.
"Because of concerns that North Korea's series of launches can raise military tensions on the Korean Peninsula, ministers called for North Korea to stop it," the presidential office said, citing a meeting of South Korea's top security officials.
So far, North Korea has stuck by last year's unilateral suspension of nuclear and long-range missile tests.
Additional reporting by Reuters and AP
Support free-thinking journalism and attend Independent events
Register for free to continue reading
Registration is a free and easy way to support our truly independent journalism
By registering, you will also enjoy limited access to Premium articles, exclusive newsletters, commenting, and virtual events with our leading journalists
Already have an account? sign in
Register for free to continue reading
Registration is a free and easy way to support our truly independent journalism
By registering, you will also enjoy limited access to Premium articles, exclusive newsletters, commenting, and virtual events with our leading journalists
Already have an account? sign in
Join our new commenting forum
Join thought-provoking conversations, follow other Independent readers and see their replies