North Korean nuclear crisis: Who is the 'pink lady' newsreader serving as Kim Jong-un's voice of doom?
Anchorwoman Ri Chun-hee, 74, has provided regular updates throughout regime's ballistic missile testing, providing a surreal backdrop to ominous developments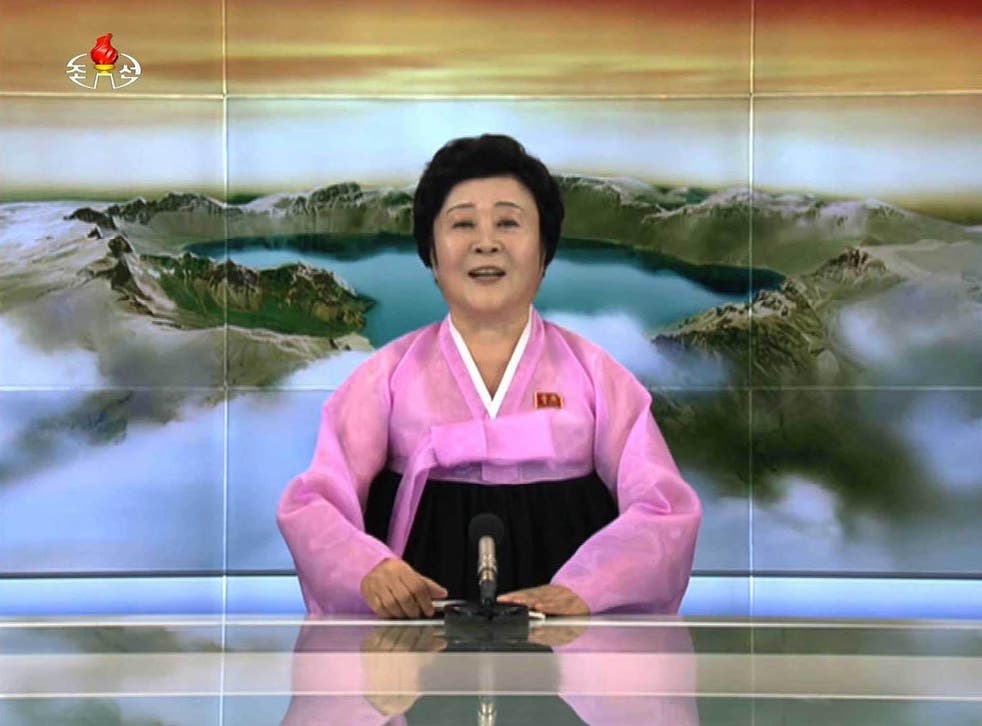 Somewhere north of the 38th parallel, the earth trembled unexpectedly on Sunday. Then came the booming declaration from a North Korean grandmother in a pink traditional robe.
Ri Chun Hee, North Korea's most famous news anchor, announced on state television that the country's sixth nuclear detonation had gone off without a hitch.
"The test of a hydrogen bomb designed to be mounted on our intercontinental ballistic missile was a perfect success," thundered Ri, grinning and seated before an ethereal painting of a lake. "It was a very meaningful step in completing the national nuclear weapons programme."
Ri, 74, has been described as the "voice of North Korea" and "the people's broadcaster," a sort of Barbara Walters of the reclusive dictatorship. For more than 40 years she has been the most celebrated newsreader on the country's lone news outlet, Korean Central Television. Her affinity for bright pink Choson-ots, traditional Korean formal dresses, has earned her the title of "pink lady."
Some outsiders used to joke about her. They called her "Pyongyang Patti," according to the Atlantic. Or they would use her as a foil to ridicule, for example, Sean Spicer ("He is just missing a robe," said one Twitter user.)
More than anything, Ri is known for the rich, imposing voice with which she announces the regime's message. With signature bombast and almost operatic flair, she has announced nuclear tests, condemned the regime's enemies and narrated the lives and exploits of three generations of North Korean leaders.
"She has a very aggressive voice, one that North Koreans would say 'fills up the screen,'" Kim Yong, a defector from the North who became a media personality in South Korea, told Reuters in a 2009 profile. "Listening to South Korean newscasters when I first arrived sounded like hearing mom and dad talk in their room. The newscasters sometimes stumbled on words, while the ones in North Korea are never allowed to, or they'll get fired."
Details about Ri's life and career are sparse, but she was reportedly born in 1943 to a poor family in what is now the south eastern part of the country and attended theatre school in Pyongyang.
The North Korean state-run magazine Chosun Monthly gave an apocryphal account in 2009 of how she became something of a protege of Kim Il-sung, the state founder. Kim pushed her "with warm love and faith" to develop an authoritative voice, according to the story, which was translated by Reuters.
Apparently, Dear Leader's tutelage worked.
"As these days passed, her voice grew to have an appeal so that whenever she would speak on the news, viewers were touched," the article read, according to the Reuters translation. "When Ri announced reports and statements, enemies would tremble in fear."
Ri joined state television in 1971, just as it was beginning to take shape. By the 1980s she was a "constant presence" on the network, reading reports on everything from national events to government proclamations to the weather, according to the blog North Korea Leadership Watch.
In 1994, she tearfully broke the news that Kim Il-sung had died. Seventeen years later, she wept again when she told the country that his son, Kim Jong-il, had died of a "sudden illness."
It is perhaps the famous moment in her storied career. A news clip shows Ri dressed in a black robe and looking forlorn, seated in front of a painting of a forest and mountain landscape. Her voice quavers as she delivers the news.
"Our great comrade Kim Jong-il, the general secretary of the Workers' Party of Korea, the chairman of the DPRK National Defence Commission, and the supreme commander of the Korean People's Army, has passed away," she intones.
She continues through sobs fit for a daytime soap opera: "We make this announcement with great sorrow."
She retired from the news business in 2012, but the North Korean government has trotted her out on special occasions to make major public announcements.
Chosun Monthly's article reported that Ri lived in "relative luxury" in Pyongyang with her husband, children and grandchildren. "Ri Chun-hee with her microphone in hand, blessed by the leader, is still with her viewers today looking not a day older than before she was married," the article read.
Part of what has made Ri's career remarkable, according to North Korea Leadership Watch, is that unlike her counterparts she has survived the regime's brutal purges. The government's publishing entities are "routinely subjected to generational and political personnel attrition," read a post on the blog. "Ri has seen many of her colleagues and supervisors dismissed, demoted or sent for re-education."
Around the time of her retirement, Ri gave a rare interview to a Chinese state media programme. In it, she described how she planned to shift her focus to working behind the scenes and training a new generation of broadcasters.
"Many anchor women now are very young and beautiful and are more suitable to appear (to) the viewers," Ri said in the segment.
Kim Jong-un inspects weapon North Korea says is powerful hydrogen bomb

Show all 6
But for now, Ri is still the regime's go-to announcer for earth-shattering announcements like Sunday's nuclear test. If hostilities were to erupt on the Korean Peninsula, it would almost certainly be her commanding voice that relays the news.
"It is the very top-level announcements, the ones that North Korea feels particularly proud of and have maximum propaganda value," Martyn Williams, a writer for a North Korean Tech website, told the Los Angeles Times last month. "She's the one that goes out and tells the nation and the world."
The Washington Post
Join our new commenting forum
Join thought-provoking conversations, follow other Independent readers and see their replies