North Korea shutdown of Kaesong Industrial Complex sees dream of rapprochement with South quickly turn into a nightmare
Kim Jong-un's regime has turned the complex into a military zone, ordering factory workers back across the border and ending a project aimed at bringing the two sides closer together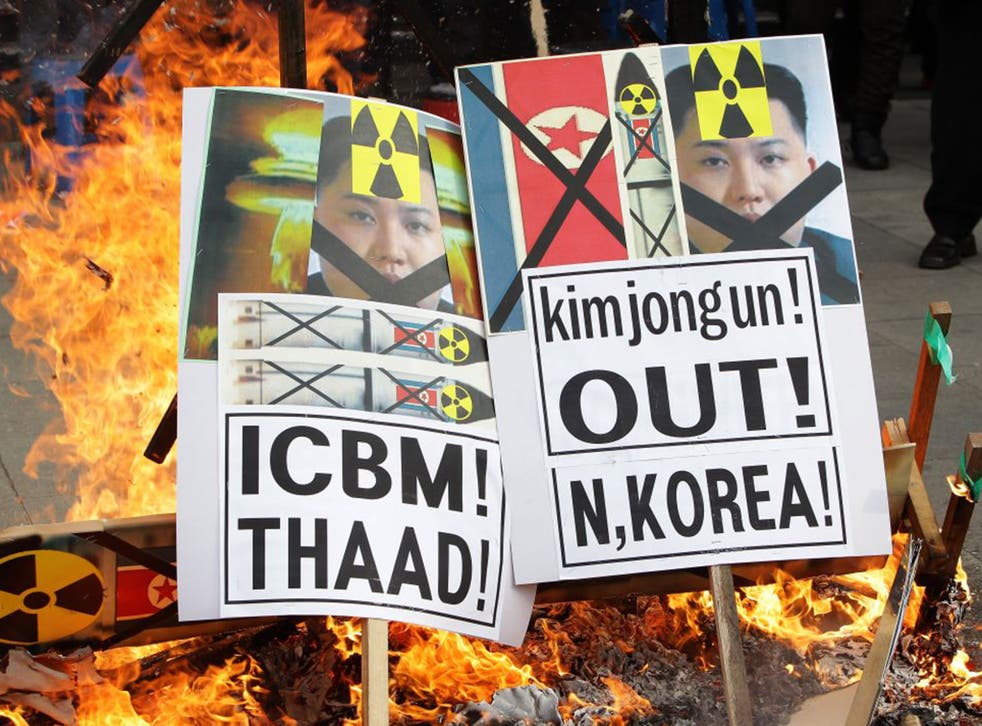 The final ending of an era of failed hopes for relations between the two Koreas came at sundown. The increasingly unpredictable regime of Kim Jong-un had turned the Kaesong Industrial Complex into a military zone, ordering all South Koreans to leave and seizing their assets.
That draconian North Korean response came hours after South Korea said it was pulling all South Korean companies out of the zone where citizens of both nations had worked together, as punishment for North Korea sending a satellite into space last Sunday, a month after conducting its fourth nuclear test.
South Korea's Unification Ministry, on orders from President Park Geun-hye, said the South feared the $100m (£69m) spent annually on pay for the zone's 54,000 North Korean workers was supporting the North's nuclear and missile programmes.
The scene at the entry point as workers rushed out of the zone, their personal gear piled hastily into and on to their vehicles, was one of chaos and near panic. South Korean officials barred reporters from the immigration centre but the mood was clear in phone calls.
Managers of factories, making small industrial items ranging from cosmetics to watches to shoes, feared that some of them were still inside the zone, trying to lock down valuable equipment and recover books and records. "We haven't accounted for all of them," one harried manager said. "We're afraid some might be held as hostages."
The precipitous shutdown of the zone marked the final failure of a project launched more than a decade ago amid hopes the zone would provide a foothold into North Korea for South Korean commerce – and bring about North-South rapprochement.
That dream was quickly turning into a nightmare with North Korea hurling invectives upon President Park and her government, blasting her order for South Korean firms to depart the zone as "a dangerous declaration of war" – a decision that was bringing the two Koreas "to the brink of war".
The Yonhap news agency reported that South Korea had bolstered its military readiness and strength along the western portion of the border in the event of a North Korean "provocation".
South Koreans over the years have become inured to bellicose rhetoric from Pyongyang, generally preferring to ignore it, but no one doubted North Korea was correct in saying the shutdown of business at the zone marked "an end to the last lifeline of South and North Korea".
Kaesong was "the last remaining thread of North-South co-operation," Evans Revere, a former senior diplomat at the US embassy in Seoul, said. "It was also the final vestige of a policy of engagement that once held out hope for the transformation of North Korea." Seoul, Mr Revere said, "had to end the project if it expected its calls for the international community to adopt strong measures in response to North Korea's nuclear and rocket tests to be taken seriously".
In pictures: North Korea hydrogen bomb test

Show all 15
The zone, before the arrival of South Korean factories hiring North Korean workers, had indeed been a military base. Its return to its original mission fuelled concerns about North Korean forces massing closer to Seoul.
North Korean troops entered the zone amid reports of the execution of the armed forces Chief of Staff, General Ri Yong-gil, reportedly the latest victim of an ongoing purge that has taken the lives of Mr Kim's uncle-in-law, Jang Sung-taek, once regarded as the North's second most powerful leader, and the Defence Minister Hyon Yong-chol.
General Ri and Mr Kim reportedly were at odds over Mr Kim's moves to place the ruling Workers' Party above the military structure – a rivalry that exposes a deep rift among those one rung below Kim Jong-un. "The Pyongyang regime has just sent an ominous message to the elites by executing yet another general," Mr Revere said. "If you are a member of the North Korean elite and you see that Kim Jong-un's reign of terror is showing no signs of slowing down and that even the most loyal elements of the leadership are being killed, you have to be thinking of a Plan B."
The answer, from Mr Kim's view, may be to seek absolute unity by turning threats against the South into action. The zone, beside the village of Panmunjom, where the truce ending the Korean War was signed in July 1953, is just 40 miles north of Seoul – within easy range of conventional artillery, much less the mid and short-range Scud and Rodong missiles that North Korea has produced for its own arsenal and for export to such clients as Iran and Syria.
In Seoul, however, there was widespread disagreement. Outside the government, many observers believed that Ms Park had acted too swiftly and harshly, almost daring the North to respond in kind. "Predictable but very sad," was the assessment of Tom Pinansky, a long-time lawyer in Seoul, about the stand-off. "Her decision does not put South Korea in a better place."
Tony Namkung, a long-time consultant who has advised on both business and diplomacy vis-à-vis North Korea, took a longer view. "Only when the US and the two Koreas agree on a peace treaty will projects like Kaesong achieve stability," he said.
Register for free to continue reading
Registration is a free and easy way to support our truly independent journalism
By registering, you will also enjoy limited access to Premium articles, exclusive newsletters, commenting, and virtual events with our leading journalists
Already have an account? sign in
Register for free to continue reading
Registration is a free and easy way to support our truly independent journalism
By registering, you will also enjoy limited access to Premium articles, exclusive newsletters, commenting, and virtual events with our leading journalists
Already have an account? sign in
Join our new commenting forum
Join thought-provoking conversations, follow other Independent readers and see their replies