North Korean troops seen redeploying loudspeakers used to blast propaganda messages across border into South
'We're also considering reinstalling our own loudspeakers, but the North hasn't begun any broadcast yet', South Korean military official says
Vincent Wood
Tuesday 23 June 2020 17:29 Comments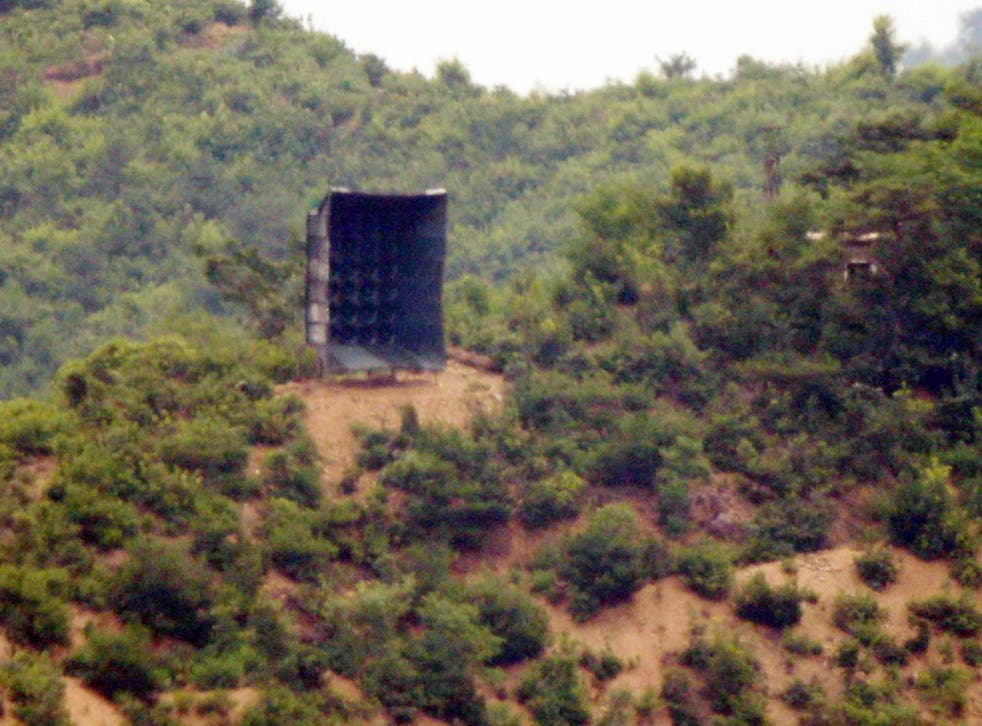 North Korea is reinstalling loudspeakers on its border to the south to blast propaganda across the 38th parallel in the latest resumption of hostility between the two nations – a South Korean military source has claimed.
Actors on both sides have continued information campaigns across the border across the last decade – with activists in the south sending leaflets, books and dollar bills northwards by balloon to challenge the authoritarian clampdown of the nation's ruler Kim Jong-Un.
Pyongyang has responded in kind with repeated warnings of retaliation and symbolic acts of aggression, including blowing up an empty joint liaison office on its side of the border, declaring an end to dialogue, and threatening military action.
Now the autocratic regime's military has been spotted putting up loudspeakers close to the demilitarized zone (DMZ) between the two countries.
The move marks a return to a propaganda system that has been used by both Koreas – with the south often blasting K-pop over the border before before a 2018 accord that ended "hostile acts" between the nations.
The response to Coronavirus in Daegu South Korea

Show all 11
"We're also considering reinstalling our own loudspeakers," a South Korean military official told the Reuters news agency. "But the North hasn't begun any broadcast yet, and we're just getting ready to be able to counteract at any time."
A spokeswoman at Seoul's defence ministry declined to confirm North Korea's moves but reiterated at a regular briefing that Pyongyang would "have to pay for the consequences" if it continues to defy joint efforts to foster peace.
Meanwhile Pyongyang has continued to lay the blame on the government south of the border for not limiting the spread of critical information into their nation.
"The desecration of our supreme leadership amounts to hurting the mental core of our people" an editorial in the North's state-controlled Rodong Sinmun newspaper said.
"There cannot be any slightest concession and compromise in this matter. It is the ideological feelings of all our people and our national customs that this can never be allowed to be encroached upon."
Despite the outrage from officials, Fighters For A Free North Korea – a southern group with northern defectors in its number – launched 20 balloons carrying 500,000 leaflets, 2,000 one-dollar bills and small books over the border from the town of Paju on Monday evening.
Mr Park, a North Korean campaigner in the group who fled the country said his leafleting was part of "a struggle for justice for the sake of liberation" of his former countrymen.
However Seoul's unification ministry, which handles relations with North Korea, has expressed "deep regret" over Mr Park's activism.
Register for free to continue reading
Registration is a free and easy way to support our truly independent journalism
By registering, you will also enjoy limited access to Premium articles, exclusive newsletters, commenting, and virtual events with our leading journalists
Already have an account? sign in
Join our new commenting forum
Join thought-provoking conversations, follow other Independent readers and see their replies