North Korea 'threatens to kill South's impeached ex-President Park Geun-hye'
Secretive state vows to impose 'death penalty' on former leader
Wednesday 28 June 2017 15:37 Comments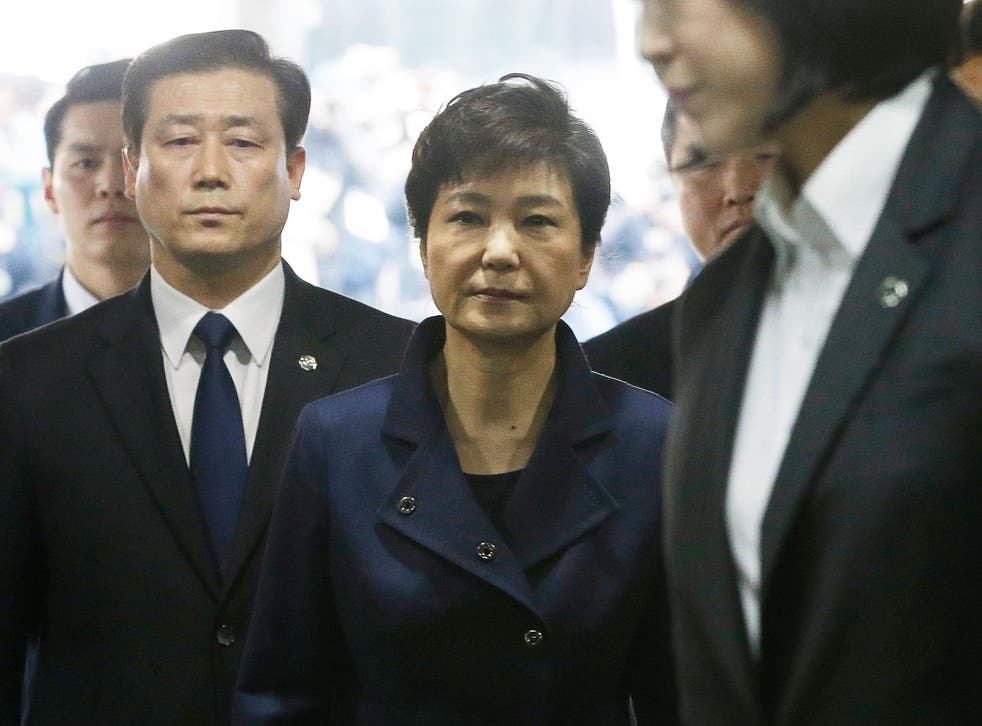 North Korea has called for the execution of former South Korean President Park Geun-hye and her spy chief for a plot to assassinate its leader, demanding that the South hand the pair over.
The North's official KCNA said "revelation showed" Ms Park had masterminded a plot to execute its "supreme leadership" in 2015 and it was imposing the "death penalty on traitor Park Geun-hye".
KCNA did not disclose the source of the revelation but a Japanese newspaper reported this week that Ms Park in 2015 approved a plan to overturn the North Korean regime of leader Kim Jong-un.
High possibility of war with North Korea, warns new South Korean president
Ms Park was ousted in March over a corruption scandal and is in detention in South Korea while on trial.
South Korea's National Intelligence Agency (NIS) said the news report of a plot to kill Kim Jong Un "had no grounds" and it had no immediate comment about the North's demand for the handover of ms Park and her spy chief, Lee Byung-ho.
Mr Lee is no longer head of the NIS.
Japan's Asahi Shimbun newspaper reported on Monday, citing sources familiar with Ms Park's North Korea policy, that she had signed off on a plot to remove the North's leader in 2015 and the plan was orchestrated by the South's spy agency.
"We declare at home and abroad that we will impose the death penalty on traitor Park Geun-hye and ex-director of the puppet intelligence service ... criminals of hideous state-sponsored terrorism who hatched and pressed for the heinous plot to hurt the supreme leadership of the DPRK," KCNA said.
DPRK stands for the Democratic People's Republic of Korea, the North's official name.
"We declare that in case the U.S. and the South Korean puppet forces again attempt at hideous state-sponsored terrorism targeting the supreme leadership ... we will impose summary punishment without advance notice," KCNA said.
KCNA said the statement was issued jointly by the North's Ministry of State Security, the Ministry of People's Security and the Central Public Prosecutors Office.
North and South Korea are technically in a state of war under a truce that ended their 1950-53 Korean War and the North routinely warns of annihilating the South Korean government.
World news in pictures

Show all 50
North Korean government agencies often issue harsh rhetoric in state media over perceived insults, or what they see as threats to the security their leaders, and the trend has intensified under current leader, Kim Jong Un.
In May, North Korea accused the US Central Intelligence Agency and the South's spy agency of another plot to assassinate its "supreme leadership" with biochemical weapon.
At that time, it also demanded the handover of former NIS chief Mr Lee.
Reuters contributed to this report
Register for free to continue reading
Registration is a free and easy way to support our truly independent journalism
By registering, you will also enjoy limited access to Premium articles, exclusive newsletters, commenting, and virtual events with our leading journalists
Already have an account? sign in
Join our new commenting forum
Join thought-provoking conversations, follow other Independent readers and see their replies