South Korea's president arrives in Pyongyang for most important summit yet with North premier Kim Jong-un
Pressure is on Moon, both at home and abroad, to produce concrete commitment from Kim to denuclearise
Adam Withnall
Tuesday 18 September 2018 09:01 Comments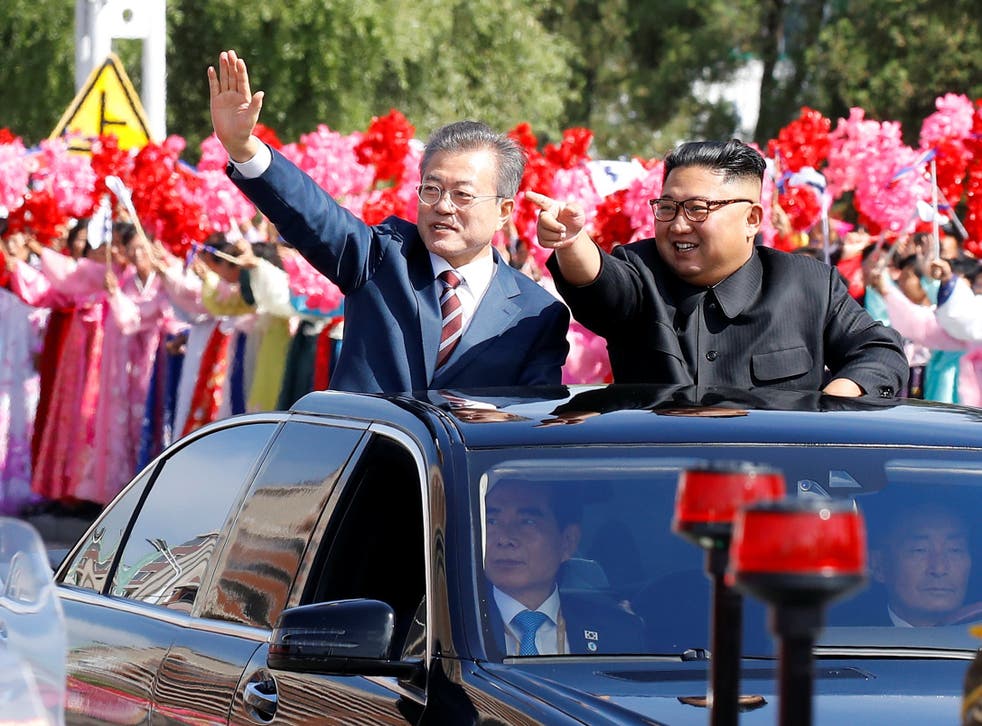 South Korea's Moon Jae-in arrived in Pyongyang for an historic three-day summit on Tuesday, greeted by tens of thousands of North Koreans chanting "unification" and a display of goose-stepping soldiers.
Mr Moon and North Korea's Kim Jong-un met each other with hugs and smiles for the cameras, before travelling together in an open-top limousine to hold around two hours of formal talks.
The visit marks the first time a South Korean president has visited Pyongyang for more than a decade. It is the third set of talks between the two leaders since North Korea's dramatic turn towards rapprochement with the South and the US earlier this year - and observers say it is also the most important.
Pressure is on Mr Moon, both at home and abroad, to produce a tangible commitment from Mr Kim to denuclearise. Talks have stalled and the US is desperate to see some progress on the vague promises made at Mr Kim's Singapore summit with Donald Trump back in June, lest it become no more than a fruitless photo opportunity.
Mr Moon also has his own agenda, seeing improved inter-Korean relations as an opportunity for business growth at a time when he is suffering all-time low approval ratings over South Korea's faltering economy.
He has travelled to Pyongyang accompanied by business tycoons including Samsung scion Lee Jae-yong. All major cross-border business projects are currently stalled because of US-led sanctions.
Mr Moon stepped off the plane at Pyongyang International Airport to a huge welcome ceremony, featuring a large, high-kicking honour guard and a military band.
Mr Moon and his wife, Kim Jung-sook, were greeted by Mr Kim and his wife, Ri Sol Ju. The North Korean leader then led his guests to meet some of his senior officials, and they exchanged mutual greetings with Mr Moon's delegation.
Footage recorded by South Korean journalists travelling with the delegation showed clean streets and high rise buildings on the route taken by the leaders' motorcade to the Paekhwawon State Guest House, where Mr Moon will stay during his visit.
Sights on the way included Ryomgyong Street, a glistening new residential district launched last year under Mr Kim's initiative to modernise the capital city.
On Wednesday, Mr Moon and Mr Kim plan to hold a second round of official talks after which they are expected to unveil a joint statement, and a separate military pact designed to defuse tensions and prevent armed clashes. Mr Moon will return home early Thursday.
The outcomes of the joint statement will be watched closely by Washington and Mr Trump who, according to Mr Moon's aides, has appointed the South Korean president as his "chief negotiator" in finding peace with the North.
"If North Korea-US dialogue is restarted after this visit, it would have much significance in itself," Mr Moon said before his departure.
North Korea says it has destroyed its main nuclear and missile engine test site, and has halted atomic and ballistic missile tests but US officials and analysts believe it is continuing to work on its weapons plans covertly.
As Mr Moon arrived, the North's main newspaper said the US was "totally to blame" for the lack of progress in denuclearisation talks, accusing Washington of "stubbornly insisting" the North unilaterally begin dismantling its nuclear weapons first and blocking attempts to declare a permanent peace between the two Koreas.
The Korean War ended in 1953 with a ceasefire but no formal peace treaty. US officials remain "unenthusiastic" about declaring an end to the war without any substantial action towards denuclearisation from the North, Seoul officials told the Associated Press.
Mr Moon is said to be hoping the two issues can be addressed simultaneously in Wednesday's joint statement. Anything less, and observers fear the White House's patience for rounds of international summits over Korea will start to wear thin.
Register for free to continue reading
Registration is a free and easy way to support our truly independent journalism
By registering, you will also enjoy limited access to Premium articles, exclusive newsletters, commenting, and virtual events with our leading journalists
Already have an account? sign in
Join our new commenting forum
Join thought-provoking conversations, follow other Independent readers and see their replies